2021 Let's Wrap It Up: The 15 Best HL7 FHIR Blogs Of CapMinds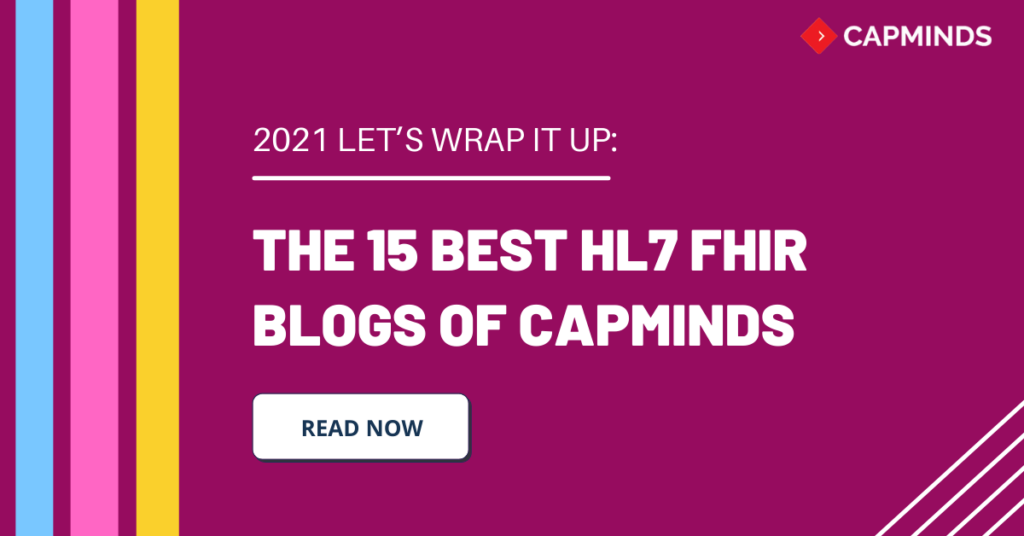 FHIR serves to be a 2022's hot topic in healthcare industry. So, don't miss to read out this 15 best HL7 FHIR blogs of CapMinds.
1. The Role Of FHIR In 2021 Healthcare Delivery
The COVID-19 era made the patients and healthcare providers realize the importance of health data access and seamless exchange of data between providers, patients, and payers. Even though the health data is readily available, there is a big question of whether they reach the people's hands in a meaningful manner.
So here the participation of health IT vendors, providers, and payers is more important for quality healthcare delivery. In this article, we discussed the role of FHIR in 2021 healthcare delivery and how CapMinds will help you in FHIR implementation.

2. What Providers Need To Know About FHIR?
HL7 FHIR standard is a familiar term in the healthcare provider's world as it has emerged as the widely adopted data standard. FHIR helps healthcare organizations of all sizes to benefits greatly from both clinical and financial perspectives in achieving better patient outcomes and regulatory compliance.
Today, most of the providers are wondering about why I need to go with FHIR and why it matters for me? FHIR eliminates more complex care coordination tasks and helps you to concentrate more on your patients. Here is the advanced guide to FHIR for providers.

3. What Is HL7? [Learn It In 5 Minutes]
HL7 is defined as the set of data standards used to transfer health data easily between various healthcare providers. In simple, HL7 simplifies the healthcare data sharing process and makes it more efficient when compared to previous methods.
Do you know what is HL7 and how it is used in healthcare today?
Well, before we go into the basics of HL7 and the advanced tactics of HL7 integration, this article explains to you all about what HL7 is.

4. HL7 Vs FHIR: What's The Real Difference?
In the advanced process of improving patient outcomes, data plays a major role in the healthcare industry. Because of the way U.S healthcare works; the most important factor in effectively utilizing EHR records ensuring they are formatted in the right way to interoperability across the healthcare system.
There is a big deeper concept to consider here when it comes to HL7 Vs FHIR standards. Understanding the basic differences can help improve your organization in terms of workflow and productivity. Let's start by defining both HL7 and FHIR.
5. HL7 Interface: How It Benefits Healthcare Practices?
When we thing about the manual data exchange between multiple systems, it is still a harsh reality to work on it. The era of sharing health data via paper notes is over and now HL7 interface is trending today. This article describes you about the benefits of using HL7 interface in today's healthcare industry.
6. The Remarkable Benefits Of HL7 Interface
Interoperability has been a top topic in the healthcare industry for decades. Even though the health data was managed with many advanced programming systems, the healthcare information exchange was full of data misinterpretation. This lack of interoperability costs the US healthcare system roughly $30 billion annually. So, the need for seamless data integration has been increased gradually to achieve true interoperability.
7. HL7 V2 Vs FHIR (Pros & Cons) -What To Choose For 2022?
It's not a secret that both HL7 and FHIR are important for achieving greater interoperability, but you need to decide where you should focus the most. Is an HL7 V2 or FHIR important more for your practice?
In this article, we will walk you through the pros and cons of HL7 V2 Vs FHIR, and give you the best ideas on what to choose for your practice in 2022.
8. FHIR Standards: All You Need To Know
As everyone is aware of HL7 data exchange and information standards – was complicated to implement. The real goal behind the HL7 standards is to reduce the information isolation in how patient health data is stored. So how implementation can be done easier, quicker, and at a low cost?
Here comes the invention of the FHIR standards which was developed on top of HL7 – healthcare interoperability is easier to implement today. Are you ready to explore more about FHIR? Here is all you need to know about Fast Healthcare Interoperability Resources.

9. Top 3 Real Time FHIR Applications In Healthcare
The advanced healthcare industry has grasped the emergence of the HL7® FHIR® standard, a next-generation standard framework created by HL7. The FHIR® standard is majorly being adopted for integration projects worldwide.
Given the limitations of previous healthcare information exchange standards for non-XML segments, V2, V3, and CDA, there was a need for a standard that is simply structured, highly standardized, and easily understandable. FHIR is expected to overcome the complex limitations of current standards.
10. Top 3 FHIR Adoption Challenges In 2021: How To Fix Them?
In today's digital world, healthcare organizations are looking for effective ways to achieve true interoperability. In that way, FHIR (Fast Healthcare Interoperability Resources) stands as one of the top innovative technology for effective healthcare data exchange in the industry today.
11. FHIR Vs EDI In Healthcare: Which One Is Right For You?
Today, the healthcare organisations are working harder towards modernizing their data process. Before, the EDI standards like HL7, ANSI X12 have widely used for data modelling and communication purposes within the healthcare organisation. But now, the new advanced data standard FHIR, developed by HL7 International has gained a huge adoption rate among the tech savvy healthcare professionals.
12. FHIR Integration: A Secret Weapon For Patient Engagement
The adoption of FHIR heats up across the healthcare industry. As it aims to eliminate the challenges in seamless data exchange across various healthcare organisations, the interest over FHIR implementation is rapidly increasing. Here is how FHIR integration enhances patient engagement and better patient care.
13. Guide To New FHIR Mandates: Why It Matters?
Today, the healthcare industry started moving towards the broader adoption of FHIR standards. The U.S. Centers for Medicare and Medicaid Services finalized a requirement for the use of FHIR among many CMS-regulated payers and providers by July 1, 2021. In this article, we look at the new 2021 FHIR mandate and the reason behind the great adoption.
14. The Growing Impact Of FHIR In Prior Authorization
Advancing the secure communications between administrative and clinical information systems has presented a great interoperability challenge. The healthcare data exchange between the providers and the payers can be complex and often requires manual intervention for patient health records and medical results.
This creates additional administrative workflow specifically for prior authorization when payers request supporting patient detail. In this article, we explain the latest CMS final rule and the impact of FHIR in prior authorization.
15. Fully Interoperable Healthcare Systems:The Expert's Guide
The conversation around interoperability focuses mainly on EHR systems, the goal is to ensure that patients and their providers have access to all of their healthcare data. But the value of interoperability goes beyond EHR to every system within the healthcare IT ecosystem. Here is the importance of fully interoperable healthcare systems.
Final Thoughts
FHIR serves to be a hot topic in recent times and continues to be on trend in 2022 too. CapMinds HL7 FHIR integration services create a comprehensive solution that effectively improves patient experience and maximizes practice revenue.
HL7 FHIR SMART Integration Services