FHIR Integration: A Secret Weapon For Patient Engagement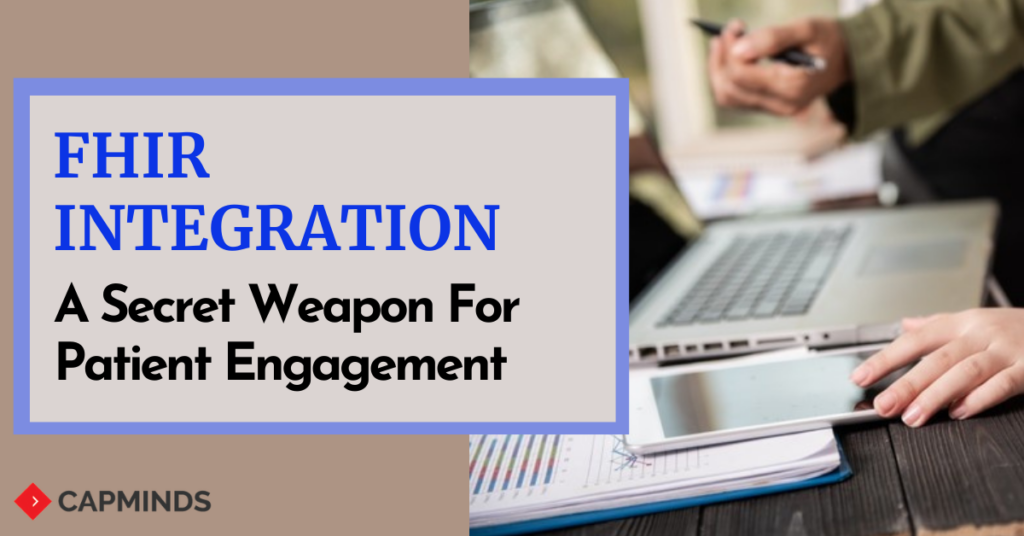 The adoption of FHIR heats up across the healthcare industry. As it aims to eliminate the challenges in seamless data exchange across various healthcare organisations, the interest over FHIR implementation is rapidly increasing. Here is how FHIR integration enhances patient engagement and better patient care.
FHIR For Accessing Patient Records
Nearly one-third of hospitals and health systems report that their interoperability endeavors are insufficient, even within their own health organizations. Like every industry, health care is managing more data than ever. Plus, there's growing number of technologies that gather and store this information. The challenge now is to make these different sources of data—from hospitals, clinicians, health plans, patient portals, databases, and increasingly, patients—effectively talk to one another.
FHIR is one way to establish data source access standardization. It saves time on the often-burdensome steps to mine big data, access patient records (providing a comprehensive picture of the patient's health record), and make recommendations for more intelligent tools and materials that are always up to date and in line with current best practice standards.
The Need For FHIR
FHIR uses standardized APIs to create plug-and-play applications. This serves to remove the gaps and errors that the current document-based system of information exchange brings with it. An application developed for FHIR can be plugged into any EHR and information can be obtained; there is no scope for information to be lost, and it's easier to obtain specific details instead of a large volume of data to sift through.
How FHIR Improves Patient Engagement?
There are a lot of expectations from FHIR integration with regards to improving patient engagement, seamless data transfer, and developing better care management programs.
For patients, FHIR makes it easier to contact healthcare service providers by eliminating the hassle of having multiple portals for the same. FHIR can also be used for obtaining smaller, specific data from eHealth or mHealth apps, wearable devices, monitors, and other sources to perform health analytics and make estimates, thus helping in preventive care. It can also offer a holistic and comprehensive picture of the patient's health, medications, and episodes. All this data is made available to patients as well. It's an excellent method of care management.
FHIR Simplifies Healthcare Information Exchange
FHIR (Fast Healthcare Interoperability Resources), an HL7 standard that simplifies the exchange of healthcare information and promotes the use of APIs to support light-weight integration. Securely exposing and managing FHIR APIs, facilitates data access and interoperability across the healthcare ecosystem — accelerating time to market for game-changing digital services and experiences that promote deeper patient engagement and improved health outcomes.
By fueling widespread data exchange, API-powered, FHIR integration could enable stakeholders across the patient's ecosystem to redefine the value and quality of the patient experience by inviting better collaboration and open innovation resulting in a more cohesive healthcare customer experience network.
The Adoption Of FHIR
Patient medication non-adherence costs the U.S. healthcare system upwards of $300B per year. Without a unified, real-time view of the patient as they engage with different stakeholders across the ecosystem, it is difficult for a treating physician to get insights into all the medications that have been prescribed and filled by the patient, or administered to the patient by other providers they encounter during the course of care.
Because FHIR resources cover a variety of clinical and non-clinical elements (e.g., medications, diagnostics, care plans, billing, etc.) and are suitable for a wide variety of contexts (from mobile apps, cloud communications, EHR-based data sharing, server communication in large healthcare systems, and much more) they help enable a more unified view of the patient for stakeholders across the ecosystem.
For example, physicians can identify gaps in adherence (prescriptions not filled or administered) or overfill indicators (duplicate Rx orders or insurance claims) based on improved access to real-time data from other hospitals, physician's offices, and pharmacies that form part of that patient's ecosystem. This provides the opportunity for improved physician-patient engagement and targeted, early interventions that can reduce hospital readmissions, need for emergency care, and ultimately improve outcomes.
Extending this level of data access to drug manufacturers, personal genomics companies, and research institutions provides an opportunity for chronically ill patients to be easily matched to relevant clinical trials or with new precision medicine treatments designed to optimize efficiency or therapeutic benefit for particular groups of patients, using genetic or molecular profiling data, improving access to more personalized treatment options for the patient.
Final Thoughts
As the adoption rate of FHIR is rapidly increasing, it serves to be a smart way to improve patient engagement – the stakeholder's results with connected patient experience that drives higher quality, more consistent health outcomes. As FHIR integration provides easy data exchange system across the global healthcare marketplace – it is improved to be the right pathway to overcome the challenges of healthcare data interoperability.
CapMinds HL7 FHIR services delivers cost-effective solution for healthcare industries to achieve better healthcare delivery and improved patient engagement through digital advancement.