HL7 Vs FHIR: What's The Real Difference?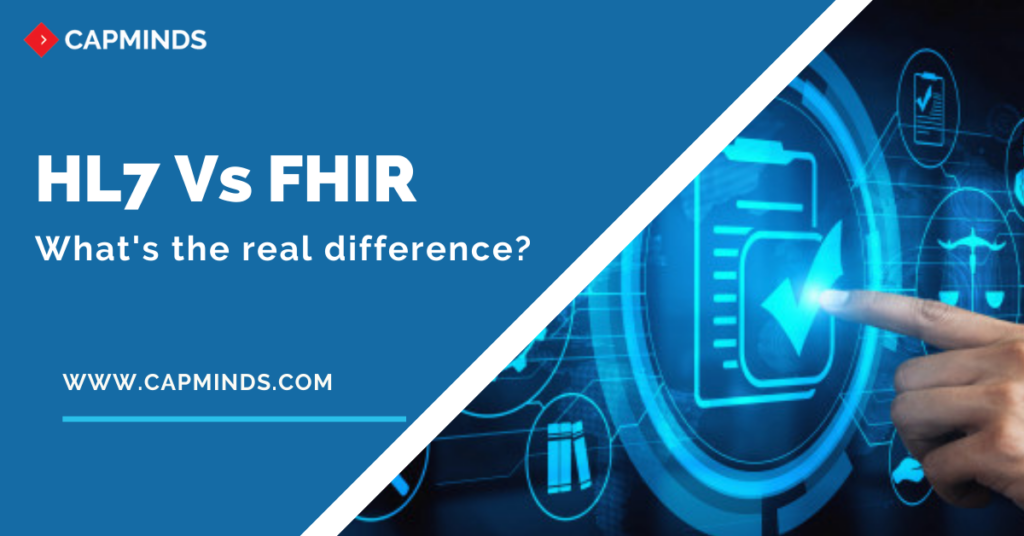 In the advanced process of improving patient outcomes, data plays a major role in the healthcare industry. Because of the way U.S healthcare works; the most important factor in effectively utilizing EHR records ensuring they are formatted in the right way to interoperability across the healthcare system.
There is a big deeper concept to consider here when it comes to HL7 Vs FHIR standards. Understanding the basic differences can help improve your organization in terms of workflow and productivity. Let's start by defining both HL7 and FHIR.
What Is HL7?
Everyone has probably heard of HL7 (Health Level Seven) – a set of international data-sharing standards popularized by Health Level Seven International, a non-profit organization focused on healthcare interoperability. It served as an early encoding framework for supporting secure healthcare messaging and document exchange between healthcare organizations.
Our healthcare framework is comprised of a huge number of approximately related public and private providers, each with their interesting method of working. Hence, information exchange standards like HL7 are basic for interfacing between these associations—EHR systems would be altogether unequipped for interoperating in any case.
While the development of HL7 has been an important step in the right direction for the standardization of health records, implementation still varies dramatically between each organization, and integration challenges remain all too common. While the improvement of HL7 has been a significant positive development for the normalization of healthcare records, and integration challenges stay very normal.
The Working Principle & Importance Of HL7 V2
Initially released in 1989, HL7 V2 got quite possibly the most generally implemented healthcare standards across the globe. As per HL7, the majority of U.S. medical organizations today utilize a version of this standard.
HL7 V2 works by giving a language to communicate among systems, like electronic clinical record (EMR) systems, healthcare information systems, laboratory information systems, and billing stems, and more. That language contains ASCII text-based messages. Frameworks communicate messages to each other when a patient is conceded to a clinic, a specialist puts in a pharmacy request, a healthcare provider charges a patient.
By enabling various systems to communicate, HL7 V2 has assisted healthcare organizations with keeping away from the complex software development work recently needed to build interfaces. Because the standard was intended to be profoundly adaptable and adjustable, it leaves a respectable measure of work for developers.
Introduction: What Is FHIR?
In 2014, HL7 introduced an important alternative to HL7 V2 and V3 standards: the Fast Healthcare Interoperability Resources (FHIR) standard. And, within a few years, FHIR had quickly gained acceptance from high-profile healthcare institutions, including CommonWell Health Alliance, SMART (Substitutable Medical Applications, Reusable Technologies), and even Apple with the integration of FHIR into the iPhone Health app.
FHIR, which was first drafted in 2011, is an open standard that enables new apps and legacy systems to more easily exchange data than in the past. FHIR was developed to not only improve interoperability and enhance the efficiency of communication but also streamline implementation compared with previous standards, providing easily understood specifications and enabling developers to capitalize on common Web technologies.
Why FHIR Is So Powerful Than HL7?
FHIR builds on previous standards, including HL7 V2, HL7 V3, and CDA (Clinical Document Architecture—part of HL7 V3). But unlike those other standards, FHIR employs RESTful web services and open web technologies, including not only XML (used by previous standards) but also JSON and RDF data formats. These technologies should be familiar to most developers, reducing the learning curve compared with other standards.
FHIR also offers multiple options for exchanging data among systems. For example, it supports messaging (similar to HL7 V2), documents (like CDA), as well as a RESTful API approach. This RESTful approach offers the potential for greater interoperability among a wide array of systems and devices—including not only electronic health record (EHR) systems but also mobile apps, mobile devices, medical devices, and wearables.
In 2020, the U.S. Centers for Medicare & Medicaid Services (CMS) finalized a mandate for the use of FHIR by a variety of CMS-regulated payers and providers beginning in mid-2021.
FHIR Implementation Challenges
When getting ready to implement FHIR, several challenges and considerations should be kept in mind.
The Adoption is going to be slow: We all know HL7 has been a widely accepted healthcare information sharing standard for decades, but FHIR is still young and dynamic There is no doubt in the effective benefits of FHIR, but the adoption is to be slow.
The cost of adoption: For large-sized healthcare organizations, the cost of adoption like to be complex.
Potential threats for vendors: Some health IT vendors could be compromised by the capacity of FHIR to minimize the deployment times like common health records which reduces revenue.
How To Get Started With FHIR?
The implementation of FHIR creates an advanced way for integration and better interoperability by opening up new opportunities in mobile health applications and cloud communications. By providing EHRs the right ability to interact with each other, FHIR has emerged as the basic building block for improved patient care.
Today, most healthcare organizations are very eager to adapt to the new technologies and standards across their EHR spending. With this in mind, CapMinds offers you the best HL7 FHIR SMART integration services and helps you to help the actual results you need.