Top 3 Real Time FHIR Applications In Healthcare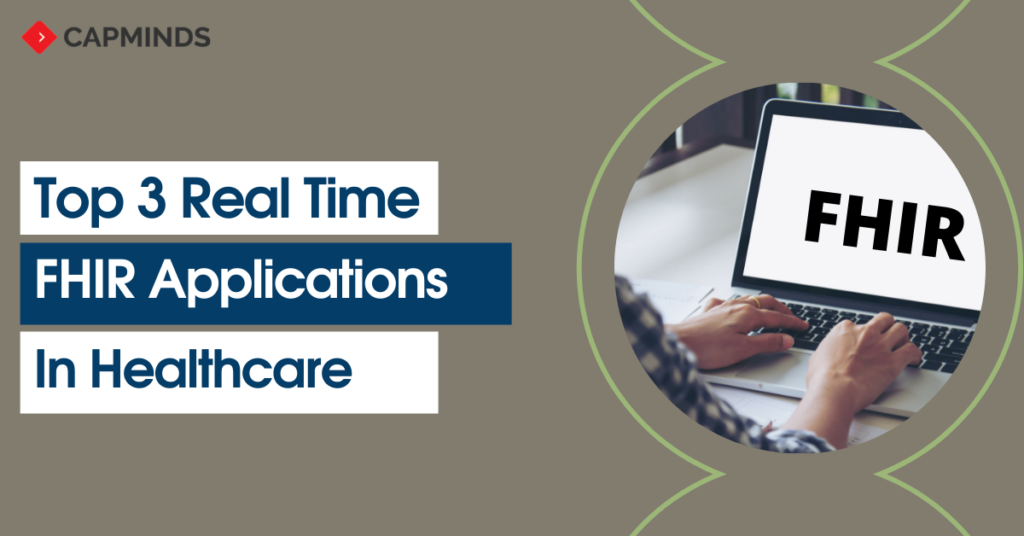 The advanced healthcare industry has grasped the emergence of the HL7® FHIR® standard, a next-generation standard framework created by HL7. The FHIR® standard is majorly being adopted for integration projects worldwide.
Given the limitations of previous healthcare information exchange standards for non-XML segments, V2, V3, and CDA, there was a need for a standard that is simply structured, highly standardized, and easily understandable. FHIR is expected to overcome the complex limitations of current standards.

FHIR is an interoperability standard for sharing and exchanging health records between organizations or health experts with the help of various software. Let's take a look at the major FHIR applications taking healthcare to an advanced level. In this article, we explain to you the top 3 real-time applications of FHIR.
1. Personal Health Record
The rise of patient empowerment has led to more citizens wanting access to their health records, whilst many are monitoring their health via fitness apps. This, in part, has seen demand for healthcare providers to implement Personal Health Records (PHRs) or add data to existing electronic health records (EHRs) from fitness or mobile devices, such as blood pressure monitors or 'standalone' tablet or phone apps.
To achieve this, a new generation lightweight technology stack within the device is used which needs to send data to a variety of third-party systems. The development time for these projects is typically short, compared with those traditionally associated with large healthcare integration projects.
The role of HL7 FHIR
The communication needs to be standardized so that the consumer can connect to different vendors' PHR and EHR systems according to their situation and location. FHIR® is the first healthcare exchange standard to be designed for the modern mobile-friendly toolset of REST and JSON (familiar to a new generation of APIs of Google and Amazon). It allows data to be read, written, and queried, providing all the flexibility to integrate a device or small PHR with a larger PHR/EHR.
FHIR®'s simplicity of use means a development team from the PHR or device community can use it rapidly, without needing to become experts in EHRs or health communication protocols. FHIR applications have also standardized the use of well-known security and log-on standards in a health records environment. This prevents each project from needing to reinvent this layer, potentially with design flaws.
2. Healthcare Document sharing
One of the topmost FHIR applications is sharing healthcare documents such as lab results, imaging, and radiology scans, medical prescriptions can easily improve patient outcomes. To enjoy all these benefits healthcare document sharing system is important and is often based on IHE XDS standards. But this standard has no direct support for mobile applications or modern REST interfaces, therefore limiting mobile access to these vital documents.
The role of HL7 FHIR
IHE has now integrated FHIR® with XDS, to produce MHD (Mobile Health Documents) profile which allows mobile devices, and other resource-constrained systems, to use MHD to access an XDS Repository.
This has been built on top of common FHIR® resources that provide ways to create, store and reference documents of all kinds, for use with or without XDS/MHD. Beyond the capabilities of sharing traditional documents (such as PDFs), FHIR® also provides structured clinical document functionality for expressing all document-based uses cases, carrying on from and compatible with the highly successful HL7 CDA standard.
3. Clinical Decision support
As healthcare digitization continues to mature, the role of decision support is becoming more prevalent in everyday clinical environments. A key benefit of computerized structured medical records is the ability to provide automated expert input to the business process (e.g. drug interaction checking). Despite being widely deployed, the functionality and knowledge bases may be limited to use with one system or vendor.
The role of HL7 FHIR
FHIR® has support for common decision support interactions, between separate systems, and can expose the necessary analysis data in a standard format. This enables collaboration and plug-and-play of decision support providers and clients.
Summary
We've looked at the three very different use cases surrounding FHIR and the innovations the standard enables. The FHIR standard will benefit healthcare providers and patients, as it improves access to a more complete, higher quality electronic health record by being able to include data from sources like laboratory results. The FHIR API makes it easier for developers and healthcare providers in improving healthcare delivery from ambulatory and inpatient care to post-acute and home care.
Getting started with CapMinds HL7 FHIR services
The implementation of FHIR creates innovative ways for better interoperability by opening new avenues in mobile health apps. Today, most healthcare organizations are showing interest in adapting new healthcare technologies to modernize their practice workflow. With this in mind, CapMinds offers you the best HL7 FHIR SMART integration services and helps you to help the actual results you need.
Are you looking for the best FHIR services for your practice?