#Trending: FDA Software as a Medical Device (all-in-one guide)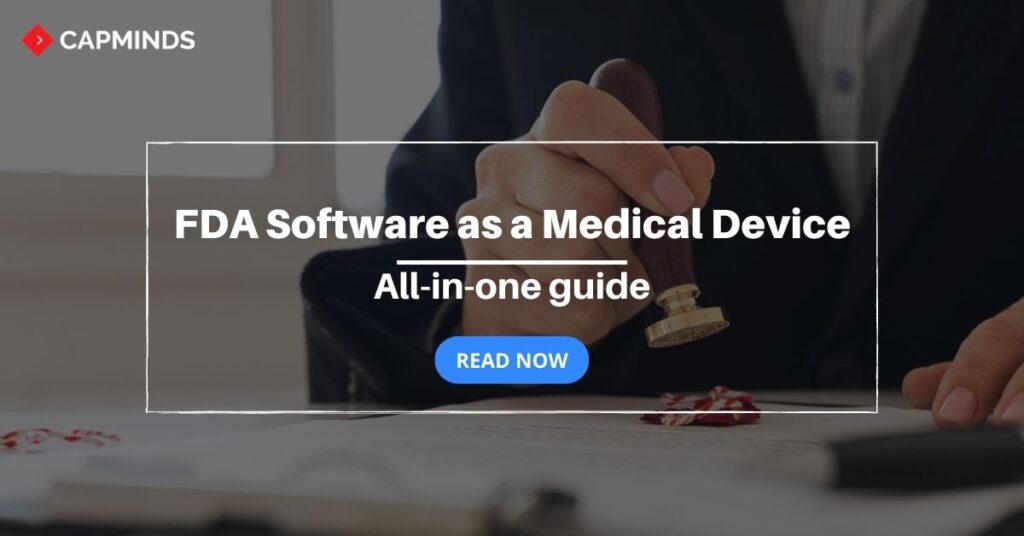 Medical device app development and software has re-designed the way patient and providers interact. It has also changed the way patients manage their health, and how physicians provide care.
An increase in software use comes with more compliance issues that need to be attended for avoiding complications. Today many health IT organizations focus on the need for software validation for these two reasons to ensure the software is acting the way it should.
To maintain compliance, or
To increase standards of quality.
FDA validation is a bit tricky because of the lack of any specific process for companies to get it done. The regulations are complex and the guidelines do not serve all healthcare providers.
In this guide, we are going to see the following contents
What is an FDA Software?
The software with its healthcare facility benefits also focuses on satisfying user needs and requirements. While installing, a company should confirm that it is done right and have all security measures. Along with this, document validation is also required.
Healthcare apps need mandatory FDA approval. FDA software validation means the verification and documentation by an FDA-regulated company. This is to prove that their software can make accurate and compatible results. The pre-determined set of guidelines must also be met by the companies.
But, FDA does not give protocols for how companies must confirm their software or how the results should be. Because of this, the companies are free to choose how it validates and provides proof of validation. Most companies buy software from third-party vendors.
What is Medical Device FDA?
The tech advancement in digital health tech that has changed the industry is the development of software made to perform complicated medical functions. This is Software as a Medical Device (SaMD).
SaMD can diagnose medical conditions and suggest treatment plans. It can alert the clinical management team about diagnoses, treatments, and more. It can be used across many health tech platforms. In reality, it is used on virtual networks, medical device platforms, etc. SaMD is not the software that enables the functionality of the hardware. The software is inserted into a piece of hardware but plays the role of software that performs medical functions.
Features of Software as a Medical Device (SaMD)
It can find an accurate dosage of drugs for patients through personalized patient information.
It can diagnose a stroke through MRI images.
Tracking mole size over time, SaMD can help reduce the risk of melanoma.
By retrieving data from different digital devices, it can identify epileptic seizure risk factors.
Market Size of a Software as a Medical Device
HL7 integration and other technology have raised the standards of healthcare services over many years. SaMD is mostly used with non-medical computing platforms linked with either general-use hardware or virtual networks.
The SaMD market will experience positive growth in the future. With the expected increase in the adoption of connected devices and digital health solutions, it is achieved.
The ease of regulations with the certification of SaMD will also be a factor in its market growth.
The Internet of Things (IoT) has added oil to the growth of the SaMD market.
The current pandemic situation has been a catalyst to increase the growth of the SaMD market.
FDA Guidance on SaMD
FDA has given some healthcare compliance solutions to make all software more universal.
Software as a Medical Device must support the clinical language to be used.
The rule focuses on the interface which must incorporate a verbal design and proper instructions.
FDA requires SaMD to meet clinical evaluation methods.
The clinical evidence must be matched with the type of SaMD software.
Products that relate to a medical device must not only be tagged with adverse effects but also must have recommendations given for analytical reasons.
FDA Regulatory requirements
The company must provide evidence to gain the approval of the FDA to prove that it's both safe and effective. It uses many tools to measure these. The majorly used tool is MedWatch which is the FDA Safety Information and Adverse Event Reporting Program.
FDA is an authoritative body in the US health sector but it does not have permission to;
Make medical recommendations, neither to clinics nor to physicians.
Order providers on how to run their businesses or regulate the practice of an individual nurse, or physician.
Perform ratings on medical devices.
Get FDA approval for Software as a Medical Device
First, the software system must please the requirements set by the FDA.
The company must submit proof of correct installation meeting the guidelines of quality attributes.
The software must do all functions for which it has been designed.
The company must confirm the process they plan to use to make the medical device.
The company must identify and find solutions to problems that could affect production negatively.
Examples of FDA Software as a Medical Device
Here are some examples of SaMD to understand how it helps medical practitioners to get data and make accurate decisions.
Software connected with a medical device: Software is connected to a hardware medical device sometimes.
Treatment planning software: Combined with hardware medical devices to gather important vitals required to develop treatment plans.
Software for Non-medical computing platforms: Utilizes SaMD. These are located in the hardware medical device.
FDA Software as a Medical Device, US
FDA significantly monitors the safety of all medical products sold in the US.
It regulates all medical device products in the country.
This regulation includes diagnostic tests and other medical device-related products.
If a US company wants to sell a medical device product legally, It must get FDA approval first before even stepping into the medical market.
Medical Device Interoperability Solutions from CapMinds
CapMinds' medical device interoperability & integration solution automatically gather and integrate vital signs data of patients from different medical devices to the EMR system wirelessly.
Saves time from manual records and inputs made by your staff into the EMR
Improves your productivity and workflows
Increases accuracy rates
Enhances clinical decision making
Provides prompt patient information when needed.
Medical device cybersecurity is the most pivotal thing that needs paramount attention now. Information is crucial and data is everything for the healthcare spectrum. We as technical experts ensure this is done in the right way. We provide medical device integration & interoperability solutions, healthcare cloud, and cybersecurity services for all and especially the federal government and IT companies.
CapMinds guarantees and delivers the perfect all-in-one Interoperability solution for your need. We facilitate innovatory exchange, client-centered services, clinical & financial integrations, and enhanced activation processes for your individual and collective needs.
"Unite with us to enjoy the maximum benefits with our medical device interoperability solutions and rise to be the first"