What Providers Need To Know About FHIR?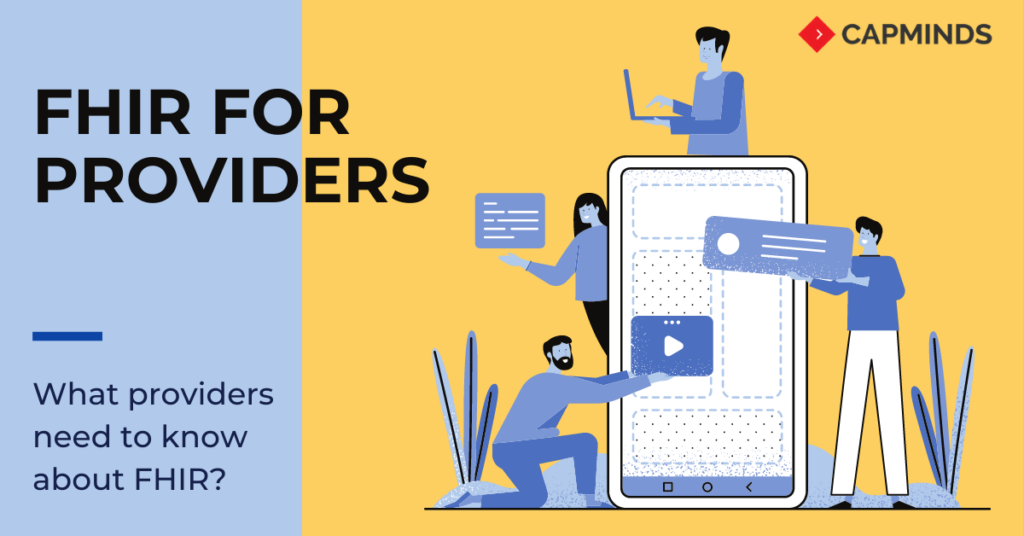 HL7 FHIR standard is a familiar term in the healthcare provider's world as it has emerged as the widely adopted data standard. FHIR helps healthcare organizations of all sizes to benefits greatly from both clinical and financial perspectives in achieving better patient outcomes and regulatory compliance.
Today, most of the providers are wondering about why I need to go with FHIR and why it matters for me? FHIR eliminates more complex care coordination tasks and helps you to concentrate more on your patients. Here is the advanced guide to FHIR for providers.

What FHIR Means For Providers?
FHIR creates a standard data set that allows various applications and systems to send, receive, and share data securely. This data set would apply to both payers and healthcare providers, allowing for two-way data exchange with Medicare, Medicaid, and Commercial payers. The three most common goals of FHIR services include care coordination, patient engagement, and regulatory compliance.
1. FHIR Provides Healthcare information Exchange
As the Merit-Based Incentive System (MIPS) impacts supplier associations of all sizes, how about we take a gander at the effect of FHIR with regards to MIPS first. For example, under the MIPS Promoting Interoperability Category suppliers should provide patients electronic access to their health information within four business days of accepting it.
They are likewise needed to Support the Electronic Referral Loop by having the option to send, get and combine information for patients referred to them and the patients they progress to other provider organizations.
With FHIR, that information could be made accessible immediately and naturally. This eliminates the unnecessary burden on healthcare providers. This MIPS requirement goes far past MIPS scores and going with reimbursement changes, impacts the patient's quality of care.
2. FHIR API Is Important For Alternative Payment Models
Alternative Payment Models (APMs) is an effective payment approach received by CMS that presents added incentive payments to healthcare provider organizations for cost-effectively delivering quality care. APMs can apply to a particular clinical condition or a population that incorporates MIPS APMs and Advanced APMs.
CMS recently introduced some new specialty-specific payment models that build upon the current APMs like Primary Care First. These payment models expect healthcare providers to utilize an EHR that is fit for sharing information using FHIR APIs to fulfill the objective of these payment models, improving the timely exchange of provider-validated patient health data.
This kind of information enables:
Improved Care Coordination
Improved Patient Care
Increased Patient Participation
Improved Diagnostic and Patient Outcomes
Increased Practice Efficiencies
3. FHIR For Chronic Care Management
Chronic Care Management is another area that benefits essentially from the introduction of interoperability, particularly with time as increasingly more information gets aggregated into the system. As information aggregates and patterns are distinguished, suppliers will study specificities of constant diseases and will want to utilize that information to present more compelling preventive care for patients with various comorbidities.
Outside of the workplace, patients will want to continue in real-time as the test outcomes and notes are collected in their EHR. They can then take that information and turn it around rapidly to request second and third opinions easily. In this way, the FHIR standard plays a major role and helps healthcare providers in chronic care management.
4. FHIR Helps Providers To Improve Overall Healthcare Management
Improving Care Management is another undeniable advantage of expanded interconnectivity and interoperability. For instance, numerous FHIR frameworks interconnected with one another will permit suppliers to recognize warning signs among patients who are in high danger of various comorbidities. Recognizing these patients and giving preventive care will expand the drawn-out standpoint for those patients and diminish costs on the overall system.
Let us consider, for example, a diabetic patient who can test their blood sugar level and have information outside the ordinary reach be naturally enrolled with their provider without making sure to record it or carry it with them for the office visit. Furthermore, FHIR APIs empower patients to play a functioning part in their care by working with quick and secure healthcare information exchange.
Patients would get significantly more noteworthy admittance to their clinical information in a normalized design, which opens developers like Microsoft, Amazon, Apple, and Google to create applications that not just study and gain from a patient's clinical history yet can communicate information back to the healthcare provider too. It's no surprise that these tech pillars are backing FHIR.
5. Interoperability For Healthcare Providers: How It Benefits?
The healthcare providers remain to acquire on different levels in an interoperable healthcare system by FHIR APIs. By providing and receiving timely access to the right data, the healthcare practice would easily able to:
Offer timely and coordinated care to their patients
Enable improved patient safety by ultimately reducing medical errors.
Reduce medical liability
Attain regulatory compliance with ease
Reduce duplicate or unwanted diagnostic tests
Achieve better patient engagement
Overall, we can see that the administrative works could be reduced significantly with the help of FHIR. Less time will be spent on documentation of data and connecting with patients via phone, email. So, the providers can able to spend more time on delivering quality and timely care to their patients.
Final Thoughts
FHIR has emerged to be a safe and secure data standard that is paving the right way to achieve true interoperability. The healthcare providers, who early adopt FHIR will able to provide exceptional care to their patients and improve practice growth.
CapMinds is here to offer the best HL7 FHIR integration services for your practice in a faster and safer manner. Our expert team will strive to improve your healthcare organization's productivity by simplifying day-to-day operations.