Guide To New FHIR Mandates: Why It Matters?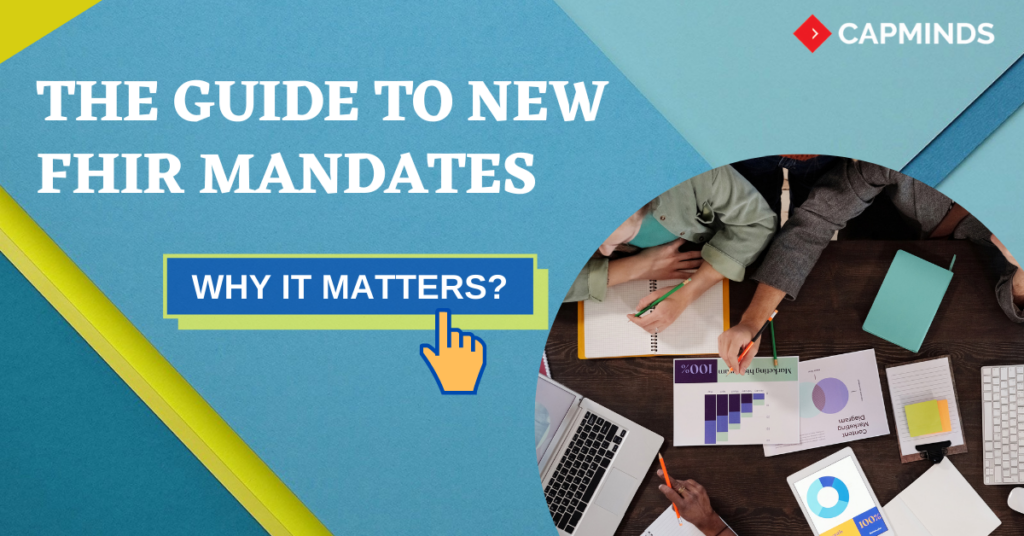 Today, the healthcare industry started moving towards the broader adoption of FHIR standards. The U.S. Centers for Medicare and Medicaid Services finalized a requirement for the use of FHIR among many CMS-regulated payers and providers by July 1, 2021. In this article, we look at the new 2021 FHIR mandate and the reason behind the great adoption.
Why FHIR Was Created?
The HL7 created FHIR (Fast Healthcare Interoperability Resources) standard to simplify the process of how healthcare providers, payers, and patients shared health information. In the past years, before the creation of FHIR, the patient electronic medical records and other healthcare data were stores in various kinds of systems which will be difficult for providers to access and share health data across systems.
This will leads to increasing costs, slow down the clinical decision-making process, and reduced outcomes. To seriously address this problem, HL7 created the FHIR standard – a developer-friendly standard to achieve greater interoperability across healthcare systems.
The CMS Interoperability Rule
The healthcare organizations within the United States are required to support increasing interoperability and true access to patient-level health data. The CMS interoperability rule mandating FHIR as a specialized standard by July implies a lot of healthcare organizations are scrambling to meet compliance, and industry heavyweights are additionally steering the result: Apple, Google, Microsoft, and Amazon all focus on the HL7 FHIR standard for healthcare information.
A vital part of the Act relates to supporting customers' admittance to their patient-level information and the necessity of all wellbeing intends to help application programming interface (API) access to the information progressively. The final rule commands that all Medicare Advantage, Medicaid, CHIP, and ACA plans give a Patient Access API, available utilizing third-party applications, by July 2021.
So, it is important to think about FHIR mandates as a great opportunity to get started with API strategy for consistent results. This will help to build digital healthcare that provides patients with better health information and better outcomes.
The New FHIR Mandates
Presently the CMS Interoperability and Patient Access final rule has presented specialized guidelines that require most public payer entities and healthcare organizations to receive FHIR. This includes:
CMS-directed payers currently should execute and keep a protected Patient Access API permitting the patient to effectively see data about claims utilizing third-party apps.
Numerous medical services plans and providers should make supplier index data openly accessible in a Provider Directory API.
CMS-directed payers should impart patient clinical information to different payers at whatever point patients demand it.
Failure to follow the new FHIR mandates can lead to regulatory fines and other compliance issues. So, you need a plan to adopt and enforce the FHIR standard across your operations.
Using FHIR For API
The Application Programming Interfaces (API) are essential, as they allow developers to create apps by accessing data and features of other services and applications. Importantly, the APIs are the way, to sum up, the healthcare systems' capability to make a system highly interoperable.
Here FHIR is defined as the best-standardized language tailored to healthcare data and it creates new opportunities for innovation, bringing true interoperability into reach. The users do not know about this directly, but the FHIR APIs boosts healthcare portals, patient charts on iPads, and more. So using FHIR for as many APIs as possible reduces time, complexity and eliminates unnecessary internal/external discussions.
Utilizing FHIR as the API building block throughout the healthcare organization guarantees patient information is reliably addressed. In any case, a ton of API advancement work likewise should be finished with the authoritative and business end – think payments, insurance, or even quiet insight. Rather than simply utilizing FHIR where it is legitimately needed, there's a chance to utilize FHIR's resource definitions universally.
Utilizing FHIR far over patient data management assists you with working in a cross-functional manner. If you utilize a typical structure block, the whole healthcare organization is more measured. Presently you can re-use APIs across the organization and abbreviate an opportunity to market new features and services.
Deciding to expand on FHIR assists with normalizing code and fabricates a resource structure for abstracting improvement teams from the complexity of their particular backend frameworks so every resource would have a similar model in an API.
It permits you to keep away from different pieces of the organization not getting on existing resources and beginning without any preparation all alone. Utilizing FHIR as the reason for APIs implies you would then be able to focus on differentiators and broaden those APIs as needed.
The Best Patient Access API strategy
With the July 2021, Patient Access API deadline just two months away, the first thing is to decide whether to maintain FHIR based patient access API in-house or to work with the third-party FHIR implementation partner. If you opt for in-house, here is the range of things to be taken into considerations.
FHIR based API expertise is non-negotiable: Per the final rule, health plans will need to build an API that empowers their individuals' claims and clinical information to be delivered as FHIR resources after being mapped to the Common Payer Consumer Data Set (CPCDS) and the United States Core Data for Interoperability (USCDI) elements.
Capability in application authentication and consumer validation: The standard FHIR mandates that a customer's request for information can emerge out of any third-party application. Health plans will require the capacity to verify the application and approve the use of the application.
Get Started With FHIR Today
The adoption rate of FHIR as the best API standard has the right potential to access patient data – which benefits patients, providers, and organizations as well. To achieve true interoperability, healthcare providers should get started with the FHIR as the building block for the digital patient experience.
To comply with the new FHIR mandates, many healthcare organizations are getting started with the cloud-based FHIR for the most efficient solution. However, successful cloud-based FHIR implementation is possible only with the guidance of the right partner. CapMinds is here to guide you throughout the implementation process by offering the best HL7 FHIR services cost-effectively.