The Growing Impact Of FHIR In Prior Authorization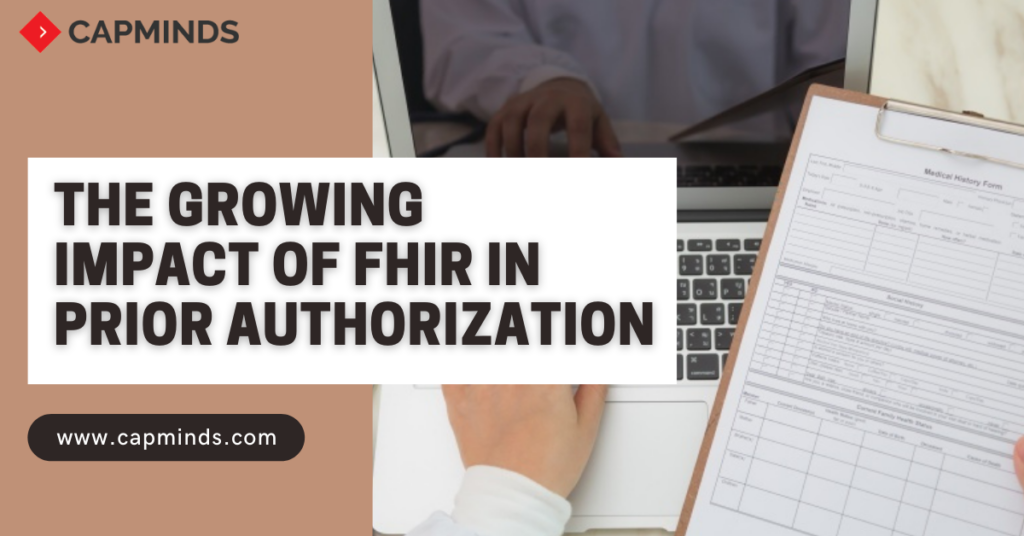 Advancing the secure communications between administrative and clinical information systems has presented a great interoperability challenge. The healthcare data exchange between the providers and the payers can be complex and often requires manual intervention for patient health records and medical results. This creates additional administrative workflow specifically for prior authorization when payers request supporting patient detail. In this article, we explain the latest CMS final rule and the impact of FHIR in prior authorization.
Defining Prior Authorization
Prior authorization is a process to acquire approval from a health insurer that might be needed before you get a medical care administration, therapy plan, physician recommended drug, or solid clinical equipment all together for the help or medicine to be covered by your plan. Your health care coverage organization utilizes an earlier approval prerequisite as a method of keeping medical care practical, protected, fundamental, and proper for every patient.
In any case, the way toward mentioning and accepting prior authorizations can be moderate. They can regularly prompt treatment delays and be a deterrent among patients and the consideration they need. Prior authorizations are regularly requested by fax or payer-explicit entryways, and ordinarily need manual intervention to enter the significant data. This requires manual record on the payer side, conceivably bringing about critical time and cost preceding a decision being made.
HL7 FHIR healthcare data interoperability can offer frictionless information exchange among different partners in the medical care community, for example, payers, suppliers, and can be a component to address challenges related to prior authorization. The direct communication of prior authorization from an electronic health record (EHR) won't just decrease costs for both healthcare providers and payers but will also result in faster prior authorization decisions.
CMS Final Rule Focusing FHIR For Prior Authorization
With the Final Interoperability and Prior Authorization Rule being issued on January 15, 2021, by the Centers for Medicare and Medicaid Services (CMS), anticipate that advancement should quicken on web-based interfaces that make a system expand and adjust resources for prior authorization preparing.
CMS declared the most recent improvement that will be focused through FHIR for prior authorization(PA) measures. Physicians burnout has been a major worry of PAs in the past because suppliers frequently invest a great deal of energy moving through related endorsement measures. While diminished authoritative exchange cost and a "frictionless" wellbeing experience are the central goals of the PA interaction, the managerial expenses are in any event multiple times higher. It likewise brings about a lot of cash-based spending. A recent report shows that 78% of patients feel that PA-related delays slow down treatment plans.
FHIR With Prior Authorization
Healthcare data exchange among payers and healthcare providers can be complex, and frequently requires manual interventions for things like patient records and clinical outcomes.
Similar to utilizing the web permits you to get to a URL and complete tasks utilizing a standard browser running on any gadget, FHIR desires to do likewise by utilizing web-based consistency to impart medical services information guidelines among payer and payee. The objective is to upgrade the data exchange by eliminating the complexities of technical standards in data management systems used by payers, physicians, and healthcare systems.
Created by HL7, FHIR uses existing sensible models to give a reliable, simple to implement, and rigorous mechanism for exchanging health data between healthcare applications. The same wise when using URLs, FHIR makes it easy to share information between systems regardless of the software being used and encourages designers to normalize browser applications to empower access.
How To Come Up With Effective Prior Authorization Process
Regardless of how disappointing, prior authorizations do appear to help check healthcare costs. So the question may be how to make the prior authorization process effective in practice while reducing administrative costs and improving revenue? Here are the best ways to make the PA process more functional.
1. Submit clear documentation during the PA process:
Implement an EHR/EMR template that guarantees complete documentation. Understand and stay updated on what they will ask for, making sure to complete the prior authorization paperwork fully.
2. Be prepared for clinical reviews anytime:
Most insurance payers will prolong the approval process by calling for clinical review. Be prepared to submit coordinated, very much expressed requests with all supporting data. Under the Affordable Care Act, all protection payers are needed to have an appeal process set up. Request a 72-hour sped up or urgent audit to speed the interaction along much further.
3. Automated prior authorization process
Advanced automation means making use of AI-assisted software that is fully electronic and secure. Linked via FHIR to the EHR/EMR system, prior authorization data can be collected, submitted, and followed up 24/7 in real-time.
When utilizing a completely automated prior authorization system that boosts FHIR, there is a huge chance to decrease managerial time and expenses, and schedule patients more efficiently. If an appeal is required, an automated PA system would create and submit the appeal based on pre-defined parameters using the proper documentation.
Final Thoughts
The ability to share health data between payers and healthcare providers has numerous benefits including third-party payer collaboration. CapMinds HL7 FHIR integration services create a comprehensive solution that effectively improves patient experience and maximizes practice revenue.