Popular Tips To Reduce No- Show Rates Easily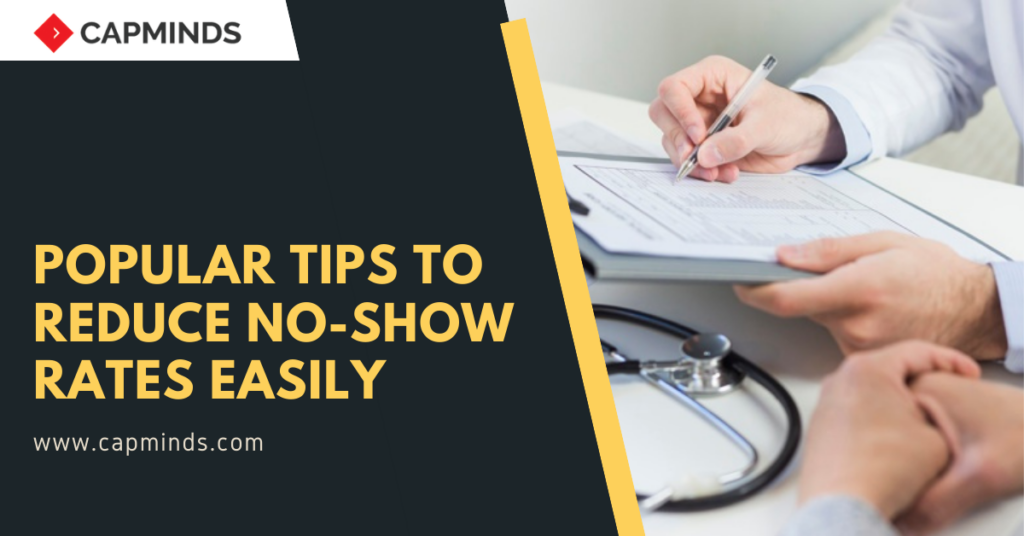 With all the busy administrative works, billing process, payment collections, it's very common for physicians to think about the scheduled healthcare appointments. But, the no-show is one of the major reasons that creates frustration for physician practices and has a great impact on practice revenue and efficiency.
Can no-show rates be reduced? Of course yes, it's impossible to eliminated no-shows completely, but we can reduce it easily with the help of some effective strategies. Here are some of the popular tips to reduce no-show appoints easily and quickly.
1. Use Automated Reminders
Providing a quick reminder to patients about their upcoming appointments not only improves patient trust but also reduces no show appointments. Many patients and medical practices prefer patient portal software with automated reminders as they can save both time and money over the manual system.
Using an automated reminder to send a secure text or email reminder is a very good idea even if you are already making reminder phone calls. CapMinds patient portal software includes an amazing feature called automated reminders (Notify that lets you automate reminders for appointments) which ultimately reduces your no-show rates.
2. Make It Easy to Cancel or Reschedule
Sometimes people may miss their appointment due to some other important works. So if they know that they can't able to visit their physicians at the time of appointment, they wish to cancel or reschedule their appointments to some other dates. That's why you must make it easy to reschedule (preferably before the appointment date)
3. Offer Multiple Time Slots
Always offer a couple of different meeting timing to your clients. If none of the times work, they'll either let you know or offer a few alternatives. Be sure to include the length of the appointment so that people can plan their day around it.
4. Use Multiple Reminder Methods
When patients initially schedule appointments, ask them which method or methods of contact they prefer. Allow your patients to designate which communication channel works best for them. Do they prefer a text message or phone call? Or would they prefer receiving an email reminder? Providing multiple options for patients to confirm or reschedule appointments in case their schedule changes, which can prevent them from becoming a no show.
5. Keep Your Wait Room Time to a Minimum
As busy as people are these days, asking a patient to wait 20 to 40 minutes or more for an appointment will increase the likelihood of them opting out of future appointments. If patients don't feel you value their time, they are less likely to value yours. This is how a no-show turns into a lost patient.
6. Reward Patients Who Keep Appointments
When a patient no-shows, you can place a small fee on their bill that remains until they schedule and keep the new appointment. For patients who keep their appointments and arrive on time, you can reward them with a small discount on their bill. You can also enter the names of your on-time arrivals into a drawing for a gift card each month.
7. Create a Standard No-Show Policy
Health systems need to have in place a clear no-show policy for their patients. The policy should be given to the patient on their first visit along with registration documents and their HIPAA disclosure. If changes are made, updates should be sent out to all active patients. The no-show policy outlines what is considered a missed appointment, canceled appointment, and criteria for being late. Next, have a clear definition of what the policy is designed to address. Follow this up with procedures patients should follow if they need to cancel or reschedule an appointment.
At its discretion, the provider can initiate penalties for infractions. Offices must be prepared to follow through with action. Otherwise, the policy becomes effectively pointless. Also, be sure to train staff on the policy to ensure the message is communicated consistently to patients regardless of who they are speaking with.
8. Extend Office Hours
In reviewing the reasons why people miss appointments, it is clear that inconvenient office hours play a role. People who work or have kids to get off to school are more likely to forget about an early morning appointment. Or if a client calls or the boss wants to have a meeting, afternoon appointments can get pushed aside.
To solve this problem and increase patient access some providers choose to offer Saturday or late evening appointments once or twice a month. To accommodate the offering, scheduling one of these appointments can come with a convenience fee.
Final Thoughts
Apart from these best strategies, implementing the best Patient portal software with advanced features like appointment scheduling, appointment reminders, online bill pay is very important to every medical practice that is working to improve the bottom line and patient access.
If you are looking for ways to reduce your no show rates, CapMinds can help you to improve your healthcare efficiency.