The 5 Best Ways To Improve Total Revenue in Your Practice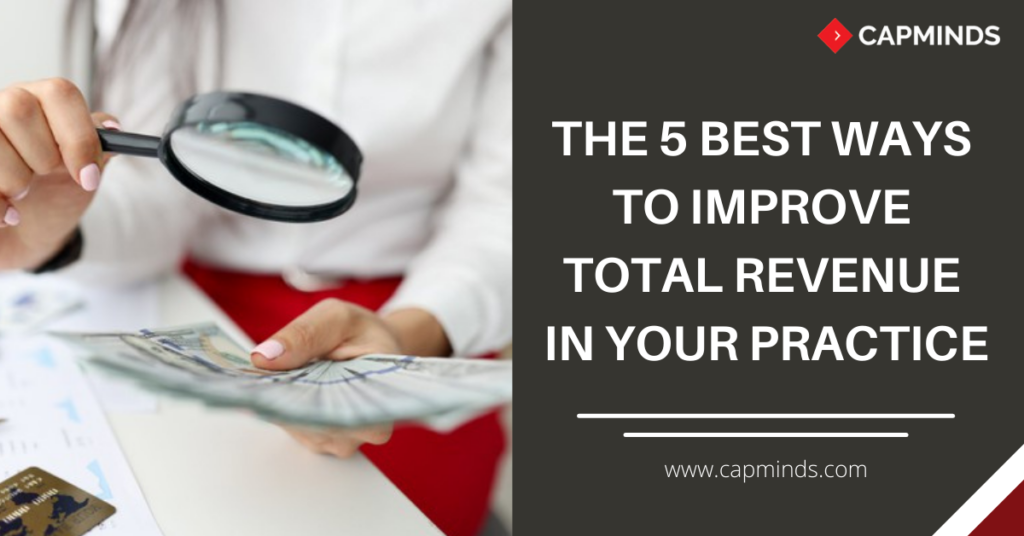 Increasing practice revenue will be one of the top goals for every healthcare organization. As everyone is very quick in adapting to the new technologies and strategies to increase overall revenue, providers are not in the right way to think about what works well for their practice. Here, in this article, we listed out the simple and most important ways that every healthcare organization should follow to improve practice revenue and overall care.
1. Verify Insurance Coverage
Insurance verification should be the first step you take after a patient schedule an appointment, but just once isn't enough. Check again the day before the patient is scheduled to confirm they still have the same coverage. Run a batch report of your appointments at the end of the day, and use practice management software that will automate verifications to avoid adding more work for your staff.
Skipping this step can lead to much larger issues later if you have claims denied and your billing staff has to track down updated insurance information to resubmit a claim.
2. Send Out Automated Appointment Reminders
No-show appointments can hurt your revenue by leaving gaps in your schedule, but calling each patient and reminding them about upcoming appointments is not an effective use of your staff's time. Instead, use a combination of text messages, emails, and phone calls if necessary (when a patient doesn't have a cell phone or email) with an automated system to reduce no-shows and keep your schedule full.
Appointment reminders that improve health outcomes for patients also play a key role in improving health outcomes. By sending automated appointment reminders for a patient's overdue or upcoming appointments, you are helping to ensure your patient's health stays at the top of their mind.
3. Use An Integrated Practice Management Software System
Using practice management software that is fully integrated with your scheduling, EHR, and medical billing can reduce manual data transfer. Not only does that free up your staff for more time to work with patients, but it also reduces errors in data entry that could lead to gaps in a patient's medical record or errors in billing that slow down your ability to collect.
Whether it may be a small practice or large practice, it is necessary to analyze the practice of financial reports promptly to achieve successful growth. So choose the practice management software with the user-friendly financial dashboard features. This will help you to analyze the performance of your practice with just by few clicks. So you can immediately able to find the areas of improvement and take necessary actions to progress the financial health of your practice.
4. Promote Patient Engagement
Patient engagement pushes patients to take the reins of their health and focus on making it a priority. Patients involved in actively maintaining their health will save themselves money in the long run, as well. Your practice can also offer incentives for those patients that are being vigilant about their health. Furthermore, offering patients budget-friendly financing options will allow them to feel comfortable seeking out the medical treatment they may have otherwise avoided out of fear of cost.
5. Use Your Patient Portal
Patient portals offer a lot of opportunities for clinics to reduce inefficient workflows by eliminating manual tasks and phone calls for you and your staff. You can:
Notify patients of normal lab results without playing phone tag
Get medication refill requests, approve them, and send them to the pharmacy
Send and receive quick messages from patients instead of filling your schedule with appointments for things that could be easily done over secure messaging
Offer online bill pay and invoicing to increase total collections
Clinics need to promote the use of portals and make sure each patient is signed up. You can automatically sign them up at the time of their first appointment to make it even easier.
There are numerous ways that healthcare providers can support their patients to increase the use of patient portals. To increase portal usage, healthcare organizations need to let their patients know about the features of their patient portal and how it can benefit them. An informative video or a formal email, a creative poster, or a brochure describing the capabilities and benefits of choosing the portal services can increase the interaction between the visits.
Final Thoughts
Healthcare providers need to focus on pulling together quality patient care and reduced costs in their practices. Your medical practice revenue depends on your ability to lower costs with these best strategies. Taking these simple measures will improve your practice's overall revenue margin efficiently.
Ready to boost your practice revenue? CapMinds is here to help you with the best healthcare services including revenue cycle management, practice management, patient portal solutions, telehealth, and cloud-based EHR solutions. Schedule a demo today with our experts to get a clear view of the success strategies to boost your practice revenue efficiently.