5 Killer Patient Portal Benefits Of 2021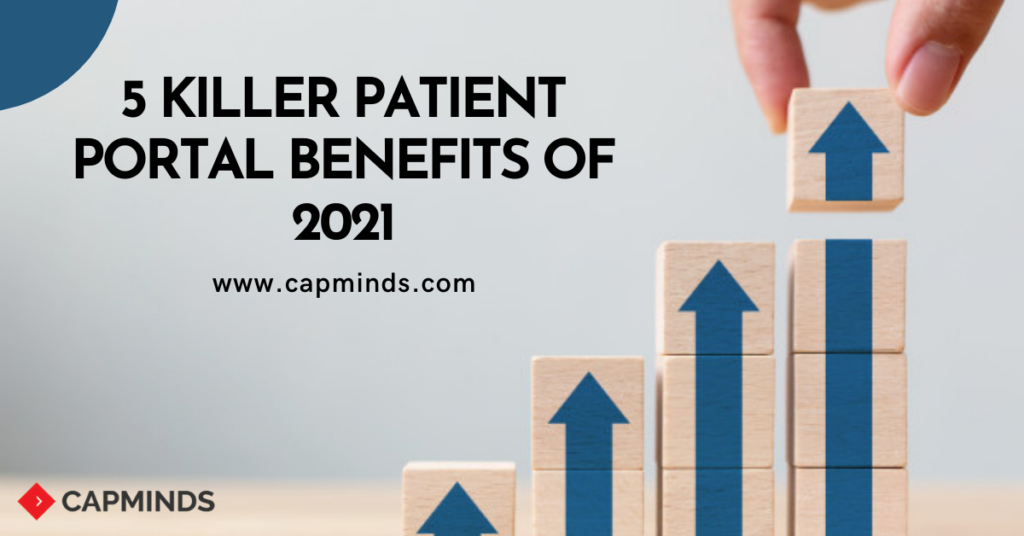 Today, the serious impact of COVID-19 has improved the adoption of patient portal solutions in the worldwide healthcare industry. We all know very well that these kinds of healthcare portals allow patients to access their medical information seamlessly. But the other hidden truth is that the patient portal software is ultimately used to improve healthcare quality while enabling better communication better physicians and their patients. In this article, we provide you the top 4 patient portal benefits everyone should be aware of.
Patient Portal Creates Safe And Secure Communication
The usage of digital communications in the healthcare industry already attained rapid growth. Now, today the healthcare providers are started to recognize the true value of it after the great impact of COVID-19. Today, patients wish to access their health information online. In the same way, healthcare providers are making use of the patient portal software to improve the care they offer to their patients.
Here the digital communications are turning to be more important than ever, as providers are making the right use of it to increase patient volume, educate patients remotely, provide treatments & solutions to their health queries online, and much more.
The patient portal benefits patients by providing the key source of knowledge include COVID-19 updates, treatment plans, and safety measures. Without this effective tool, secure communication during these difficult times has been required more administrative work and time. As vaccines continue to roll out, the providers are in the place to move forward with the understanding of the real value of digital communication for their healthcare practices.
Patient Portal Promotes Telemedicine Usage
Patient portals can also reduce the number of unnecessary patient visits to your office, allowing you to fit in more patients who need to see you. This can help facilitate telemedicine, which enables patients to consult with you through the messaging system. For example, instead of scheduling an appointment to see their physician for a change in medication doses, the patient could ask you about it using the patient portal. Using this feature lets you keep that appointment open for a patient who either has an illness that requires a diagnosis and prescription in-person or one who needs immediate medical care.
Portals Help In effective Medical Bill Management
Collecting patient payments can be challenging. Providers need all the help they can get to collect as many as possible. With in-person appointments and payments decreasing during the pandemic, online payments through patient portals became even more critical to practice bottom lines. Providers were able to continue collecting patient payments no matter where the visit took place.
Even after the pandemic, providers will find this tool powerful for increasing patient payments. A quality patient portal includes a fully integrated billing interface that allows patients to view and understand their bills, ask questions, and make payments on their accounts. The easier it is to understand a bill and make a payment, the more likely patients are to pay.
Portal Promotes Digital Patient Intake
Lastly, digital intake has empowered patients to complete their intake paperwork online. The days of the paper form, completed in-office, manually transcribed into the patient's chart, and then physically stored in a file cabinet, are over. With digital intake forms, practices can complete their intake processes in a streamlined way, with less room for data loss, human transcription errors, and accidental HIPPA-violations.
Digital intake also means patients can spend less time in the waiting room. With a patient portal, patients can complete their intake documents online in the days before their visit. This data is then uploaded automatically into their chart. For providers looking to minimize contact and complications during and after the pandemic, the patient portal is vital.
Appointments Scheduling Made Easy
These days, medical appoints could easily be digital or in-person. In either case, the patient portal will be an asset. Patients can access their telehealth appointments right from their portal. This integration is incredible for minimizing confusion about accessing virtual visits. The patient portal also relieves the burden on schedulers by enabling patients to schedule their appointments online.
Checklist To Improve Patient Portal Signup
Provide easy access to health records for your patients
Offer Online scheduling features
Provide multiple online payment options
Educate your patients about your patient portal benefits.
Promote patient portals on your website
Make sure the patient portal enrollment steps are simple and understandable
Ensure that your patient portal software is mobile friendly
Train your practice staff to have in-depth knowledge about the patient portal features.
Final Thoughts
It is now very clear that using a patient portal ultimately benefits your practice. No matter what type of online platform you choose, your patient portal can benefit your patients with secure access to their healthcare data and increase their engagement with your practice.
It is not always easy to get patients to adopt patient portals. Choosing the right platform is very much important to attract your patients. CapMinds patient portal software offers advanced features including request prescription refills, update insurance information, check lab results, manage any unpaid balances, and more in a cost-effective manner.
Find out how CapMinds will help your practice in improving patient portal signup.