Major Healthcare Automation Trends: Directly answering your risk & profitability queries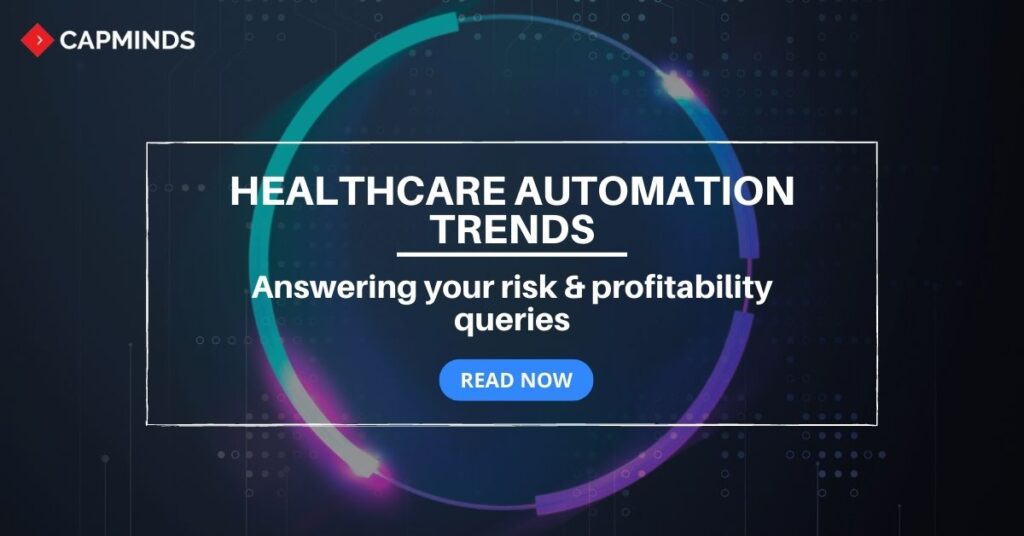 Overcoming the risk factors, improving efficiency, increasing profitability, and ultimately improving patient care is the one-time dream package for all healthcare providers.
What if we say these can be done well using today's smart & innovative healthcare automation trends?
You are definitely in for a treat and can right away start investing in these trends to shoot up your revenue and attract more clients. These automation technologies can potentially help healthcare providers to provide super-fast care by eliminating repetitions and human errors while trimming costs and enhancing consumer experiences.
This benefits healthcare employees very well by enabling them to work at the;
Maximum of their license
Maximum of their capabilities
This boosts better external and internal experience, and outcomes, and opens up possibilities to smartly invest in growth. Let's jump into the healthcare automation trends providers can confidently invest in.
1. Robotic Process Automation (RPA)
"The global RPA market size hit USD 7.11 billion in 2021. The market value is expected to increase from USD 10.01 billion in 2022 to USD 43.52 billion by 2029 at a CAGR of 23.4% over 2022-2029"
This exactly shows why investment in RPA can get you to the top player list.
RPA in healthcare can upgrade workflows by automating rule-based processes and tasks.
The automation bots can provide data manipulation, storage, system calibration abilities, and process transactions.
It can also reduce errors, save costs, and enhance outcomes eliminating poor functioning and manual processing.
RPA replaces and automates repetitive, tiresome, routine, and predictable tasks with organized UI interactions that replicate human actions.
2. Intelligent Document Processing (IDP)
"The global IDP market size is expected to grow at a CAGR of approximately 36% from 2022 to 2032"
Intelligent Document Processing (IDP) or document understanding technology solves document-centric challenges by automating the processes and delivering accurate data to any application in a much faster way.
It simplifies and accelerates the automation efforts of providers by combining RPA and AI.
IDP products will escalate considerably in healthcare.
In healthcare, IDP collaborates automation with AI to smoothen document-dependent processes.
This can widely impact and intensify functions like claims and billing, physician credentialing, patient intake, risk scoring patients, and practice outcome evaluation processes.
3. Intelligent Automation (IA)
"20% of all patient encounters will include some form of IA touch within clinical or non-clinical processes by 2023, a successful growth from less than 4% today"
IA with the combination of RPA, IDP, and AI capabilities like machine learning, cognitive computing, and Natural Language Processing is used in many functional areas within healthcare organizations.
As a particular type of IA, IDP is reconstructing provider and payer operations to enhance efficiency, cut down costs, and enable staff to concentrate on higher-value activities while improving patient satisfaction and communication.
Healthcare providers are utilizing IA smartly in many ways like improving the physician's EHR experience, and patient experience by adopting mobile check-in capability.
Especially AI is helping health systems and hospitals a lot during this pandemic season from check-in to transferring results to multiple systems, communicating and consulting via online applications, etc.
IA predicts resource allocation needs and also assists appointment management processes.
Healthcare payers seem to adopt IA more intensively and faster than providers. IA automates the finding and use of unstructured data for reducing admin costs, speed-up processing cycles, and improving compliance reporting for them.
Healthcare Automation Trends: The other areas
Automation is picking up speed to ease the functionalities of healthcare systems. Here are some other areas in that automation can impact positively and streamline efforts, decrease risks, cut costs, and increase both professional and consumer satisfaction.
Hospital management
Provider management
Care management
Prior authorizations & pre-certifications
Billing & claims management
Payment Integrity
Payer-provider interfaces
Eligibility reconciliation and dual eligibility
Audit, compliance & regulatory reporting
Appeals & grievance management
Customer service & call centers
Data management & digitization
Patient communications
Inventory management & resource planning
Care delivery & order processing
Robotic Process Automation services from CapMinds
CapMinds' Robotic Process Automation (RPA) Solutions empower you to make a digital workforce that works along with your staff to drive greater efficiency.
Our healthcare automation services can eliminate burdensome tasks in your healthcare system including scheduling appointments, managing inventory, billing patients, and claim processing to reduce operational costs and improve scalability. Our services can provide you with greater compliance, improves your productivity and efficiency, reduces your operational expenses, helps you to increase your revenue and focus on other comprehensive tasks, etc.
Increase your appointment turnout, automate monitoring of accounts payable/receivable, digitize patient records, improve patient experience, and automate data transformation with CapMinds' smart RPA solution.
"Reduce risk factors, increase efficiency and double your revenue with CapMinds innovative health automation services"