Open up opportunities for Legacy EHR Systems through Intelligent Automation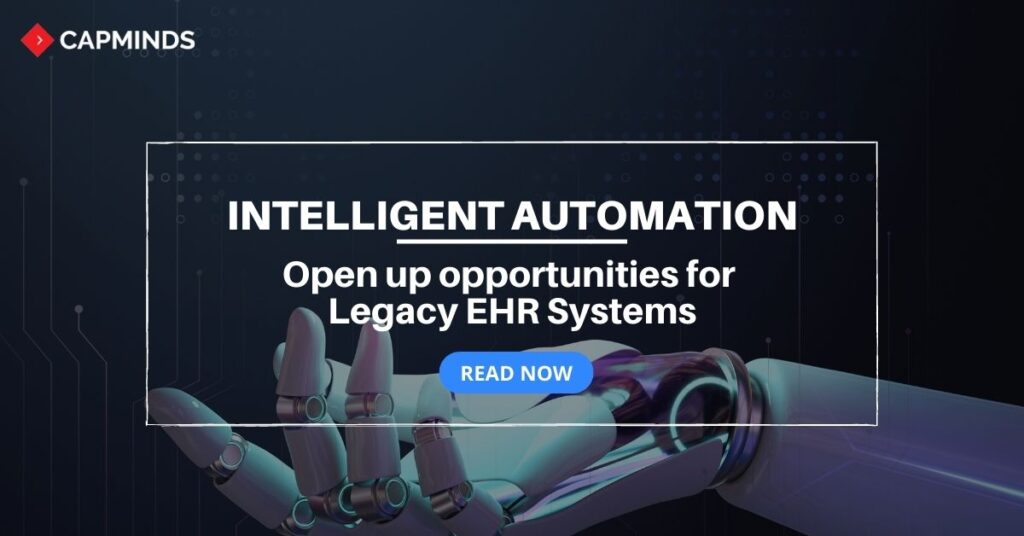 Electronic Health Records (EHRs) are now the foundation upon which almost all healthcare workflows have been built today. But the hospitals and health systems cannot ignore the financial strains caused by inefficient administrative workflows.
The Unending Challenges Of Legacy EHR Systems
EHR being the exceptional system of record is struggling to advance into an effective system of engagement. This is the fundamental reason that puts physicians, providers, and staff in a place to spend more time inside the EHR than on patient care.
This becomes more challenging with the lag of support for interoperability. The fallback in interoperability drags the providers from exchanging data with other healthcare systems and restricts feeding data into applications that can make the provider-patient workflow more efficient.
The Eventual Solutions: 3 Paths To Choose From
To address these administrative inefficiencies, healthcare leaders have three ultimate paths to choose from.
Path 1: Buy new technology to replace existing EHR functionality
This is the well-known path practiced at all-time in the industry. But this approach further aggravates the data storehouse, elevates operating costs, and most of the time results in the loss of patient-generated health data.
Path 2: Depend upon policymakers in D.C. to execute legislation that quickens EHR interoperability
This second path is less encouraging. Implementing legislation to meet systemic issues like interoperability barriers frequently takes years to be practiced in clinical settings. Our healthcare workforce, industry, and the economy cannot wait for D.C. as digital innovations continue to outrun legislative developments.
Path 3: Outstretch existing capabilities of the EHR to meet new-gen patient & provider demands
In the current healthcare scenario, this third path will be the more practical option by taking suggestions from other industries. This includes applying technology to ultra-modernize EHR, providing access to data to be used by apps that can offer new-gen patient experience, and automating administrative workflows done by humans.
The Capabilities Of Intelligent Automation (IA) Systems
Some many tools and capabilities can automate administrative workflows in the healthcare spectrum. Such one is robotic process automation (RPA). RPA can provide access to any data accessed by humans, to software. It allows health systems to hold out the capabilities of the FHIR APIs, provided by many EHR vendors while speeding up the adoption, by offering an extra path to work with data in the EHR.
RPA thus smoothens the workflow in healthcare and enhances the patient experience by rising the inaccessible data to allow more personalized care.
This approach has been effective and used by many innovators across other industries. Expanding legacy tech utilizing modern tools has greatly helped bring interoperability to the 21st century. Instead of working around record systems in healthcare, we can work within them to build on technologies and increase patient engagement.
For example, providers who plan to build a mobile check-in can utilize intelligent automation to gather patient data in the EHR and use it to automatically complete fields that the patient has shared in a previous visit. In the same way, everything shared by the patients in their mobile intake and check-in can be automatically inhabited into the EHR, providing an updated patient record for providers and reducing the time spent by staff on data entry. This increases the modern user experience for both patients and providers.
Expanding the EHR usage and capabilities through intelligent automation can attract more patients, and increase staff & clinician capacity. By modernizing existing systems, providers can increase engagement and make changes to enhance patient experiences and also their goals in a matter of months, not years.
Intelligent Automation Services From CapMinds
CapMinds' Robotic Process Automation (RPA) Solutions empower you to make a digital workforce that works along with your staff to drive greater efficiency.
Our intelligent Automation services can eliminate burdensome tasks in your healthcare system including scheduling appointments, managing inventory, billing patients, and claim processing to reduce operational costs and improve scalability. It gives you greater compliance, improves your productivity and efficiency, reduces your operational expenses, helps you to focus on other comprehensive tasks, etc.
CapMinds' RPA solution can increase your appointment turnout, automate monitoring of accounts payable/receivable, digitize patient records, improve patient experience, and automate data transformation.
"Automate and enhance the value of your legacy EHR through advanced intelligent automation"