Robotic Process Automation: Ruling The World Of Healthcare 2021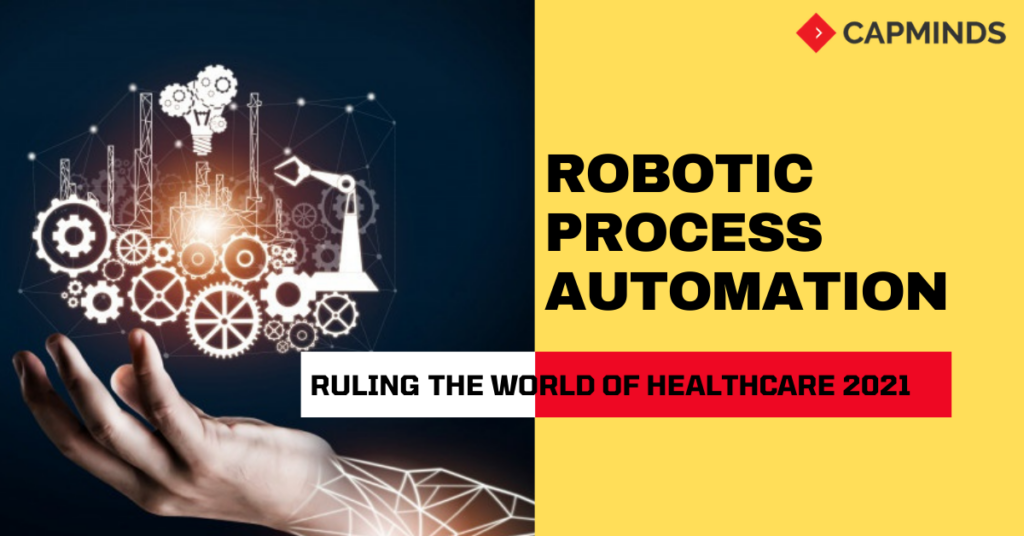 The healthcare industry ranked on the top in the list of worst-hit sectors due to the COVID-19 pandemic. Ranging from individual practitioners to large medical practices, healthcare providers are betting on telemedicine and RPA services as a permanent solution to the current situation.
The recent study reveals that the healthcare industry collectively spends around $2.1 billion each year on poorly performed manual tasks in terms of provider data management alone. In the same way, health insurance companies spend around $6 million to $24 million annually to rectify poor provider data quality.
From these studies, it is clear that ineffective healthcare systems still depend on manual processes. Robotic Process Automation or RPA services can ultimately reduce unproductive tasks by automating complex processes. RPA offers seamless execution in finance and revenue functions, claim management, billing & enrollment, administrative actions, and more.
RPA Applications In Healthcare
The robotic process automation provides access to any data that a person would have access to inside the EHR and make it accessible to software. RPA services enable health systems to extend the capabilities of the FHIR API – an additional path to work with data in the EHR.
Executing robotic process automation in medical care is required to be the biggest driver of additional automation. Scheduling appointments, physician order entry, personal health records, laboratory test review process, automatic data collection, clinical decision support, telehealth, and telemedicine – are just a few of the large spectrum of RPA application areas in healthcare.
1. Easy & Effective Patient Scheduling
Some people find it difficult to book health appointments online as they don't have proper knowledge about the advanced appointment scheduling & EHR software. It is also not unusual for healthcare professionals to manage patient health data manually. If we think about the entire process, right from patient data collection to insurance details, everything is a human task to be carried out.
Apart from this, scheduling and managing the appointments based on the doctor's and patients' availability is another stressful time-consuming task. But automation in healthcare reduces all these concerns.
The RPA smart bots help in streamlining online appointments. But how this can be done?
RPA bots easily identify the basic requirements received via appointment request such as location, diagnosis, personal preferences, insurance carrier, etc
These bots then make it as a report
Forward to the management who makes the appointments.
The benefits of performing online patient scheduling with the help of RPA services include reduced data errors, increased patient satisfaction, saves more administrative time, and more.
Claim Management
Based on the report by the United States Census Bureau, it is estimated that over 90% or almost 294 million people in America are insured – have health insurance coverage.
The process of claim management provides the healthcare provides a huge responsibility right from data input, processing to dealing with appeals. If the entire process can be handled manually or using any type of software will result to be highly inefficient.
Collecting data from one place, storing it securely in one system, processing it without any data errors is not a simple task as it sounds. With the help of a traditional management system, it is very difficult to correct the errors and maintain compliance regulations. Hence, for better compliance management, good technical support is a must.
Here robotic process automation can speed up the process by eliminating the errors efficiently.
The RPA bots can automatically populate insurance claims fields and apply the relevant regulatory laws on the same.
Document preparation process
After document preparation, RPA starts with the claim filing process.
The error-free document submission helps the healthcare providers to speed up the claims management.
Workflow Management
Just think about this, each of the healthcare practices collects a bulk amount of patient data on the regular basis. And this data collection will increase day by day with the addition of new patients, medications, and procedures. How is it possible for a healthcare provider to manage all these data manually?
For Example, imagine a patient is consulting a doctor for which he was treated earlier. To proceed with the treatment, the doctor may require the person's old medical records. If the records are stored in a traditional paper system, the staff should have to go through the multiple registers to find the records. Suppose, the data is stored in the computer system – in the form of an excel sheet, it is not possible to extract the patient's record manually in a limited time.
Here comes the application of RPA. It can directly capture the health data at the time of the patient's registration and saves e all the information relevant to that particular patient. The hospital staff will also be able to extract the relevant data of patients very quickly which automatically improves the workflow efficiency.
With RPA services, it is also possible to track the health conditions of patients and also their treatments in an effective way. This creates a way for the customization of a treatment plan for individual patients.
Final Thoughts
In today's healthcare industry, Robotic process automation streamlines the practice of administrative workflows and improves the patient experience by enabling more personalized care. As the healthcare providers evaluate their future investments in the COVID-19 era, extending EHR through automation can empower new opportunities from attracting more patients to improving clinician capacity. By implementing RPA, providers can effectively drive meaningful patient engagement.
The healthcare providers are now in search of the best RPA service provider with a cost-effective option to automate their practice workflow processes. Want to find out how CapMinds robotic process automation services help you in your healthcare automation processes to achieve more productivity with ease in this digital era?