Prior Authorization: The in & outs that make Healthcare more Secure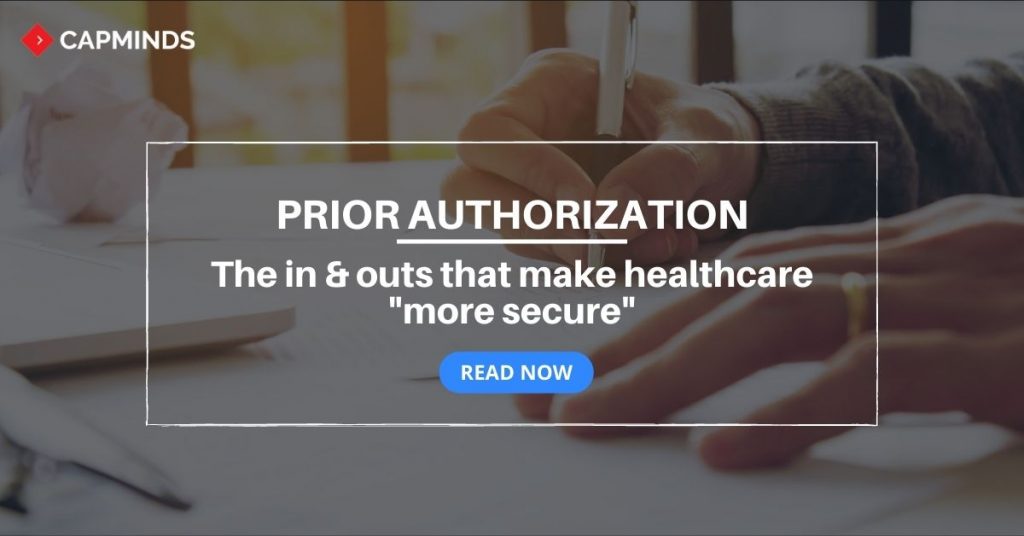 Prior Authorization is a relatively expensive and time-consuming process in healthcare. But it is likely to be inevitable for the spectrum.
What is Prior Authorization?
According to a source, "prior authorization is a utilization management process used by some health insurance companies in the United States to determine if they will cover a prescribed procedure, service, or medication. The process is intended to act as a safety and cost-saving measure although it has received criticism from physicians for being costly and time-consuming.
In simple terms, for some medications and treatments under medical and prescription drug plans, you may require consent from your health insurance company before receiving care.
The Reasons for Prior Authorization
Prior Authorization is a simple inspection done by insurance companies in the US before agreeing to cover certain prescribed medical procedures or medications. This is done due to some reasons by the insurance providers like;
Age
Availability of a generic alternative
Medical necessity
Checking for drug interactions, etc.
What is the Impact of a Failed Authorization
A failed or improper authorization can convert a requested service to a "denied one". It can also result in insurance companies making their patients go through a different process called "fail first" or "step therapy".
This process commands that before the insurance provider covers another service, a patient must first see failed results from medication or service favored by the insurance provider, considering either a much safer or cost-effective opinion.
What is the Process of Prior Authorization?
After receiving the request from a provider, the request will get into the prior authorization process.
The process may vary from insurer to insurer, but it usually requires the completion & faxing of a prior authorization form.
According to a report, the process is 88% either partially or entirely manual.
Now, the medical service may either be accepted or rejected or additional data may be requested.
If the service is rejected, the healthcare provider can file an appeal centered on the provider's medical review process.
The insurer may take 30 days to approve a request, in some cases.
What is the Purpose of Prior Authorization?
The prioritized purpose of the prior authorization according to many insurers is to ease cost savings for consumers. This is achieved by preventing avoidable procedures and prescribing expensive drug brands when a proper generic is available.
Prior authorization can cut the happenings of potentially dangerous drug interactions and reactions. But the great challenge to prior authorization is its time-consuming nature.
What types of medications & treatments need Prior Authorization?
Low-cost alternative medical treatments that are equally effective
Medications that are dangerous when combined with other medications
Medications and treatments that frequently are being misused or exploited
Medications and treatments that are used only for certain health conditions
Cosmetic purpose drugs
The Legislative & Technological Developments with Prior Authorization till 2023
2011 – The American Medical Association recommended that a constant prior authorization form must be used with real-time electronic processing. This involves a physician ordering a medical service – staff completing a standardized request form – an electronic submission process that provides approval or denial results on the same day.
2012 – The Maryland Health Care Commission dispensed a plan to the State Legislature that defined a standardized electronic filing system.
The same year, the Kansas Board of Pharmacies recommended an electronic prior authorization process that would provide immediate approval for prescriptions.
2013 – To research the prior authorization process and provide advice, the Arizona House of Representatives set up a committee.
The same year, a Washington State Senate proposal was given that requires the state Insurance commissioner to create a standardized prior authorization form.
May 2013 – The National Council for Prescribed Drug Programs adopted a standardized process for the interchange of electronic prior authorizations.
2019 – A harmonious statement from many healthcare organizations supported standardizing the prior authorization process.
December 2022 – CMS released an Interoperability and Prior Authorization rule that requires qualified health plans and Medicaid payers to decrease the time providers must wait for a decision on prior authorization requests.
Mid-September 2022, the US House of Representatives moved a bill to speed up patient access to care by smoothening the prior authorization (PA) process.
The Improving Senior's Timely Access to Care Act authorizes the adoption of electronic PA for Medicare Advantage (MA) plans & needs plans to provide better transparency with their policies, approval notes, and reasoning for request denials.
If this bill goes through the Senate as expected, it would be systemized into law by the CMS, as early as 2023.
Robotic Automation Services from CapMinds
CapMinds Technology – We exploit automation to its core to transform the slow and boring manual processes into AI and IoT-powered automated workflows to double the efficiency & accuracy of practices. Getting started with electronic prior authorization EHR integration with CapMinds will be the right choice to cut down your clinical burden.
CapMinds' Robotic Process Automation (RPA) Solutions empower you to make a digital workforce that works along with your staff to drive greater efficiency.
Our healthcare automation services can cut tasks like scheduling, managing inventory, billing, prior authorization, and claim processing. Our services will reduce operational costs and improve scalability. Our services will give you greater compliance, improves your productivity and efficiency, and more.
Increase your;
Appointment turnout
Automate monitoring of accounts payable/receivable
Digitize patient records
Improve patient experience, and
Automate data transformation with CapMinds' smart RPA solution.
"Reduce risk factors, increase efficiency and double your revenue with CapMinds innovative health automation services"