A New Way To Think About Care Coordination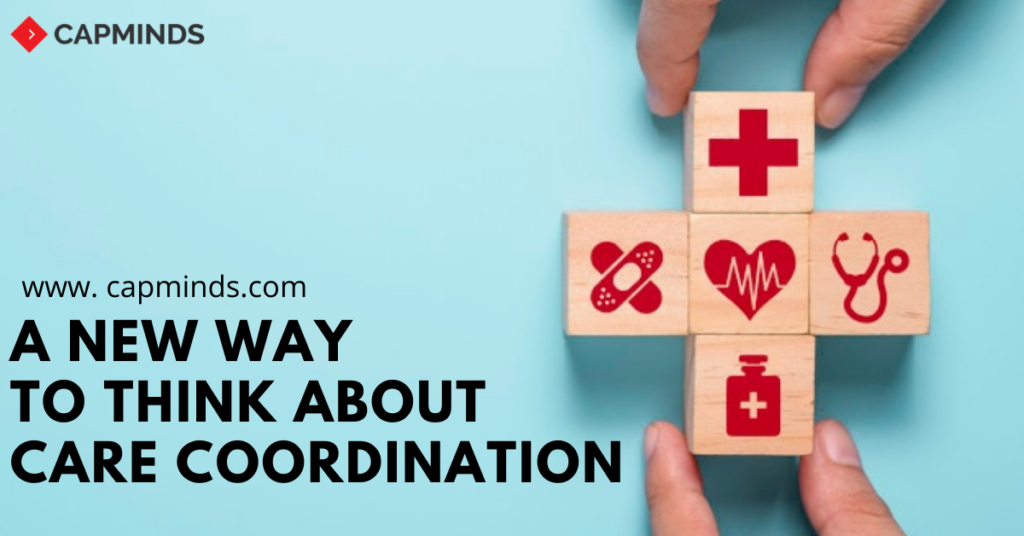 As the transition from traditional fee-for-service to a value-based care model is increasing day by day in the healthcare market, the payers are started encouraging the use of care coordination services to reduce unnecessary treatments, re-admissions, and treatment redundancies, especially in populations with chronic conditions. In this article, we provide you with the importance and benefits of care coordination for patients, providers, and payers in the healthcare industry.
What Is Care Coordination?
When people think about care coordination, they might think of improving their health by getting them connected with medical services. But actually, care coordination is defined as a patient-centered approach designed to achieve the individual patient needs while boosting the caregiving capabilities of health service providers and families.
The Main Characteristics Of Care Coordination Includes:
Collaboration between care team members: irrespective of role, location, and specialty.
Clear communication between providers, patients and payers, patient's caregiver, and others who are involved in patient care.
Avoiding unnecessary tests and procedures: reduces the care cost and improves the care experience.
A focus on total patient's healthcare needs
The type of care coordination services required mostly depends on various factors, including the complexity of a patient's health condition, their level of education, their access to resources, the current level of ongoing care, and more. At some healthcare practices, particular patients may even be assigned a care coordinator to coordinate care.
Some may ask a question, what a care coordinator does in improving my care. The role of the care coordinator is to connect with high-risk patients to uncover and identify their needs. They know the more appropriate people involved the higher chance their patient has at successfully meeting their needs.
The Need For Care Coordination
The healthcare system is a huge complex network of independent entities which includes physicians, healthcare providers, payer organizations, population health efforts, and government organizations. Due to the rising impact of the COVID-19 pandemic, healthcare practices are presented with huge challenges for managing patients faced with a high-cost diagnosis.
So, there is a need for patients to continually monitor their progress within the network of specialties and payers without access to the centralized medical record repository. This process makes it so difficult for both patients and their providers to accurately determine the effect of any treatment or to completely assess their overall healthcare quality.
Improving A Patient's Long-Term Health
According to the recent report, the Agency for Healthcare Research and Quality mentioned that ''care coordination is any activity performed to make sure that the healthcare needs of patients are fulfilled over time''. Care coordination also helps the older and higher need populations by providing quality care on time.
As the main goal behind the process of care coordination services is to bridge the healthcare gaps, it helps in identifying that kind of gap by recommended screenings. Patient care coordination also promotes medical access for patients – using creating personalized health care plans according to their needs and checking they are following it properly & engaged with their treatments.
Improving Care Transitions
In the patient care coordination, there are multiple transitions to be done over their care period. These transitions may include a change in a healthcare facility, change in healthcare provider, acquiring another health specialist, or completely transitioning to home-based care. Transitions can simply occur when time and the patient needs changes. Whatever the changes may be, the care coordination promotes an easy transfer process and improves care transition.
Improving Providers' Delivery Of Care
The care coordination service promotes better information sharing between multiple healthcare providers and specialists serving a patient. So here, the providers can easily able to identify the needs of the patients before their appointments.
The care coordinators can also determine whether the patient needs immediate care and plan according to it. Care coordinators have a strong knowledge of a patient's social determinants of health (SDOH) and can help to solve out potential issues with their appointments, medications, and other care plan steps.
Care Coordination Benefits For Patients
The benefits of care coordination originate in a positive impact made upon the quality and health of patient life. Some specific models of coordination include a wide range of personalized services like cost-effective treatment options, explaining care plan benefits, assist with claim resolutions, and more. The core patient care coordination benefits include:
Improved Education: The care coordinator helps patients to be educated with their healthcare treatments and care plans, ensuring they properly understand their physician recommendations, treatment plans, medications, and more.
Better health outcomes: Enabling better communication between the patients and care coordinator increases the patient engagement to their treatment plan, improves medication adherence, and creates a secure relationship with their healthcare team which contributes towards better clinical outcomes.
Cost & Money Saving Approach: The care coordination team will directly work with the patient's medical team to eliminate redundancies in care, patients can also reduce unnecessary appointments, treatments, tests, and their associated costs.
Improved Ownership: with a clear understanding of the healthcare plans, treatment options, and the continuous track of healthcare, the care coordination makes the patient feel satisfied and engaged with their treatments.
Care Coordination Benefits For Providers
Care coordination forms a conduit for continuous communication between the patient and provider, ensuring access to timely and accurate information that informs progress or possible modifications that need to be made to the patient's treatment plan. Benefits include:
Extended care team visits: care coordination serves as an extension of a primary care provider's office-based care team. The primary care physician benefits from additional care team members who are interacting and monitoring their patients in-between office visits and informing the pcp of clinical improvements and progress as well as recent admissions and er visits they may not otherwise be aware of until the patient's next scheduled office visit.
Continuous visibility into patient progress: care coordination models glean frequent and accurate information about patients' treatment histories, medication adherence, new symptoms, and maintenance of chronic conditions. In addition, the care coordination team can provide insights to mental health and well-being, fitness and nutrition, and social determinants of health. With more data, providers can make more informed decisions about their patients' paths to treatment.
Improved patient outcomes: providers who take advantage of care coordination models typically see clinical outcomes improve for the patients they serve. Ancillary benefits of these models include care team motivation, practicing at the top of a providers' license, and ultimately creating a pathway to practice value-based medicine without an over-reliance on traditional fee-for-service payments.
Performance-based rewards: care coordination leverages a value-based or performance-based reimbursement schedule, which rewards providers with financial incentives based on practice efficiencies and positive patient outcomes.
Final Thoughts
If performed in the right way, care coordination benefits healthcare providers, patients, and as well as payer organizations to contribute to successful health outcomes. When it comes it care management, care coordination is a worthwhile investment to achieve positive results.
At CapMinds, we understand the importance of care coordination and preventing care gaps in terms of revenue and health outcomes. With the help of our chronic care management services, you can easily able to generate effective billing reports, flag patients by a health condition, record accurate patient interaction time, create and assign electronic care plans, and more.
If you wish to get started contact us today!