Chronic Care Management: How To Do It Right? [Updated For 2022]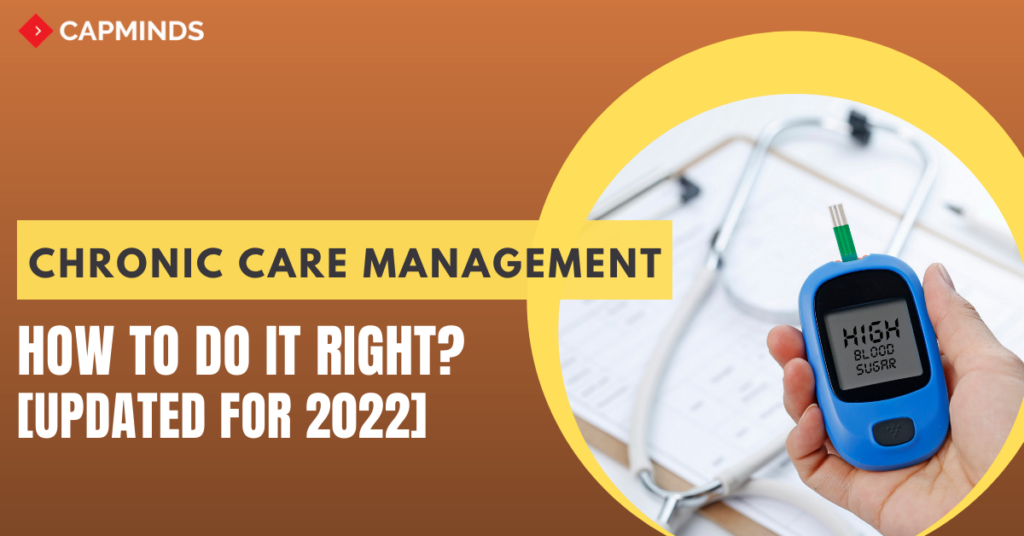 It is predicted that the U.S people with multiple chronic conditions is expected to grow from 141 million in 2010 to 171 million by 2030. So before getting started with the implementation of the CCM program, it's important to understand the benefits and challenges to successful Chronic Care Management.
What is Chronic Care Management?
Chronic Care Management (CCM) is defined as the non-face-to-face services provided to Medicare beneficiaries who have two or more chronic conditions. In addition to other face-to-face visits, these kinds of services include patient communication, medication management, and being accessible 24/7 to patients and physicians or other clinical staff.
Many conditions can qualify you for a CCM plan. Common chronic conditions include heart disease, diabetes, arthritis, asthma, high blood pressure, and mental health conditions.
The motive of Chronic Care Management
People with multiple chronic conditions are at an increased risk for a poor quality of life. The overarching goal of chronic care management is to help patients achieve a better quality of life through continuous care and management of their conditions.
In a chronic care management program, a patient might have reduced pain and stress, increased mobility and physical fitness, and better sleep and relaxation. Ideally, a patient would be able, to some extent, to return to the activities, like work or hobbies, that their chronic conditions have prevented them from.
A goal of the healthcare system in chronic care management is to support patient self-care. CCM places more emphasis on individual behavior and a person's responsibility in managing their health more effectively and independently. Patients with chronic conditions play an essential role in monitoring their health and any changes in it.
Patients should be educated on the benefits of their treatment and motivated to comply with their treatment regimen. Research shows that patients involved in decisions about their care experience better health outcomes.
Obviously, in many cases, the patient's desire is a cure. A more realistic goal for a condition like say, diabetes, is an improved state and quality of life while living with the disease. An ideal model for the care of those with multiple chronic conditions is the collaboration between engaged patients and coordinated medical professionals.
Chronic Care Management Challenges
The Chronic Care Management services hold fruitful benefits like – improving patients' health and generating additional revenue for the healthcare providers.
But, today designing and implementing an effective CCM program is very difficult which leads to lower adoption. Here is the list of top Chronic Care Management challenges to look for:
Identifying eligible patients correctly
Educating patients in the right way and getting consent
Medicare billing selection and reports
Audit support and reports
Managing a team of experts with care members and nurses
Scheduling and managing calls
Time and activity tracking
In U.S. healthcare Chronic Care Management is exceptionally costly resulting in 66% of the overall health care spending. Patients with multiple chronic conditions can experience high healthcare costs. Although Medicare has recently started paying for chronic care management services, it has been challenging to receive reimbursement for such services before the change.
There are also several challenges in chronic care management due to the geographical distribution in chronic conditions – obesity, health disease, and diabetes are more widespread in the southeastern part of the U.S. when compared to the rest of the country. For example, in Michigan, a patient with diabetes costs about $16,000 per year to treat, while in New Mexico, the cost is only $13,000.
The Chronic Care Management plan
Under CCM, you'll make a comprehensive care plan. You'll make this plan with your healthcare provider. The plan will include:
your health problems
your health goals
your medications
the care you need
any community services you need
the healthcare providers treating you
You'll sign an agreement with your healthcare provider to manage this plan. Once the plan is in place, your healthcare provider will be able to:
manage your care across providers
coordinate your care between hospitals, pharmacies, and clinics
manage the medications you take
provide round-the-clock access to emergency care
teach you about your conditions and your medications
help you meet your health goals
manage community services such as transportation to appointments
provide at least 20 minutes a month of dedicated CCM services
The number of services your plan includes will depend on the severity of your conditions and how much help you need to manage them. CCM services offer personalized attention from your healthcare provider. They can help you feel more in control of your conditions.
How to implement CCM codes: 8 effective steps
Step 1: Identify the patients
With the help of EHR software search for the patients who have 2 or more chronic conditions
Run reports sorted by healthcare providers. Each physician can then review the report and eliminate anyone who is not a good fit for the CCM program.
Step 2: Designate personnel for each identified patient – primary clinician, nurse, and other staff helping with enrollment, consents, and scheduling.
Step 3: Design a CCM process and schedule
Set up the correct appointment codes for new visits and assessment calls as needed.
Assign CCM nurse(s) and staff to assist with enrollment, consents, scheduling, and other related CCM activities.
Consider a dedicated phone line that would be answered by designated CCM staff and forwarded to the on-call clinician after hours.
Step 4: Inform the patient
Authorization of electronic communication of medical information with other clinicians (as allowed by state and local rules and regulations)
Explain the monthly scheduled nurse assessment visit, which should be treated as a regular visit even though it will occur by phone.
Step 5: Create and document a comprehensive care plan
Care management for chronic conditions should include:
A systematic assessment of the patient's medical, functional, and psychosocial needs
Oversight of beneficiary self-management of medications
Step 6: Provide the patient with the comprehensive care plan(written or electronic copy)
Using patient portals is one of the effective ways to deliver the care plan. So encourage all participants to join and be familiar with the patient portal software.
Step 7: Document the Time Spent
Set up a system that can keep track of time spent on non-face-to-face services provided, including phone calls and email with the patient, time spent with other clinicians, caregivers, and time spent on prescription management.
Step 8: Termination from the program
Document transfer of patients to another clinician or termination from the CCM plan for any particular reason (for example, if a patient want another physician to be in charge of their CCM program as the cardiologist or oncologist)
Outsourcing Chronic Care Management services
There are huge benefits of outsourcing the chronic care management (CCM) activities for physicians who want to take advantage of the new CMS initiative that pays doctors for delivering non-face-to-face care to their patients who have multiple chronic conditions.
Also, outsourcing CCM services pave the best way to create a new revenue stream for the practice. Even for the smaller practices, it is possible to outsource chronic care management solutions to the expert team.
Outsourcing will allow the physician to increase and maximize his patient enrollment in the program, improve patient compliance and provide CCM documentation requirements while minimizing additional workload. Outsourcing care management provides an end-to-end solution that will improve outcomes and provide increased revenue for the physician.
How CapMinds help you?
CapMinds offers the best Chronic Care Management services to provide cost-effective, quality care that allows your practice to benefit from fee-for-service reimbursement. CapMinds CCM services include smart patient portal support and patient monitoring.
With the help of the best chronic care management services, your practice can easily improve patient outcomes, provide quality healthcare delivery and improve the lives of patients struggling with chronic illness. Schedule a free demo today to know more about how CapMinds helps to boost your practice revenue.