Integrating Social Determinants Of Health Data Into EHR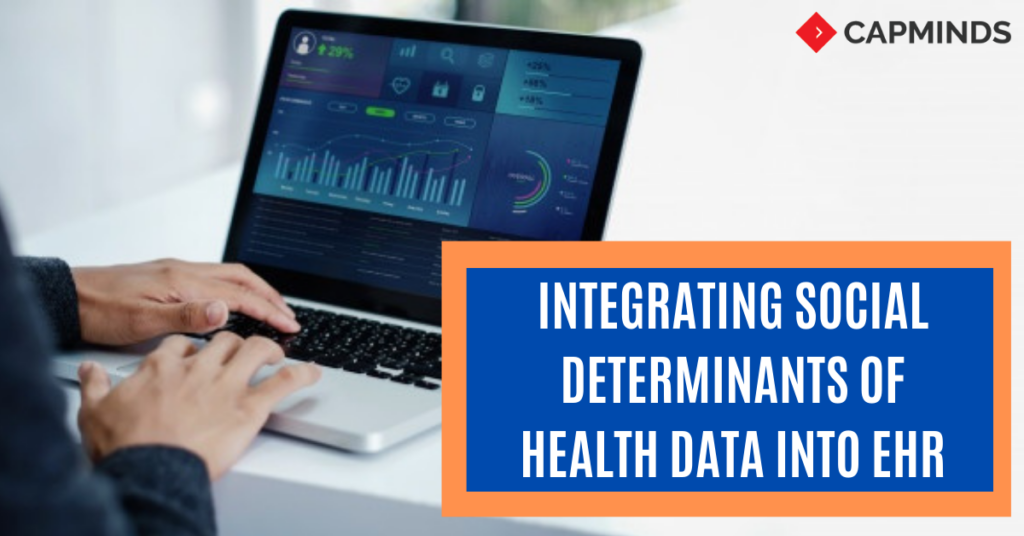 The spread of COVID-19 featured the significance of SDOH data collection making it an important factor to be considered immediately for providers and researchers. Integrating social determinants of health (SDOH) data into the EHR helps healthcare providers and professionals gain insight into COVID-19.
The recent researches on SDOH show that identifying and implementing a patient's SDOH data into the EHR is very important in finding solutions to particular health issues. Most of the health systems are trying to implement SDOH data into patient health records. But, while implementing they face some issues related to interoperability. So, here is all about integrating social determinants of health data into EHR.
Why Addressing SDOH Data Is Important?
Addressing social determinants requires the integration of this information into the EHR. Otherwise, providers will not be able to use it for clinical decision-making.
It's now considered common knowledge that providers need to address a patient's social determinants of health. These factors such as an individual's financial situation, ability to get healthy food options, and access to reliable transportation can be more important to an individual's health outcomes than the actual clinical care he receives.
Commonly cited statistics show that clinical care influences just 10 to 20 percent of a patient's outcomes, while social determinants of health impact the remainder. If a patient cannot adhere to his hypertension care plan if the medication is too expensive for him to buy every month, then outcomes will suffer. Similarly, outcomes will not improve for an obese patient, if she cannot afford healthy food options or get to a grocery store miles away from home.
But providers are often unaware of this information and some have previously felt it was not their responsibility to address it. Only as the evidence has grown have providers felt a push to incorporate these non-traditional risk factors into their clinical decision-making.
How To Integrate SDOH Data Into EHR?
Providers can screen for this information in multiple ways: paper questionnaires before a patient sees the clinician, conversations when discussing treatment options, or publicly available data sets that give context to where a patient lives and works. The last option uses data from sources such as the Census or American Community Survey on neighborhood-level demographic information and links this to the patient's home address under the assumption that it is reflective of the patient's experiences.
Regardless of the method of collection, this information needs to be incorporated into a patient's medical record for providers to use it for clinical decision-making. Similar to how a doctor can view a patient's previous medical diagnosis and use that information to inform future care, doctors need access to a patient's social determinants of health if they are to consider it when providing treatment options.
However, interoperability, the physical location of this information in the EHR, and a lack of standard codes for this data challenge a provider's ability to truly understand a patient's social determinants of health.
To better incorporate this information into the EHR, providers first must determine how to obtain this information and work it into their clinical workflow. Then they need technical assistance to support documentation. But all this will be moot if there is not infrastructure further upstream to support these efforts. Coding standards and guidelines will ensure appropriate referral patterns and reimbursement to make addressing social determinants of health sustainable.
Integration Into Clinical Workflow
For social determinants of health to be incorporated into the EHR and, therefore, clinical decision-making, providers must first capture this information from patients to understand their risks. This requires a large adjustment of clinical workflow.
Providers must first select how they are screening for social determinants of health and which social determinants are addressable.
There is a fine balance between alerting providers to important information and not inundating them with too much information. Figuring out what this looks like for each clinic or hospital requires collaboration between IT and providers to understand what will be most useful in the clinical workflow.
Technological Support
There is no standard location in the EHR to document social determinants of health. But having a location to document these factors is critical. Providers should have one standard location to understand a patient's social needs as they have one standard location to look at a patient's blood pressure.
Without this, providers need to either search through the medical record, losing valuable time with patients or repeatedly ask patients screening questions. Otherwise, this information cannot be considered in clinical decision-making.
Building this into an existing EHR infrastructure can be a challenge for many organizations. Those with a rigorous IT department can leverage their internal staff while others might find it beneficial to partner externally with their EHR vendor to build in the capabilities directly.
So, working closely with the internal or external IT team is critical. Not only will this help set up the infrastructure to document the data, but it will help with external referrals as well.
Coding And Standards
While organizations can build a workflow and infrastructure that incorporates patients' social determinants of health internally, upstream factors in the larger healthcare system must be in place for social determinants of health to be sustainably addressed.
One of the biggest factors the industry needs to address is clinical coding. Currently, there are over 1,000 codes to document screening, assessment, diagnosis, treatment, and intervention of social health-related clinical activities. But there is a gap in medical vocabulary and these codes do not encompass every social determinant of health a patient might have.
Standard reimbursement would promote better screening practices and coding, making addressing social determinants of health more sustainable. Right now, providers are on their own. Each clinic, hospital, or health system is doing things uniquely. But finding a place for social determinants of health information in the EHR using codes and standards could help providers address some of the most pressing issues for their patients.
Final Thoughts
In today's healthcare system, the social determinants of health data profoundly impact health. So the providers should focus more on the social factors that might increase their patient's health risks.
Empowering healthcare providers to handily screen for social determinants of health and utilize that data for the purpose of care will make tending to a patient's food uncertainty as smoothed out as tending to a patient's diabetes. This will place the same importance on the patient's social determinants of health as their traditional clinical care.