7 Value Based Care Best Practices To Follow In 2021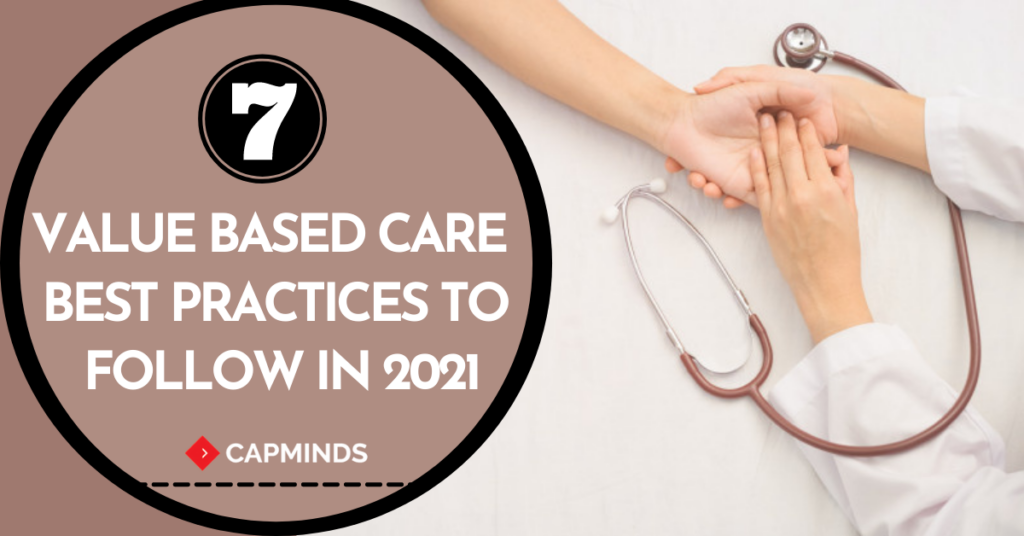 With the huge rise of value-based care models over the past decade, providers can have a great impact on the overall cost of care and the success of models in the healthcare system. In this article, we discussed the best practices of value-based care that the providers should follow in 2021.
Value-Based Healthcare In The U.S
In the US, healthcare is paid for in numerous ways: through government programs (like Medicare and Medicaid), private plans, and out of patients' own pockets.
But when considering, higher medical services costs don't generally convert into better patient health outcomes. While comparing high-income countries in the Organization for Economic Cooperation and Development (OECD), the U.S. spends almost twice as much on medical services. Also, the U.S. has the highest chronic disease and obesity rate that is two times higher than the OECD average.
These insights clearly state the need to reduce the gap between the amounts spent on healthcare. The one best approach to overcome this is to shift from a fee-for-service model to a value-based care model. Here are some of the best practices to be followed to achieve successful care models.
Value-Based Care: Best Practices
1. Identify Your Patient Population
Knowing your patients correctly is the first and foremost step in your value-based care model. The patient population with the huge risk of hospitalization or high usage of the emergency department(ED) will in general drive high medical care costs and regularly get divided care. These populations frequently incorporate poly-persistent patients — those with constant and complex conditions with various co-morbidities, like diabetes, hypertension, heart failure, kidney failure, depression, cancer, or other chronic diseases.
Understanding which patients drive your greatest expense of care and the individuals who utilize the ED habitually will assist you with distinguishing your target population and opportunities for development. When you have this data ready, you can start proceeding with the value-based care model.
2. Start Designing Your Care Model
Designing a healthcare model would be your next step. You can consider these best practices before developing your value-based care model.
As mentioned earlier identifying your target patient population is important
Identify the payers to be involved in your model.
Estimate the volume of services
Identify the transition costs
Identify the real benefits expected for payers and patients with your model.
Design an effective workflow to provide better care to your target patient population.
Discuss the most important details like, the team members who will support the new model, roles, and responsibilities of individuals, frequency of patient contact, and patient visits to the practice.
Identify the success metrics for each population and set your goal. Make sure your metrics are easy to maintain in EHR or population health portals to prevent data extraction.
Using current staff can be savvy during the underlying value-based transition period, however, extra staff might be required as the model keeps on being embraced by the training, especially since value-based care models depend vigorously concerning successful care coordination and require a more prominent measure of data capture and analytics.
The care team should be driven by a doctor to recognize, connect with and inspire from each team individual the set of training, experience, and capabilities expected to assist patients with accomplishing their care objectives, and to direct the use of these abilities.
3. Follow A Phased Approach For Value Based Care
Progressively, health plans are utilizing a phased approach to deal with value-based consideration since it attempts to make explicit use cases as a spot to begin, instead of requesting providers to highly focus on their entire patient population from the beginning. Similarly significant, clever payers work together with value-based providers to distinguish clinical focus regions.
How does this phased approach work? For instance, a provincial health plan working in pieces of four states with more than 3,000,000 individuals favors a four-phase approach to deal with value-based care. Around 40% of the health plan's providers are in value-based healthcare contracts. One of the key difficulties is value-based care providers lack knowledge into care that has been postponed because of the COVID-19 pandemic and is attempting to figure out which patients to focus on.
Rather than just making the on-the-go decision on value-based healthcare, payers can choose a phased approach to build healthcare provider engagement. The guide to success of phased approach includes:
Focused healthcare solutions addressing quick needs
Early success and better ROI
Internal support and adoption
Strong payer-provider connection and alignment on value-based goals
Experimental programs with willing providers that are refined before extending to the full provider organization.
4. Co-ordinate With Healthcare Practices For Success
Based on the size of your healthcare practice, the collaboration technique will work out much better to help you successfully shift to a value-based care model. Coordination with nearby clinics, practices, urgent care centers, payers, and other healthcare organizations may upgrade your capacity to offer better transitional care and outpatient care management to your patients.
Care fragmentation represents a significant risk and can prompt patient dissatisfaction. The medical clinic practice collaboration is an incredible example to reduce care fragmentation through coordination. A medical clinic associate might have the option to give discharge records and ED visit reports that can assist your practice with following patients and guarantee the coherence of care.
5. Payer-Provider Collaboration
As the healthcare system is started moving towards value-based healthcare, the payers understand the value-based care especially provides a more reliable revenue stream. So the physician practices can easily stay viable in times of uncertainty. The value-based payment models will also allow providers to put their full focus on patient care. This is possible because the tools and data needed for value-based healthcare are the basic building blocks to good healthcare.
The main goal of value-based healthcare is to provide the right care at the right time in the right place. Without a doubt, data analytics and tools are very important to make this happen.
The payer-provider relationship is very crucial here. Here are the 6 best practices for building trusted payer-provider collaboration.
Everything starts with the payer-provider relationship, so focus on the ways to nurture it.
Truly respect the roles of both payers and providers in delivering quality care.
Create the partnership based on the person's perspective, financial and business perspective.
Clearly understand the goals and constraints.
Also, use pandemic time as a great opportunity to build collaboration.
Enable shared decision making (by including the specific teams for better outcomes)
6. Reduce Unnecessary Spending
As the new value-based care model is adopted, search for approaches to decrease unnecessary expenses, and drive usage toward a cheaper, best methodology. Regularly, when patients stay inside an incorporated supplier organization, it improves quality and decreases cost. Be that as it may, patient decisions and clinical necessities ultimately govern where a patient gets care.
As your care team is progressively engaged to assist your patients with overseeing and improve their chronic conditions, partners may progressively depend on your practice as the new model is embraced and refined. So the physician's time can be spent on new appointments, yearly visits, and on patients who need urgent care. The intermediate care, patient follow-ups, and education can be taken care of by the other team members.
7. Monitor The Results Of Your Value-Based Models
Continuous monitoring of your value-based care progress will help you determine the real impact you have on your target patient population. To achieve better results, revise your practice monthly or quarterly performance and adjust your value-based care models as needed. Re-evaluating your care model annually will also help you to identify whether you get the desired impact or not.
Regularly measure your patient satisfaction, provider and team member satisfaction as they are the strong foundation to your model's success. Also, make a note of other value-based contracting options with payers and partners.
Final Thoughts
Value-based care models are important today and in the future of the healthcare system. Each of these 6 steps on your value-based care journey is a learning experience. Making use of these best practices will provide you with more knowledge about what works best for your healthcare practice and what measures need to be taken to accomplish successful results.
CapMinds join hands with the top healthcare providers in the United States to deliver the best Medical billing software, EHR, Practice Management, and RCM solutions that result in improved patient care and increased profitability.