5 Best Tips To Speed Up Your Value-Based Care In 2021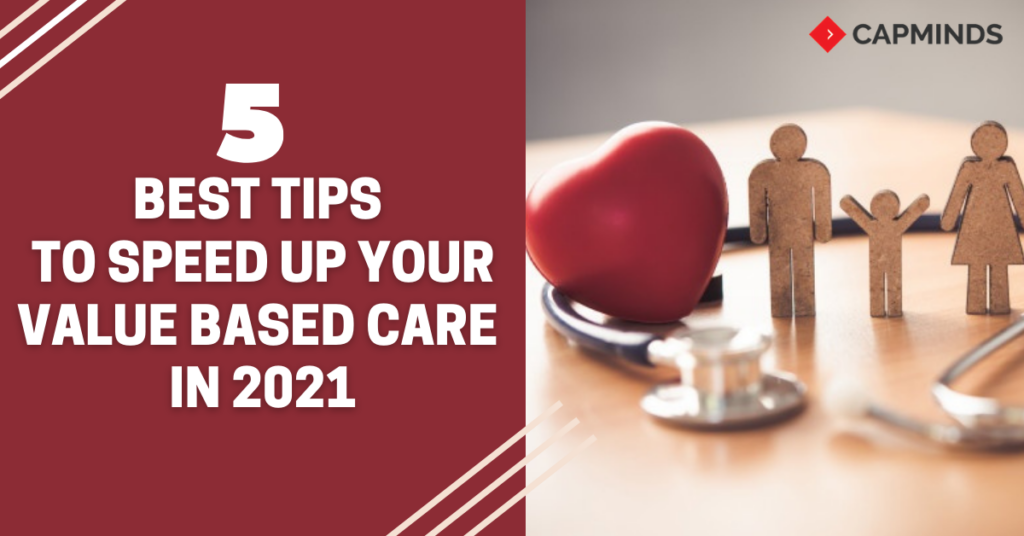 As the fee for service-based health systems relied on internal cost management as their primary source of financial stability – COVID-19 highlighted the growing importance of the value-based care model for primary care practices. Now the impact of COVID-19 on the healthcare sector clearly showed that the health systems should be more aligned with value for better healthcare delivery. In this article, we explained the best tips to speed up your value-based care delivery in 2021.
Value-Based Care & Volume-Based Care
Volume-based care refers to the payment a healthcare provider receives for the health services offered to a patient. Volume based care is sometimes referred to as fee-for-service care. All impetuses were driving medical services suppliers to stress over the number of patients focused on instead of the value given. The individuals who estimated success rate were cantered on benefits when contrasted with the expense of each service. This set an additional emphasis on speed, which may cause some healthcare providers to speed through patients.
Value-based care is also known as accountable care. This kind of healthcare delivery model mainly focuses on delivering quality healthcare services in which providers, hospitals, and physicians are paid based on the patient health outcomes. Under value-based care agreements, healthcare providers are rewarded for helping patients to reduces the effects of chronic diseases, improve their health in an evidence-based way.
Impact Of COVID-19 On Value-Based Care
While the corona virus created a great impact in the industrial sectors, the consequences are enormous in the healthcare sector too. Indeed, even before COVID-19, medical services expenditure in the US was required to ascend at 5.4% per annum and this speed would reach $6.2 trillion by 2028. This relates to practically 20% of the total GDP. When we return to the new normal in healthcare, it is expected that the healthcare payers (government, private payers, and businesses) will again forcefully attempt to decrease medical care spending, with an emphasis on creative payment models.
5 Tips To Speed Up Value-Based Care
1. Identify Your Patient Population
Knowing your patients is very important for successful value-based care delivery. Why because the demographics of the patients in your local area will greatly impact your care delivery process. This will often occur when you are concentrating on value-based care instead of the service fee.
Patient data is important. While implementing EHR software for your practice, you will come up with the health information of numerous patients – a big source of data. Here you can apply analytics to your patient population to uncover patterns that are not seen previously. For example, let us consider, you might have a growing population. You are seeing several patients who have chronic conditions that have been neglected for too long. Here analytics help you to better satisfy the needs of the patients which also improves your healthcare organization's growth.
2. Form Community Partnerships
As we all know that COVID-19 has changed the role of health systems today, it also has exposed the healthcare disparities across different regions and demographics. To address this health factor and succeed in value-based care delivery, health systems will need to view their public health role from a different perspective. Your community resources should become a huge part of the healthcare system.
Break down the vault between social determinants of health and healthcare delivery. Establish better connectivity to your community partners and perform community health improvement activities into the overall strategy.
Based on the needs of your patient population, you need to form partnerships with related organizations. For instance, if you provide health services for a large number of poor patients, they might feel difficult to arrange transportation for regular office visits and follow-up appointments. So you need to work along with the local community organizations to solve this kind of issue and to deliver value-based healthcare to your patients.
3. Support Social Determinants Of Health Factors
During the COVID-19 pandemic, many social determinants of health factors have more broad than before. For instance, even before the pandemic, broadband access for transportation and telehealth were all social determinants of health that existed. But now it is even more intensified.
Payers can reinforce community-based organizations to drive forward value-based care. The community-based organizations are addressing social determinants of health alongside health conditions. Such organizations may already face shortages in funding and resources outside of crisis mode. At that time, payers can step in to support their community-based partners for advanced payment models in ways that improve value-based care progress.
4. Re-Evaluate Healthcare Spending
Payers can make use of the unexpected margin of income to advance value-based care by re-evaluating their healthcare spending and cutting out the unnecessary costs. Before the COVID-19 pandemic, low-quality cancer screenings for cervical cancers and other treatments were still common. When the pandemic hit the US, all screenings came to a halt. Now, the healthcare industry faces a decision regarding how it will pick up screenings in an effective manner.
So leveraging alternative payment models greatly improved patient outcomes and adoption of electronic health records – patients can pay less for high-quality services.
5. Don't Forget About Internal Costs
Apart from the value-based payment model, maintaining and managing your internal costs will ultimately help to position your organization for great reach. But this isn't so easy to achieve. Most healthcare organizations concentrate more on the lack of data to assess performance and other related areas. They fail to time some time on managing internal costs and include them in their priority list. However, for organizations who wish to achieve to speed up value-based care, now is the right time to make changes.
Just start the process with a complete understanding of your costs and how they compare to other organizations. Engage physicians and other care team members for effective management of internal costs and clinical variation.
Final Thoughts
Moving towards value-based care, if these strategies are put in place, health systems will be better speed up their value-based care delivery. At CapMinds, we are committed to the transformation towards value-based care by providing telehealth solutions and smart remote patient monitoring, and public health screening solutions supporting caregivers and patients across the health continuum.