Year in Review: 10 Popular FHIR & Healthcare Blogs Of 2020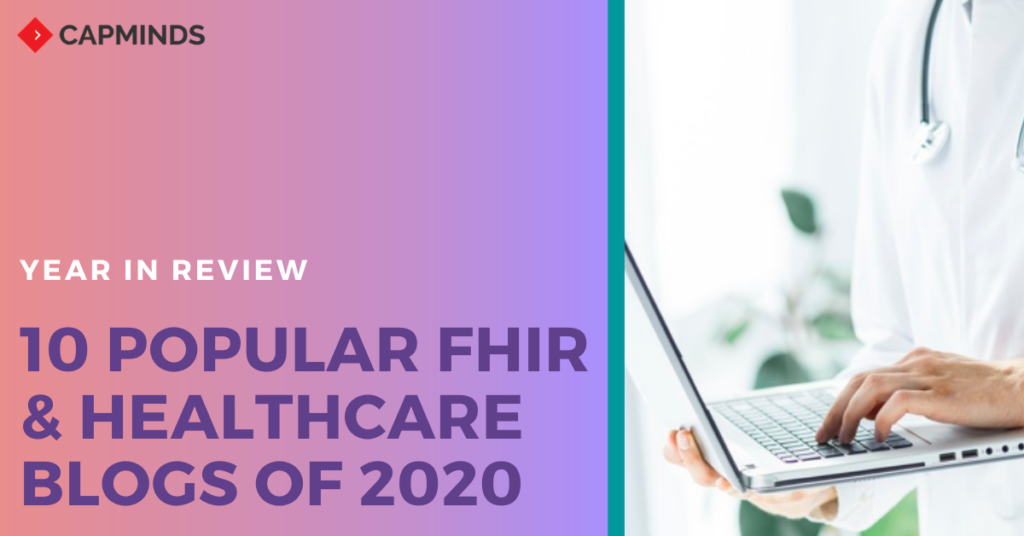 At the point when COVID-19 started to advance the nation over, the healthcare pioneers worried about the challenges with EHR and interoperability functions. However, to adapt to the unknowns of COVID-19, the health IT experts and vendors are worked together to rapidly streamline both EHR and health IT systems. In this article, we discussed the most popular FHIR, interoperability, and healthcare blogs of CapMinds.
1. The Next Big Healthcare Marketing Trends For 2021
A recent survey predicted that U.S healthcare spending will amount to $5.4 trillion by 2024, which corresponds to an annual average of 19.6% of GDP. Here are some of the interesting facts related to healthcare marketing. As 2021 is round the corner, every healthcare provider needs to be updated with the latest healthcare trends and marketing technologies. Before planning your marketing strategy for 2021, don't miss to include these healthcare marketing trends to attain better growth and stand ahead in the 2021 healthcare marketplace.
2. Hidden Secrets Of Healthcare Interoperability Challenges
Even though the health IT standards and health information exchange have yielded some technological improvements, but still there are some challenges in achieving true interoperability. Everyone might think like what are the challenges in healthcare interoperability? Here are the major healthcare interoperability challenges everyone should be aware of in order to achieve true interoperability for excellent care delivery and improved patient health outcomes.
3. 7 Proven Reasons That Shows You Why FHIR Is Better
The growing technology has drastically changed the way the healthcare industry works. FHIR (Fast Healthcare Interoperability Resources) is one of the great attempts by HL7 to digitalize the health records. This standard platform allows the exchange of healthcare data such as medical records, treatment summaries, bill payments, test results, and more via electronically.
Guess what? The number of smartphone users in the U.S alone is about 275.66 million in 2020. Yes, day by day the usage of mobile technology is increasing greatly. So now, FHIR and APIs are the future of interoperability.
4. Telehealth EHR Integration Improves Clinical Workflow
In today's healthcare marketplace, around 95% of U.S. hospitals started using the EHR platform, and the benefits of implementing this platform are crystal clear. The EHR software provides better quality of care, more accurate patient information, increased efficiency, and interoperability. Telehealth EHR integration can further benefit healthcare organizations to improve clinical workflow. So EHR and telehealth, when used together, can significantly improve the care delivery system.
5. FHIR For Payers: Challenges & Benefits
Payers will benefit from FHIR's utilization in the healthcare marketplace. It is the cutting edge standard for sharing healthcare information. Implementer can modify FHIR's core data elements, i.e., extensions. This extensibility is built-in; it doesn't break the core standard or requires significant work.
6. FHIR Vs Blockchain: Understanding The Reality
The main aim of the development of FHIR is to normalize and ease out the exchange of healthcare data between healthcare providers to share patient data ease, even when the providers are using different software systems for data sharing. As more health systems and app developers started moving on with FHIR it will make it easier for health applications to integrate into health records.
7. Future Of Remote Patient Monitoring In Healthcare 2021
The American Heart Association (AHA) defined RPM as a subset of telehealth that facilitates patient monitoring as well as the transfer of patient-generated health data from the patient to the healthcare team and back to the patient in a timely manner. Nearly 88% of healthcare organizations are investing or considering to invest in remote patient monitoring systems, and the good news is, t also continues to improve in healthcare 2021.
8. How To Improve Clinical Workflow:4 Cool Tips
In the healthcare industry, most of the valuable resources are often underutilized. Even though there is a potential to automate some healthcare processes like payment collection, appointment scheduling, appointment reminders, still these tasks are conducted manually in some healthcare practices. It has been analyzed that nearly 40% of clinical office work involves repetitive tasks, more effort, and the clinicians are often spending most of their time on inefficient processes.
9. FHIR Simplifies Healthcare Application Development
Managing population health in a value-based system is a challenge for any healthcare organization. No single digital healthcare solution can address this challenge alone, and there is a growing need to support an ecosystem of connected, interoperable healthcare applications.
10. Take Advantage Of FHIR API: 4 Secret Reasons
Interoperability has been a hot topic in the healthcare industry. Being able to share critical clinical data between disparate systems in a way that makes it easily accessible, while still retaining the security of sensitive patient health information, has always been one of the most challenging issues.
Final Thoughts
FHIR serves to be a hot topic in recent times and continues to be on trend in 2021 too. CapMinds offers the best HL7 FHIR integration services and strive to improve healthcare organizations' workplace productivity by simplifying their day to day operations.
HL7 FHIR SMART Integration Services