The Next Big Healthcare Marketing Trends For 2021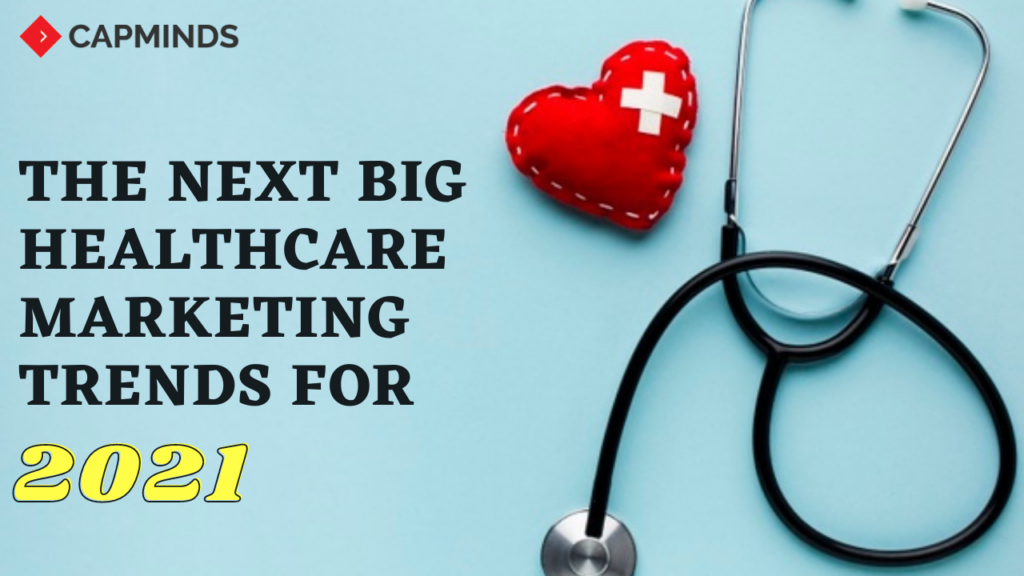 In Today's tech-savvy world, the Importance of healthcare Marketing is becoming crystal clear as it creates the right path to reach more patients and offer better care delivery. As 2021 is around the corner, every healthcare provider needs to be updated with the latest healthcare trends and marketing technologies. Before planning your marketing strategy for 2021, don't miss to include these healthcare marketing trends to attain better growth and stand ahead in the 2021 healthcare marketplace.
Interesting Healthcare Marketing Stats
A recent survey predicted that U.S. healthcare spending will amount to $5.4 trillion by 2024, which corresponds to an annual average of 19.6% of GDP. Here are some of the interesting facts related to healthcare marketing.
90% of patients use online reviews to evaluate doctors
5% of all Google searches are related to health care (Source: Google)
88% of healthcare appointments are scheduled via phone (Source: Sequence)
66% of Internet users search online for information about a specific medical problem or disease.
In the U.S., healthcare advertising spending is expected to increase by 5% in both 2020 and 2021 (Source: Becker's Hospital Review)
Top 5 Healthcare Marketing Trends For 2021
1.Effective patient communication will be trending in 2021 healthcare marketing
For successful growth in the healthcare industry, using the best technologies and making the diagnosis is not only enough, it is important for hospitals and healthcare organizations to check whether the patient receives better care in a timely manner. So here effective patient communication is a crucial component in the healthcare process. Above all, not only today but also in 2021 healthcare, patients wishing to get treatments will the best care with complete safety as the COVID-19 pandemic will be lasting until the start of 2021 too.
So how to perform effective patient communication?
Whether it be sharing patient medical records with other physicians, treatment records with patients, or information on prevention, symptoms, testing, and treatment – communication should be trustworthy and useful. This is a great opportunity for healthcare marketers to make use of their communication strategies. Healthcare marketers can provide the best sources from subject matter experts within their healthcare organizations and make that content available to their patient communities through various communication channels to build trust and nurture patient relationships.
2. Telehealth remains to be on the top in 2021
Healthcare organizations are going through a lot of crises these days. The COVID-19 problem is only exacerbating the incumbent situation. Telehealth is one big thing that is significantly going to change the way medical organizations survive in 2020 and also in 2021 healthcare marketing. It allows for improved access to medical care, improved healthcare outcomes, cost-effective delivery, distribution of healthcare providers across many areas, and more.
What healthcare marketers need to do?
Even though TELEHEALTH is a common term, many people won't aware of the features and specialties it offers. So the job of healthcare marketers is to build awareness and make the patients educated about the telehealth features. For that, first, analyze how tech-savvy your patients are. How well they can able to utilize your telehealth software? Create an informative landing page for your telehealth software and educate your patients about telehealth tools, and how it works. How it helps patients to get care via video visits. Adding video testimonials about your telehealth services will create more trust in your products/services.
Get the word out to existing patients through email and text messaging campaigns, targeted advertising, and content marketing. Make it easy for patients to get all the information they need to take advantage of your telehealth options.
3. Eye-catching videos and healthcare news will help you to attract patients
Sharing valuable content will not only educate your patients but it also creates trust in your organization/healthcare products/services. But everyone is posting healthcare-related videos, product demos, and healthcare content, and so on. In fact, over 409 million people read more than 20 billion pages on WordPress each month in 2020.
So how do you stand apart in healthcare 2021?
Understand what your patients are in need of at the right moment. Identify the common questions that your patients ask and then provide them with content that offers a solution to their problems. Do you know that good video content will help you to rank on the #1 page on Google? So get ready for 2021. Create a healthcare content marketing strategy that offers valuable content, eye-catching videos, and attractive images about your healthcare services. Infographics, gifs, and videos are all excellent ways to quickly convey a quick message and leave a lasting impression on your healthcare brand. Make use of the ''DOWNLOAD IT FOR FREE'' key term to attract more readers and reach more people.
4. Patient Experience increases your healthcare workflow productivity
Patient experience is an important key to your healthcare organization's successful growth. So don't miss to concentrate on patient experience while planning for 2021 healthcare marketing. How to improve patient experience?
Of course, it depends on your healthcare tools. Advanced features like online appointment scheduling, online bill pay, easily accessible medical records, and lab results will automatically increase your patient experience. Update your software with the advanced features, email, or text your patients to notify them about the new features, and provide a mobile app experience to attract your patients. So all you need to do is to go with the best EHR software for 2021 to be timely updated with all the patient records in a safe way.
5. Brand Reputation remains a key to 2021 healthcare success
Patients only go with Brands. When a patient hears about your treatment plans or about your healthcare software features for the first time, they immediately google your organization to get more information. What they see in the search results is essentially their first impression and the best impression. So online brand reputation is very very important for your healthcare success.
Now how to achieve an online reputation?
Expand your presence over social media because today social media is everything and everyone is on social media.
Ask your customers to write a review of your healthcare services. This helps you to offer better care for your patients.
Showcase your customer testimonials which show your achievements
Final Thoughts
These healthcare marketing trends for 2021 will definitely help you to start apart from the competition. So are you ready to speed up your healthcare services? We, CapMinds are here to help you with the best healthcare software to reduce your administrative tasks, automate your workflow process, and improve your practice productivity.