FHIR Success Story: A Large Healthcare Company's Experience With CapMinds HL7 FHIR Services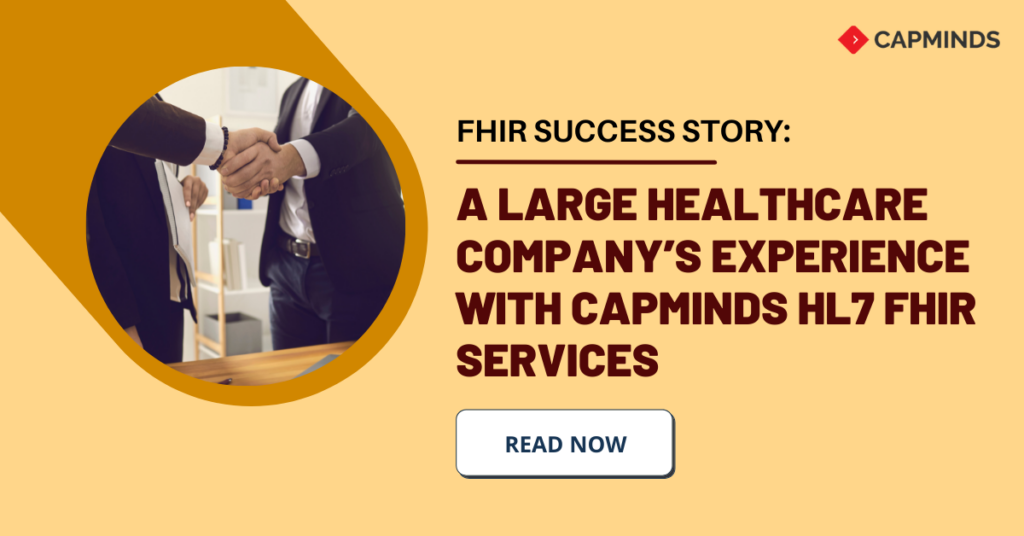 Today, the healthcare industry is moving fast towards a major digital transformation. Most healthcare organizations are seeking to transform themselves into an innovative digital space. Here is how a U.S based healthcare company took advantage of CapMinds FHIR implementation services.
Healthcare Interoperability: A greater Challenge
Healthcare interoperability has been a significant focus in today's health tech industry. In the year 2022, the utilization of the increasingly popular Fast Healthcare Interoperability Resources (FHIR) format is reaching great heights.
Interoperability greatly improves healthcare outcomes.
Patient Identification is made easy with healthcare interoperability:
Open the doors to new innovative partnerships.
Standards like HL7 FHIR are aimed at improving healthcare interoperability.
Practice measurement and improvement are possible with interoperability.
A U.S based clinical practice has faced challenges in achieving interoperability and secure patient data exchange.
Healthcare providers need to streamline their interactions with payers to ensure they get paid for their services. The organization had vast application integrations in place. They had to do extensive rationalization of applications and infrastructure.
The other HL7 standards are not effective based on their practice needs. That's how they get started with CapMinds HL7 FHIR services.
CapMinds HL7 FHIR Solution
The healthcare provider signed up with the CapMinds best HL7 FHIR integration services. Our services team helped deliver an HL7 FHIR server implementation. The healthcare provider took advantage of the following capabilities provided by our solution:
Branded developer portals to tailor the portal to each market segment.
HL7 FHIR Server to enable an interoperable way to access and search patients' electronic healthcare records.
Our CapMinds team leverages the experience and clear understanding of clinical data for both providers and payers to provide quality outcomes and extraordinary digital solutions. We helped the healthcare organization leverage technology and innovation to enhance healthcare delivery and meaningfully improve patients' lives.
Why choose FHIR?
Advances in healthcare technology have created massive growth in the amount of data available for patient care, from various sources. With healthcare data more widely overwhelming, interoperability is more important and more challenging than ever. HL7 FHIR allows to access the exact health information needed to improve clinical decisions and outcomes across the health and care continuum.
FHIR will aid in the exchange of knowledge and the implementation and support of mobile applications favoring providers, payers, and patients are also supported.
Getting Started With CapMinds
Using the best FHIR implementation services can make your practice achieve true healthcare interoperability. That's why the clinical practice made the right choice by getting started with CapMinds FHIR services.
And most of the top healthcare practices are happy to get started with CapMinds FHIR implementation services because of:
Best implementation and support service
Easy and hassle-free integration
Enhanced health data management
A great reduction in the working time with the document-based data exchange system
Easy health data sharing
Ensure security and compliance
If you are looking for the best FHIR implementation for your medical practices, CapMinds will be on the top to consider first.
CapMinds accelerates secure health information exchange in the enterprise by partnering with you to develop the right strategies for your business.See for yourself why CapMinds HL7 FHIR implementation services are the best choice to deploy, secure, and scale in the enterprise.
Schedule a quick demo with our expert team to discuss FHIR implementation for your practice today.