Success Story: How Capminds Eased The Medical Billing Problems Of A U.S.-Based Healthcare Organization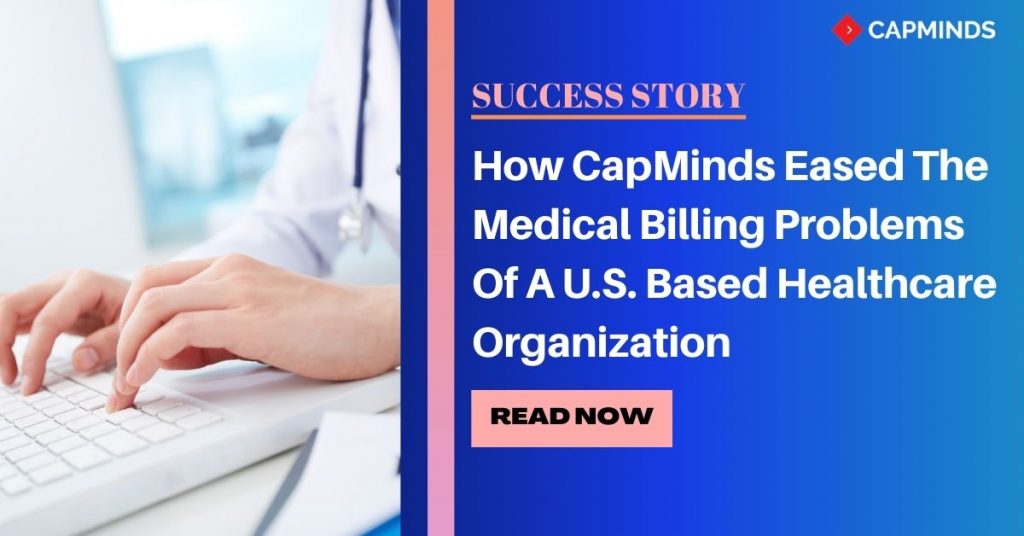 A highly profiled U.S.-based healthcare organization solved its problems of medical billing and turned around its productivity by working along with CapMinds. CapMinds provides services that ease your workload with a team of professionals who are experts in the field to help you set up everything.
Our fully automated AI-powered software services are built to save time and money while helping you to focus on your pursuit to treat clients with effectiveness.
Challenges
The U.S.-based healthcare organization offers a variety of health services to the public located near and far away from them. The organization is committed to promoting healthier communities. For achieving the motto smoothly, they didn't have enough sources and software services.
Frustrated and disappointed with the incapabilities of the clinic's billing system, the organization sought user-friendly and easy-to-adopt billing services that would save their money, time, and the efficiency of manpower, and improve reimbursements. This led them directly to CapMinds' automated, AI-powered billing services. 
Their main challenges were,
Disappointment and frustrations with their already existing billing service.
Disruption in their workflow due to the low speed of the previous billing service.
Errors in the workflow are created by outdated technology.
Loads of paperwork – created by the previous billing system.
Automation Proves To Be More Efficient Than Paper Billing
Doing paper works, recording billing, and other data in paper format decreases the speed and efficiency of operations of any establishment. For any medical organization to be successful, a high level of competitiveness and productivity in all significant areas are essential.
The organization we served, unfortunately, lacked any experience in efficient billing, mainly due to their maintenance of the system in handwritten formats. A staff who worked in the A/P and billing departments reported that the organization was getting irritated with its billing system and desperately needed a change.
They said that they had to write and carry out billing by hand and had a hard time keeping up before CapMinds. It took them long hours to do simple work and not now with our automated billing services.
Inefficiency in billing can significantly impact a healthcare organization on its reimbursements and overall revenue. Fortunately for this healthcare organization, implementing CapMinds' automated AI-powered billing services and integrating CapMinds' EHR and Practice Management services, simplified the billing process, provided more time for doing meaningful tasks, and streamlined workflow for the entire staff.
Solutions
CapMinds' easy-to-use billing services aim to increase efficiency by reducing the time spent on billing tasks by automating its entire functions.
Helps to maintain high reimbursement rates.
Fully integrated CapMinds' EHR and PM services facilitate seamless workflow.
CapMinds Improves Billing Efficiency
A staff of the billing department said that they have all of their patient's information in front of them in minutes because of the integration. Their functions and operations became faster and they are happy with the system. They feel efficient as we helped them cut time significantly from unwanted and time-consuming tasks.
All the staff members of the healthcare organization have been able to leverage CapMinds' user-friendly interface and easily carry out their day-to-day billing tasks.
Our billing services and other integrations made posting payments- very easy, for them. They said that they are in love with electronic, automated payments where a single button does everything.
The organization also mentioned experiencing the difference in communication and service by their employees. They said they could get instant answers to queries without wasting time for a reply from CapMinds' team.
They said, when compared to other systems, CapMinds' communications and support for not-so-often occurring problems were spontaneous.
Results
The organization spends less time on billing compared to the old system
Staff can easily post payments with just a click, resulting in increased efficiency
It enjoys CapMinds' easy, simple, and transparent communication system
Upgraded themselves with automation and went a step ahead on digitalization
Capminds Is The Complete Solution For All Your Practice Needs
CapMinds provides high-end automation services with AI-powered business intelligence to increase your healthcare organization's efficiency and streamline your operational and functional workflow.
Our easily integrable EHR, Practice Management, cloud, and security services allow any organization to stay ahead in the future of digitalization and bots. Do not miss the chance to work with a professional and real-time platform.
GET STARTED NOW WITH CAPMINDS
Now is the time for you to get yourself upgraded with CapMinds' automated billing services. Interested in learning more about our digital and high-quality services and uplifting your healthcare practice?