2022 Let's Wrap It Up: The 10 Best HL7 FHIR Blogs Of CapMinds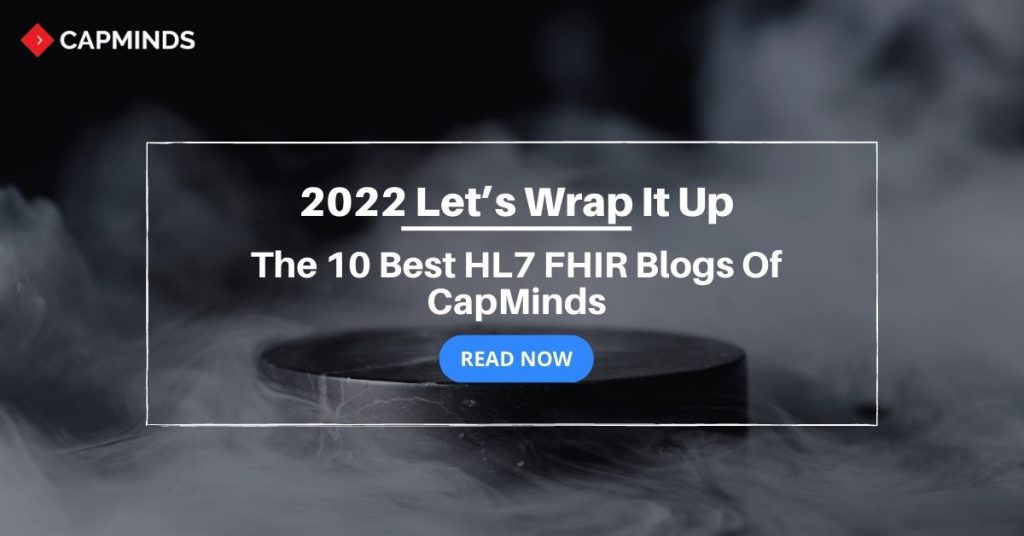 The healthcare spectrum has witnessed tremendous changes in the past few years. Especially 2022 has been the host of some amazing innovations.
Among others, HL7 FHIR set out itself as the hottest topic this year. Do not miss to read the 10 best HL7 FHIR blogs of CapMinds to get yourself ready for the more competitive upcoming year. Let's start!
1. Top 5 HL7 Integration Challenges and Solutions for 2022
The standards provided by HL7 concentrate on the application layer, "layer 7" in the Open Systems Interconnection model (OSI model).
This allows healthcare organizations to seamlessly share health information. HL7 integration is a vast ocean full of abilities to expand healthcare interoperability in a very standardized way. In this blog, we will look into the challenges faced in HL7 integration and the most suitable solutions to conquer them.
2. HL7 ORU Message: An in-depth guide that you cannot miss
HL7 messages act as a medium and work as consolidated sources of information to create a secured mechanism for exchanging sensitive health data which is vulnerable to hacking.
As we speak now, more than 92% of the US health institutes use HL7, and its widespread adoption in a minimum of 27 countries made it a global standard. HL7 message overall has many examples but the ORU message is a supreme and uppermost method of sharing information. You will see an elaborated version of the HL7 ORU Message in this blog.
3. FHIR Integration: How It Enables Healthcare Interoperability?
Data shared between systems may include patient data, vaccination usage, availability data, and much more. With these types of complex information, integration generates more data than ever before, making it oftentimes difficult to manage.
This is why healthcare integrations are critical to achieving operational efficiency. The first step towards achieving greater efficiency is interoperability by having a consistent means to represent that critical data through FHIR to achieve a global representation of data.
4. CDS Hooks & FHIR: Making Interoperability Trouble-Free
As changes happen, now experts of informatics working on FHIR are facing a more fundamental issue: how does a clinician know when and which app to use? The major challenge of the SMART on FHIR with the integration into clinician-facing EHRs is that for launching an app, the user has to first decide to do the launch.
For this, the knowledge of the usefulness of apps should be known by them. This is where "CDS Hooks" comes in. It is an attempt to support clinicians to know what they want, ahead of time and to provide information regarding the context within the EHR.
5. The Golden Things Of FHIR Interoperability One Should Know About
Everybody in the healthcare industry knows that the Fast Healthcare Interoperability Resource (FHIR) standard concentrates on improving data exchange. But, many of us do not know its proper work and use in the future of health data interoperability.
Healthcare interoperability is becoming more and more vital and a significant concern for developers, vendors, and providers who are investing a great deal of attention to the data standards that will help them achieve a seamless, real-time, and on-demand data exchange.
6. HAPI FHIR: Connecting Interoperability dots for Healthcare
Open source and proprietary are the two types of FHIR servers. The Open-source FHIR server is free to use.
It provides all the basic features to develop custom solutions. The most famous open FHIR is the HAPI FHIR server. Dig deeper into what is HAPI FHIR with the help of this blog.
7. FHIR API Implementation Barriers Healthcare Organizations Struggle With [And How To Push Them Aside]
FHIR APIs were principally created for improving healthcare interoperability following the standards. However the cost and the IT expertise required for perfect implementation withhold its growth towards the greater good.
The Fast Healthcare Interoperability Resources (FHIR) will most probably replace HL7 in no time but certain barriers to its worldwide adoption from the cost of application programming interface (API) to reliability concerns.
8. Case Study: Integrating HL7, FHIR, & API Capabilities with CapMinds
Read this blog to know how CapMinds HL7, FHIR & API integration capabilities helped a healthcare consulting organization in the US solve the challenges like;
The challenge to their internal IT team was to build out HL7, FHIR, and API integration capabilities quickly and easily. The first requirement was to integrate HL7 feeds of EMR data from Epic, Cerner, and others from over 30 hospitals.
The second requirement was identifying a budget-friendly solution that would be within their current contract parameters.
Time with marketing was also a challenge for them, etc.
9. FHIR Success Story: A Large Healthcare Company's Experience With CapMinds HL7 FHIR Services
Today, the healthcare industry is moving fast toward a major digital transformation. Most healthcare organizations are seeking to transform themselves into an innovative digital space.
Here is how a U.S based healthcare company took advantage of CapMinds FHIR implementation services.
10. EHR/EMR Integrations With HL7 & FHIR Interfaces: Breaking Barriers
Getting a hold of the successful and seamless EHR & EMR integration services for those who put all their efforts to serve people right, is not a dream or an unreachable thing with CapMinds. It offers a sophisticated solution for EHR & EMR integration with appropriate tools and an effective and more standardized process.
To highlight precisely, we proudly say that many medical devices, equipment, and solution providers have benefited from CapMinds EHR & EMR and HL7 integrations.
Final thoughts
HL7 FHIR and its supplements proved to be hot topics in 2022 healthcare. It will continue to be the same in 2023 and the coming years too. They are here to stay and provide undisrupted interoperability to the healthcare spectrum and the people associated with it.
CapMinds HL7 FHIR Integration services stand firm as an encyclopedic solution that can effectively improve patient satisfaction and experience. It can help you to increase your practice revenue by multiple times. Get ready to welcome the new year of more innovations and advancements with us!
"Wishing you a very healthy and thriving #2023"