FHIR API Implementation Barriers Healthcare Organizations Struggle With [And How To Push Them Aside]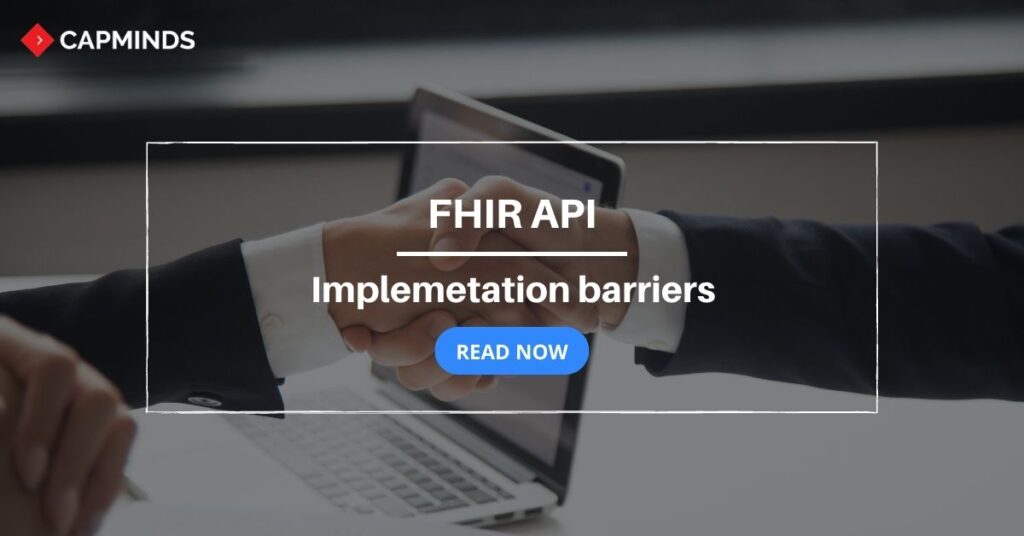 FHIR APIs were principally created for improving healthcare interoperability following the standards. However the cost and the IT expertise required for perfect implementation withhold its growth towards the greater good.
The Fast Healthcare Interoperability Resources (FHIR) will most probably replace HL7 in no time but certain barriers to its worldwide adoption from the cost of application programming interface (API) to reliability concerns.
What Is FHIR & FHIR API?
FHIR is a standard created exceptionally for encoding or formatting health data. These data include a patient's name, identification, insurance number, address, medical history, clinical diagnoses, encounters, prescriptions, and much other health information.
FHIR – a set of clinical documents that can be exchanged electronically.
FHIR API – enables the exchange of FHIR documents across various systems.
The major drawback of FHIR APIs is that they are not fully backed yet. To make it work extra costs are involved. "Newer techs and standards come with a price" – let's state it like this for better understanding.
Cost Is The Crucial Barrier To FHIR API Adoption
The interfaces and data exchanges used are not a single one, there are many in use now. The users of the standard already have those costs to hold up the current infrastructure whether it's within a data center or the cloud, and now including or implementing new capabilities means adding on to the initial investment such as data encryption (addition security measure) for the exchange of PHI between parties.
These additional costs only tend to grow more. Even though the adoption of FHIR allows healthcare providers to easily exchange data through systems, the cost associated with it still bothers the and gives them no choice.
Pushing Aside The Barriers To FHIR API Implementation
Healthcare providers can use the FHIR-enabled automation software to share data between health systems and open new clinical use cases inside a health system.
While adopting and implementing the government-regulated FHIR status and open API standards, healthcare providers are noticing two things;
Their EHR has not been optimized yet to benefit from the data integrations fully.
They shortfall with the internal processes to manage data governance.
In reality, these barriers cannot be overcome in one night. The EHRs might take longer to be able to handle both two-way API, custom API development, and the protected exchange of FHIR-based data.
The data exchange engineers will face difficulties with teaching a dozen different systems to adopt a highly technical new language while migrating from HL7 V2 or a proprietary format to FHIR.
FHIR is built to fit everything in healthcare, making it agitated for simpler tasks. But it is highly sectional and this concern can be alleviated to some extent.
Health IT Partnership Can Come As A Rescue
Health IT partnership or collaboration helps to solve the problems with interoperability to some degree. This collaboration allows health IT professionals to join hands and share their experiences and best approaches to find FHIR API challenges and provide the best solutions.
Sharing the information with others can ensure a better understanding of the problems and reduce friction while adopting new standards like FHIR. It is vital to provide the IT professionals with the necessary time, resources, and instructions they need to teach FHIR themselves and the independence to implement it.
Asking for a specialist either a new hire or a consultant will always pay well. But many IT leaders find it costly, but it is not when compared to the benefits and progress they provide.
HL7 FHIR Services From CapMinds
CapMinds' health tech innovations have tremendously simplified how healthcare integrations get done. Today we proudly present the most flexible and greater support for healthcare integration of any product on the market. Our healthcare integration suite includes end-to-end support for all healthcare data formats such as HL7 2.x, HL7 3.x, FHIR, CCD/CCDA, JSON, XML, X12 EDI, NCPDP, etc.
CapMinds Technologies offers the perfect all-in-one Interoperability solutions for your clinical needs. Our HL7 integration and FHIR standards services facilitate the innovatory exchange to create new possibilities, client-centered services for keeping our clients in the limelight, clinical integrations facilitate EHR integrated laboratory, imaging, e-prescriptions, EPCS, pharmacy, and more, and enhance the activation process for your individual and collective needs.
"Relieve yourself from the implementation complexities and attain advanced electronic data exchange and interoperability with us"