Top 3 Digital Transformation Trends To Watch In 2023 Healthcare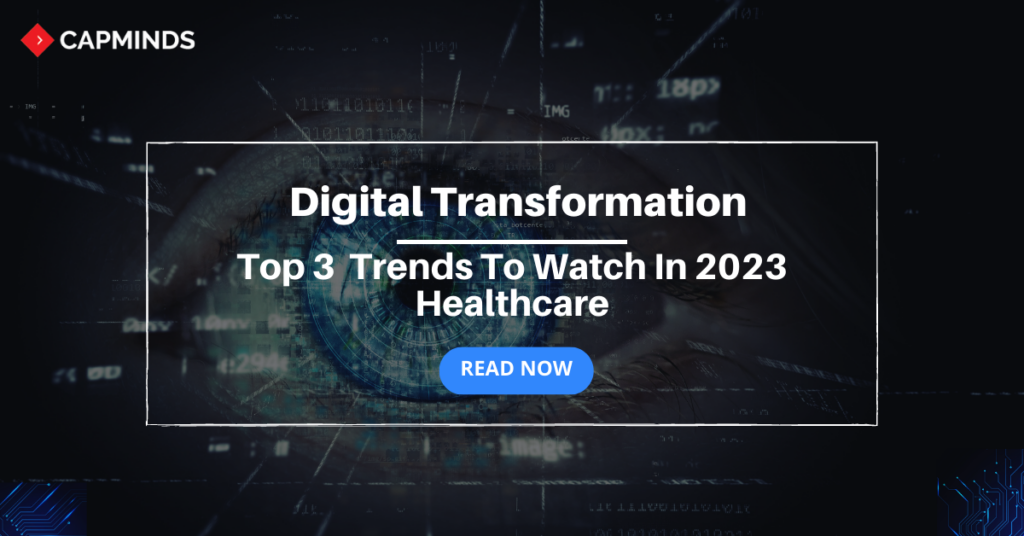 It is very important to stay up to date on the top digital transformation trends in 2023 healthcare that are working in today's healthcare space to grow healthcare organizations. In this article, our CapMinds team has compiled a comprehensive list of top healthcare digital transformation tends to be focused more on.
The Rising Digital Transformation In Healthcare
Healthcare is a complex industry, which makes gaining consensus on any particular issue a challenge. After connecting with healthcare leaders and colleagues at the SIIM21 Annual Meeting, there is at least one thing that we can all agree on: Digital health solutions have reshaped and will continue to transform care delivery and disease treatment.
While healthcare's digital transformation was a top priority before Covid-19, the pandemic accelerated the adoption of digital health tools. You can see this happening in real time with the use of telehealth, personal devices to access care, social determinants of health (SDoH) databases, cloud-native data storage solutions, and countless other examples.
Top 3 Healthcare Digital Transformation Trends
Cloud Adoption Is Growing
A poignant takeaway from our conversation is that the cloud is "real." In fact, according to BDO's 2023 Healthcare Digital Transformation Survey, 78% of healthcare organizations have incorporated cloud computing into their operations, and another 20% plan on investing in the cloud.
While cloud adoption previously seemed elusive and intangible, it has not only become a serious consideration for healthcare organizations, but I believe it will also influence downstream innovations requiring mass amounts of data such as artificial intelligence (AI) and machine learning (ML). As healthcare organizations are being asked to do more with less, the demand continues to grow.
This explosion of data parallels emerging cybersecurity needs, increased provider consolidation, and regulatory focus on interoperability. Cloud and hybrid-cloud solutions can help organizations navigate these challenges while also meeting specific clinical, administrative, and budgetary needs. Cloud solutions, particularly cloud-native, enable healthcare efficiency as well as patient satisfaction, which is the ultimate goal.
Direct-to-Consumer Artificial Intelligence
The availability and scalability of cloud storage have the potential to be a game-changer for research and development centered on raw data. Perhaps one of the most revolutionary innovations discussed at SIIM21 as a result of leveraging this raw data is direct-to-consumer AI for medical use.
Consumerism in healthcare has jumped to the forefront of industry leaders' minds, especially as we continue to see venture capitalists and big tech enter the healthcare economy. This focus is reinforced by the increasing role consumers are playing in their health care.
According to the Deloitte 2020 Survey of U.S. For Health Care Consumers, 42% of U.S. consumers cited that they used tools to measure health improvement goals and fitness in 2020.
An example of this concept currently in practice is point-of-care ultrasounds. These new tools are coupled with an AI assistant to help guide users on probe placement and facilitate more efficient, timely diagnosis. This type of application requires only basic knowledge of the device and helps democratize technology to improve efficiency and diagnosis. It also has the potential to equip consumers with the ability to capture their images and receive predictions about their health on something as common as smartphone-based AI algorithms.
However, such an application doesn't come without challenges. As an industry, we must set standards for image labeling and classification and establish a common language with which to interpret images. We must ensure that consumers can responsibly use this technology in partnership with their providers to improve their health outcomes.
The Integrated Arrival Of Health Data
A shift is happening within our healthcare system that is allowing more and more data to enter the health system. According to Capital Markets, 30% of the world's data volume is being generated by the healthcare industry, and by 2025, the compound annual growth rate of data for healthcare will reach 36%.
Healthcare organizations must develop a plan to manage this data and integrate it with SDoH data, AI-fueled behavioral science, patient history, and more to facilitate a more proactive approach to care. Value-based care — a buzzword for years now that emphasizes preventative care — may finally be within reach if healthcare leaders can harness this data and integrate it into clinical workflows.
Final Thoughts
Digital transformation in healthcare is an ever-evolving and changing industry. Staying up-to-date on the latest trends is very important to develop effective strategies for your practice growth.
Now it's time to get ahead of your competition by making use of these digital transformation trends. CapMinds is here to help you with the best cloud-based EHR, revenue cycle management, and advanced telehealth solutions to gain more patients, retain those patients long-term, acquire maximum revenue, and achieve better healthcare outcomes.
Looking for the latest healthcare insights? Navigate the healthcare digital space like an expert with the help of the CapMinds blog!