The Top 5 Healthcare Tech Trends for 2023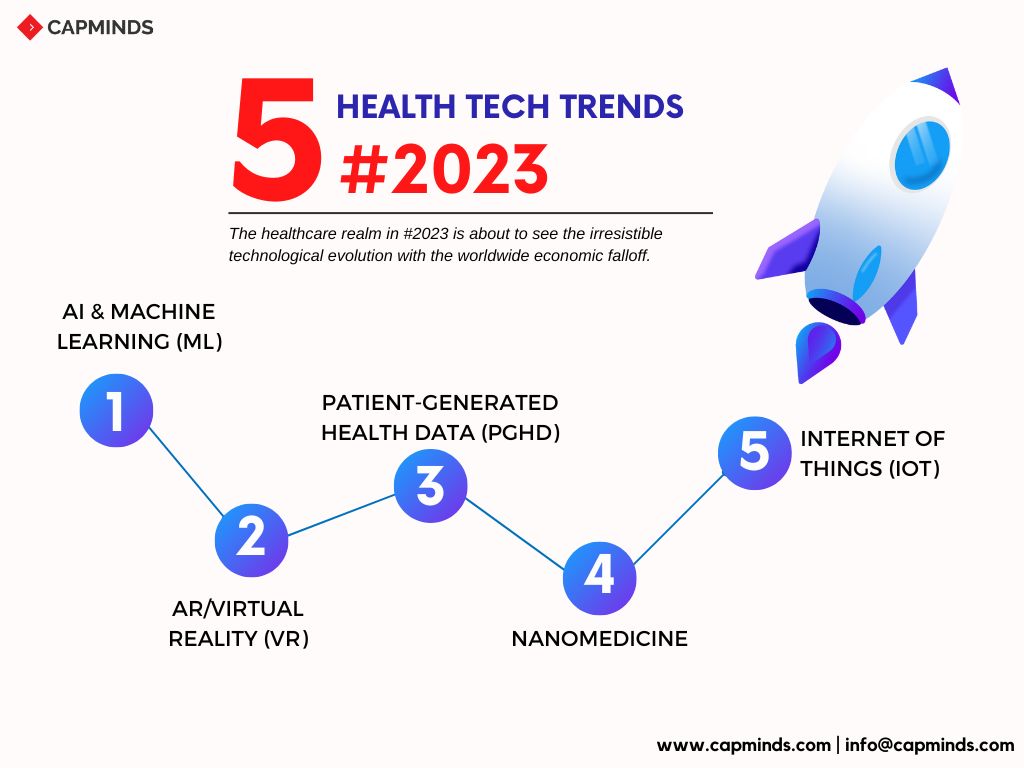 The healthcare spectrum is experiencing a tornado of technological advancements right now. Constant change and innovation are happening in the sector.
The technology is continuously optimizing and automating workflows for streamlining care delivery. This is possible with the newer trends emerging as the years pass. Expanding based on those trends can give a head start for healthcare organizations' long-term successes.
So, to achieve that, let's look into the trends that are going to help you change the perspective of your healthcare tech business in 2023. This will surely give you a competitive advantage and a head start for a year-long race toward excellence.
The top Healthcare Tech Trends for 2023
Note these in your "to-focus-on" diary for greater output.
1. Internet of Things (IoT) & Medical devices
Medical devices when combined with IoT can provide endless benefits to healthcare organizations. It can improve inventory management & employee tracking, and more. IoT and medical devices have become standards for many healthcare facilities in the past few years. This is because of the abundant growth of connected devices.
The global IoT healthcare market is expected to reach at least $2400 billion by 2029. But this growth and expansion also come with security risks for patients and providers. Cyber threats on health information systems widen with connected devices like mobile phones, apps, and more. These are permitted to be connected with EHR software, which is the widely adopted healthcare system globally.
Without proper security standards, your systems can be an open source to attacks fo such.
2. AI & Machine Learning (ML)
Artificial Intelligence (AI) and Machine Learning (ML) have already become the most popular technologies in our lives. In healthcare it predicts, diagnoses, monitors, and effortlessly treats patients. These techs help healthcare providers to deliver easier and more convenient care to patients.
These techs' deep learning, predictive analytics, and natural language processing will improve healthcare organizations' ability to treat patients remotely and on the spot.
3. AR/Virtual Reality (VR)
Augmented or computer-generated reality is the latest trend that is improving the healthcare industry. It is aiding the spectrum well with medical diagnosis and education. Virtual reality solutions provide fully simulated or computer-rendered surroundings for providers and patients. This will help providers to see things clearer and make a diagnosis and better treatments accordingly.
These techs not only help to improve the whole healthcare process but also decreases errors and help patients to recover faster.
4. Patient-Generated Health Data (PGHD)
Patient-generated health data (PGHD) are patient data created, recorded, or collected by or from patients or caregivers to help find solutions for health concerns. These can be technologically evolved and can be put into use when it comes to finding deeper genetic disorders.
In 2023, more advanced PGHD will help healthcare providers and executives to study deeply about patients via patients' perceptions. This will help improve the health outcomes as they are gathered directly from patients or their close acquaintances.
5. Nanomedicine
Believe us, we are not talking about any sci-fi movie, but the reality. Nanotech is slowly but strongly entering our lives just like mobile phones engulfed us slowly but steadily. In the year 2023, we can expect revolutionary things to rise in the healthcare spectrum, just like "xenobots".
The nano industry holds an enormous amount of opportunities for early investors. But what is nanomedicine? It is the use of nanoscale objects and materials like biocompatible nanoparticles and the handling of diagnosis or treatments of living organisms.
This tech can potentially chase cancer cells or viruses by injecting a group of nanobots into a human's blood vessels. It can fight back oncology, genetic, or auto-immune diseases on a cellular level, like tumors, arthritis, and more.
IoT Services from CapMinds
The plenty of growth of medical technologies using IoT can overwhelm healthcare providers. Starting from choosing the best service, to rendering them can seem to be a long, costly, and tedious process.
CapMinds Technology is the place where world-class standards meet for improved healthcare delivery. Helps with better clinical decision-making, high-class security, data analytics integration, HIPAA-secured, and more.
We help health tech startups, providers, and patients to build & manage cloud, AI, IoMT, and IoTs with complete security. We provide tech partnership services of IoT solutions to help health providers widen their scope & vision of service. Our Robotic Process Automation focuses on securing real-time communication & patient monitoring.
"Get the best technical services & support in your hands for advancing your facility itself from CapMinds"