Health Tech Partnership Is On The Rise: How To Build An Effective One For Your Startup?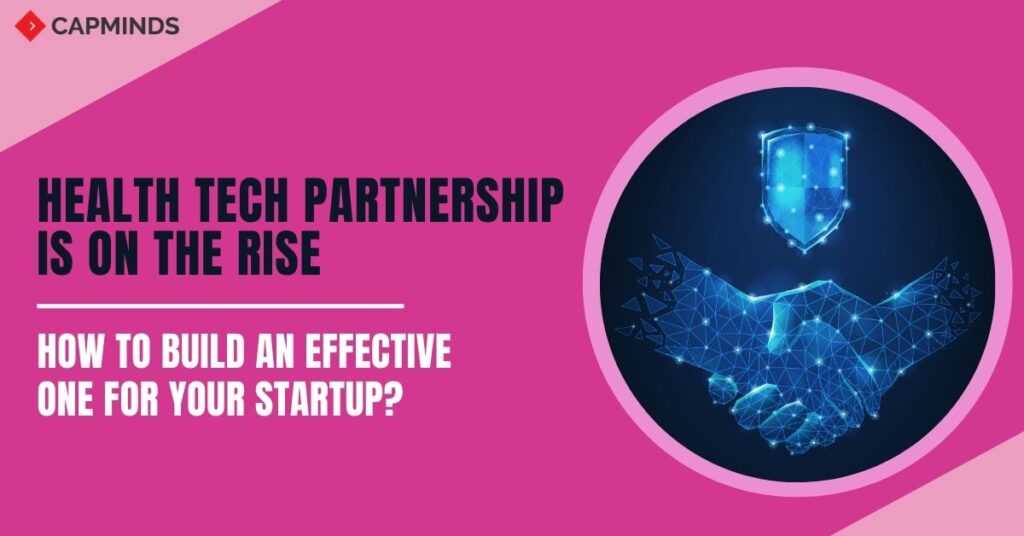 "Tech partnership" is the newest trend in transforming healthcare into more patient-centric all around the world, especially health IT.
Delegation through partnering always wins more productivity and financial outcomes. Technology partnership does the exact thing and it is now a common practice in the healthcare spectrum.
The challenges for healthcare and health tech organizations to be specific are many and the COVID-19 pandemic made everything worse. This situation increased the need for the growth of health tech startups that could help physicians treat patients remotely and healthcare professionals to monitor patients digitally.
What Are Technology Partnerships?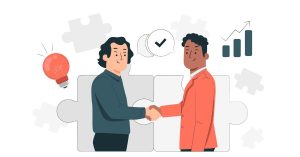 Technology partnerships are model trending replacements for the words, IT outsourcing. The partnership survives to enable organizations to implement technical systems and optimize their uses to increase workflows and expansion of operations beyond geographical boundaries.
Technology partnerships mainly include a tech vendor (who makes the product available) and an organization (company/agency that utilizes these systems).
Other than providing products, the health tech partnerships also offer services like platform integration support for healthcare organizations that makes use of IT systems from different companies that work by colluding.
Health tech Startups- Before Building One, Know The Pros Of Healthcare Tech Partnership
A health tech partnership is nothing but a collaboration between two interested parties in the healthcare business. Health tech startups before jumping into one have to know the benefits also the cons of a tech partnership.
Top 7 Benefits:
1. This collaboration brings in a lot of creativity and new sets of ideas to grow and expand your startup.
2. Readily offers a stand-by skilled team that can assist you whenever you need it.
3. Your healthcare tech startup can save a lot of money on resources and labor.
4. Third-party health tech partnership reduces the chances of risks for your startup. It saves you from technology failures.
5. Technology increases the efficiency of your employees. It increases compatibility and improves opportunities for improved business performance.
6. Tech partnerships typically expand the spectrum of your business. This creates new possibilities for widening the tech expertise of your business.
7. This collaboration is more cost-effective than employing an in-house team.
The 3 Types Of Technology Partnerships
1. Onshore Partnership:
The process of hiring professionals who are located within your city limits or nearby. It allows you to control things at reasonable costs.
2. Nearshore Partnership:
It is the process of hiring professional help from neighboring countries within the same time zone. This option isn't always profitable but you can communicate with the developers easily.
3. Offshore Partnership:
This type involves collaborating with foreign countries. This saves the most for you.
Why your startup should utilize tech partnerships? (Top 5 Reasons)
1. The immense availability of specific talents:
As a health tech startup, you might have new projects and need a new set of skills that your team might not possess. Here a healthcare technology partnership will help you by providing professional people to create new solutions and upgrading your existing plans to help you achieve your goal.
2. Saves your precious time:
Time is value and value is money in your business. Healthcare is all about time. Wasting time here is wasting lives. With technology outsourcing your tasks will be performed simultaneously. This will allow you to work on your significant issues while your expert partner will manage your IT section.
3. Compatible results:
Partnering with health tech companies has already proved to deliver success to many health tech startups. This method ll increase the proficiency and expertise to deliver perfect business outcomes.
4. Quick and reachable resources:
Getting hold of the appropriate set of resources improves the hiring process. It increases flexibility and convenience to increase or decrease resources as needed.
5. Saves costs:
Technology partnerships work mostly on contracts. So there will be a fixed budget involved. This will keep you informed about the service expenditure. Thus it helps your startup to invest in some other operations. This collaboration lowers labor costs, operational costs, and maintenance costs.
What Makes A Great Tech Partnership?
Here are some of the things you need to do for making your technology partnership a great one.
1. Flexibility:
Partnering means collaboration and each company has its own set of working methods. Be open to changes during the process. This could open more doors to growth.
2. A key warehouse of resources:
Good resource planning takes you to the end. Access to sufficient data and resources is very important during development. A central depository for resources should be made available for everyone.
3. Transparency is the king:
The clients and relevant partners must be included while making strategies, designs, and plannings to gather their inputs. This will make them feel more engaged and confident about the project.
4. Record best practices:
While working together you may come across many problems and solutions for them. Document these for future references. These will help you tackle many hard situations.
5. A well-planned collaboration process:
Let the tech partner explain the entire process step by step. Build a good long-term relationship with your tech partner once you get synced with their work.
Final Thoughts
Healthcare technology startups may face many hardships while entering and working in the healthcare spectrum. Employing in-house teams for technological support may cause stress and confusion. It will make you spend more on labor and resources.
The closest solution for avoiding these is joining a technology partner for your IT needs. You will need an expert in the field and a group of professionals that can ease up your work. Welcome to CapMinds-your perfect healthcare technology partner for IT solutions.
CapMinds excels in providing high-end technological and innovative solutions to healthcare providers. We are now concentrating on developing health tech startups and helping them achieve their goals and vision within a given period without wasting their valuable money.
We provide healthcare tech partnership services to promising healthcare startups like you. Our services include healthcare mobile and web app development, healthcare software development outsourcing, interface development, managed cloud services, and RPA solutions.
---
We are ready to amaze you with our services. Are you ready to exploit our expertise? Ready or not, get started with us now to achieve success in lesser time with full quality. Reach us through the link below. Explore our other services and solutions on our website.

"Let us make you the No.1 without compromising the quality, together"