The Expert's Guide To Choose The Best Specialty EHRs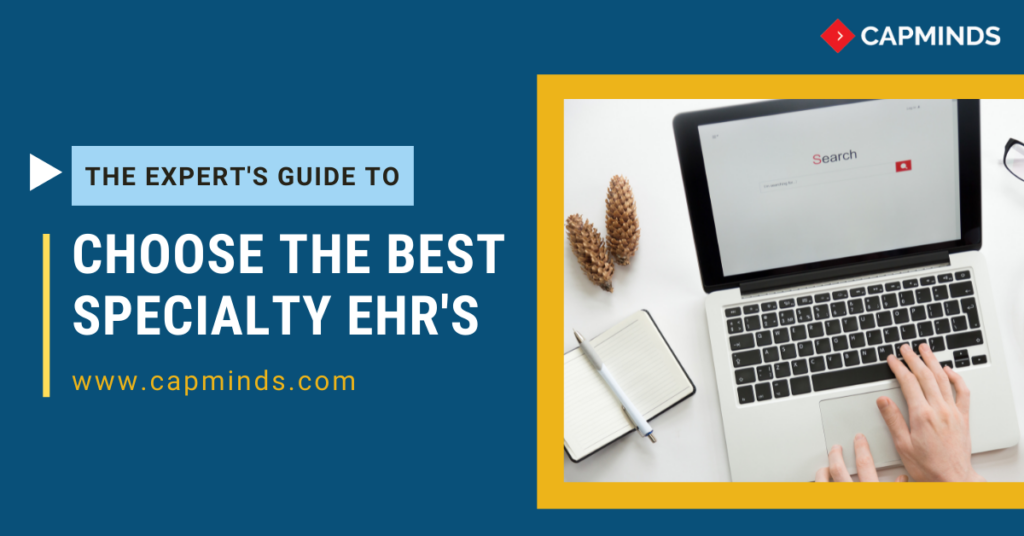 Today specialty EHR platforms serve to be the backbone of any specialty healthcare practice. Reducing the data entry process, providing customized templates based on the practice needs, documentation, and allowing providers to spend more time caring for patients are the special features to look for in the Specialty EHR software.
How EHR helps in connecting with specialists
Electronic health records (EHR's) are a crucial part of any healthcare practice. A fully integrated EHR system includes medical billing capabilities, practice management, lab integrations, patient portal integrations. It completely enhances the accuracy and transparency of practice workflow and documentation.
In the absence of EHR with better integration facilities, providers may lead to excessive burden leading to a decrease in productivity and patient healthcare outcomes.
For example, let's consider Cardiology EHR. Within cardiology, some specialists could be cardiac surgeons, some might be specialists in heart defects. Here, experts should be able to effectively schedule medical bills, specialty-specific templates should track contraception history easily.
Having the right EHR system that is fully adaptable to the growing needs of physicians and their patients is the key to minimizing health costs, time and providing better patient outcomes. This kind of specialty-specific workflows leads to better productivity. So finding the best EHR vendor is the key to success.
What to look for while choosing the specialty EHRs for your practice. Here our CapMinds EHR experts have defined the 6 best things to consider when choosing EHRs.
The top 6 capabilities to look for in Specialty EHRs
1. Flexibility for specialized needs
Since the invention of EHR software, EHRs have often been underrated for their inflexibility. Some healthcare vendors look for all-in-one EHR for their healthcare practice. But some vendors look for customized options and specific capabilities that fit only their practice needs.
So, while choosing the best specialty EHRs for your healthcare specialty, flexibility should be the first thing to consider and concentrate on more.
2. Go with the technology that engages your patients
The best specialty EHRs include advanced features like scheduling appointments online, reminding them about their upcoming appointments via text or mail, paying bills, collecting lab results, prescription refills that engage patients in their care. This leads to improved clinical outcomes and better patient satisfaction.
So choose the best specialty EHRs like CapMinds that offer secure HIPAA compliant messages to enable better patient-physician communication.
3. Look for seamless integration
When you choose the EHR that doesn't integrate with your other healthcare tools within an organization, you'll be completely put into trouble and it creates frustrations for users. Go with the specialty platforms that seamlessly integrate with a healthcare practice's general EHR, such as CapMinds, are the best to ensure productivity and efficiency.
Integrations that leverage the FHIR standards are considered to be the best. So looking forward, CapMinds provides the best HL7 FHIR SMART integration services for healthcare practices, specialty clinics, and other organizations.
4. Go with the EHR that offers real-time insights
Data plays a major role when working with EHRS. The best EHR system accurately collects the exact patient data and extracts meaningful trends that result in actionable changes such as appointment scheduling, healthcare resource management, and drive better opportunities to manage healthcare costs and enhance revenue.
5. Don't forget to check with telehealth support
Due to the Pandemic situation, the need for a telehealth system has drastically grown across all areas. Today this telehealth program remains one of the best platforms to access healthcare online from anywhere at any time. So look for the best specialty EHRs that support and facilitate good telehealth interactions.
6. Predictive analytics
EHR holds a lot of healthcare information that needs to be maintained and protected with high security. So to maximize the real value of the health data, medical practices need the best EHRs that can be used to drive better healthcare outcomes. So while choosing EHRs, the key features to consider include the ability to compare patient and demographic data to predict risks in advance.
How CapMinds help you?
CapMinds EHR services are trusted in overtop healthcare specialities across the continuum of care. Our EHR software enables healthcare providers and their organizations to effectively engage with patients and secure maximum reimbursement. Schedule a quick demo with our EHR experts to know how our specialty EHR services can make a difference for your healthcare practice.