#1 Guide To Predictive Analytics In Healthcare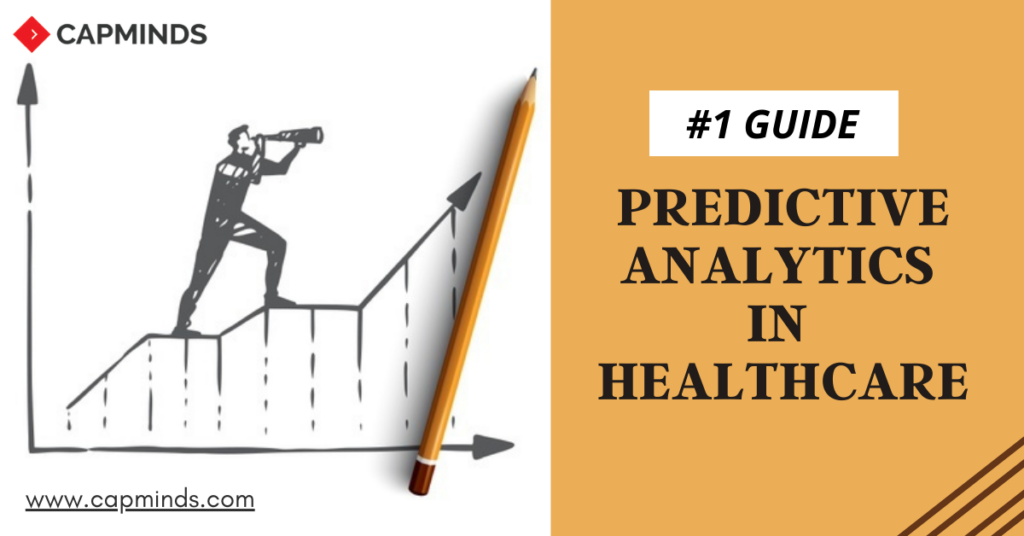 Due to the outbreak of COVID-19, the healthcare sector is facing growing challenges to achieve better care coordination and improve patient outcomes. To overcome these challenges, healthcare organizations are turning their goals towards predictive analytics. New to predictive analytics? #1 guide to predictive analytics – here is all about predictive analytics in healthcare that everyone should be aware of it.
What Is Predictive Analytics In Healthcare?
Predictive analytics in healthcare can be defined as the type of advanced technology that combines both machine learning and business intelligence to make to right projections about future actions. The successful predictive analytics holds collecting quality data and making use of the best model that can create a positive impact in various healthcare fields. In short, predictive analytics is used to identify the pain points right from the initial to the final stage of care to improve both healthcare delivery and patient experience.
The Development Of Predictive Analytics In Healthcare
The main aim behind the idea of predictive analytics is to alert clinicians and caregivers about the health outcomes before they occur, helping them to prevent possible healthcare issues. Because of emerging technologies like artificial intelligence and IoT, we have an advanced set of algorithms that can be easily fed with real-time data to make successful predictions. This kind of predictive algorithms can be used to support clinical decision-making for individual patients. The benefits of predictive analytics in healthcare can also be applied to solve the current administrative challenges.
The Need For Predictive Analytics Tools
Predictive analytics tools that identify patients with characteristics that have a high rate of readmission can help physicians to know about the follow-up and how to design personalized healthcare plans to minimize the patient's frequent visits to the hospital. This kind of tool will help the healthcare providers to develop accurate decisions that reduce healthcare costs, improve patient outcomes and increase operational efficiency.
The Benefits Of Predictive Analytics In Healthcare
Population Health And Risk Scoring
Healthcare organizations can make use of predictive analytics to identify patients with a high risk of chronic care conditions. This can be easily achieved with the process of creating risk scores using big data plus predictive analytics. Such type of risk scores is based on patient-specific health data, lab testing results, and more. Here, predictive analytics in healthcare improves the risk management for physicians and helps to deliver quality care to their patients on time.
Predictive Analytics Helps To Identify The Right Sites For Hospital Setup
In today's digital healthcare world, starting a new hospital or clinic is an expensive investment. Here predictive analytics helps you to find out the best sites for your clinic set up by analyzing the competitor insights, potential visits, and the impact of new facility opening on existing facilities. So that you can easily avoid unnecessary expenses and spend those things on a valuable process.
Improving Operational Efficiency
After the impact of COVID-19 on the healthcare sector, most organizations are started investing more in advanced analytics tools to improve their practice workflow and to deliver value-based care. The healthcare providers are making the best tools based on their organizational needs to analyze both historical and patient data in real-time.
This helps to understand the workflow and analyze the performance of the staff in real-time. Here, predictive analytics in healthcare helps the hospitals and other health centers to plan how many staff members should be located in a specific facility by using demographic data, historical data, and more.
Personal Medicine
Here predictive analytics will allow physicians to use prognostic analytics to find treatments for specific diseases. This is possible even for diseases that are not known at that time. Predictive analytics allows healthcare providers to introduce more accurate care plans for individuals.
A single health practitioner can't analyze all the detailed information about types of medicines manually. Here predictive analytics in healthcare helps to discover hidden patterns when checking large data sets and then create predictions. Such kind of tools can be used at an individual level and allows healthcare providers to come up with the best treatment options.
Final Thoughts
A more number of healthcare organizations started implementing new advanced digital technologies like machine learning AI-based healthcare software like EHR, the patient portal to analyze the data in a better way and also to predict future healthcare marketing trends. So, predictive analytics has a bright future in the healthcare sector.
Predictive analytics in healthcare offers a wonderful opportunity to improve patient care and reduce healthcare costs. In the future of healthcare, the providers who think carefully about their investments in technology will be able to deliver better care for their patients and increase practice productivity.
At CapMinds, we successfully implement cloud-based EHR, RCM, telehealth, and other advanced health IT solutions for hospitals, clinics, and health centers to help them deliver quality healthcare to their patients and ultimately improve the practice workflow process.