How To Choose The Best Cardiology EHR For Your Practice?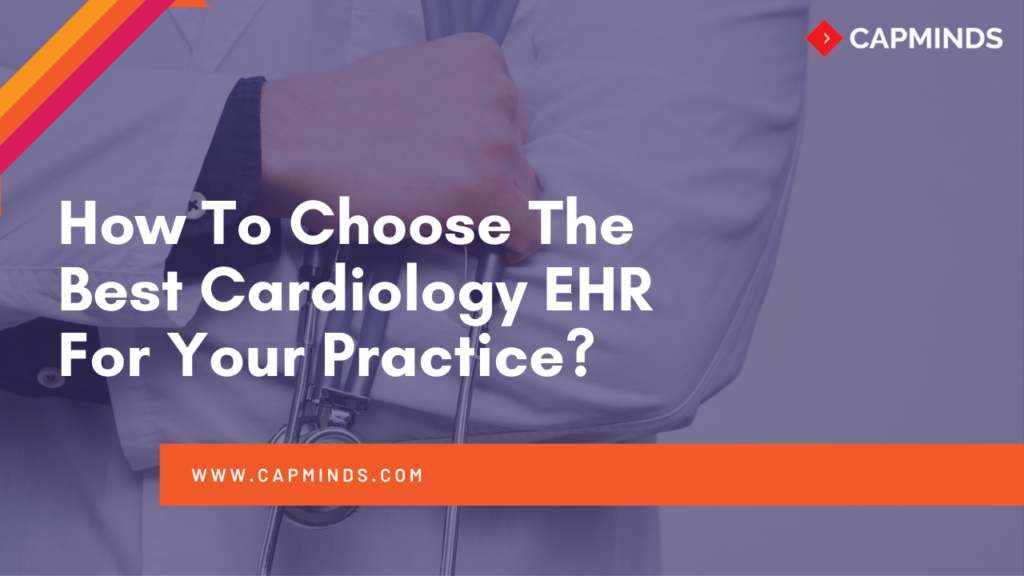 Today there are plenty of EHR choices available in the market. But when it comes to EHRs specially designed for cardiology practices are very few. A cardiology EHR is one solution that not only improves the practice efficiency but also the quality measures and manages referrals.
Healthcare providers are now looking for the best cardiology EHR along with practice management. The key functionalities should also include billing, appointment scheduling, customized cardiology EHR templates, workflow management, and more.
Cardiologists wish to have the best EHR which is flexible to use and should be able to operate efficiently in all manner. Here are some of the additional capabilities to look for:
Automated report population for data captured through Spirometer, EKG, Holster, and ECHO devices.
Compatible with mostly all diagnostic machines
A fully integrated EKG management system automatically stores EKG content into cardiology EHR, creating a comprehensive centralized patient record.
A Cardiology EHR should have cloud-based functionality with an integrated revenue cycle management platform. It should be strengthened by medical billing, patient engagement, care coordination, and population health management services.
Furthermore, these services are also provided with point-of-care mobile apps, that easily integrates with the main EHR software. Cardiologists' work is complicated and they have to be very careful about their clinical procedures. Some things that Cardiologists look for in Cardiology EHR are:
Should be cloud-based
Should be integrated with revenue cycle management
Integrated with patient engagement
Integrated with care coordination
Integrated with population health management services
Should also be supplemented with mobile apps which should be integrated with EHR
Should allow the practice to easily collect, analyze and generate medical reports
The EHR must automatically update to efficiently manage normal regulatory changes in ICD-10 and meaningful Use
Features should also include patient scheduling, medical documentation, prescribing and Financial report
Must effectively merge all daily tasks of a practice on one user-friendly platform
Should allow the practice to view patients' histories, allergies, past visits, current medications, lab results, while effectively managing patient accounts.
Must make practices to move away from the heavy desktop, server-based technology
Must easily connect to the internet and allow access from any device
Must allow the cardiologists to chart through voice dictation
The software should have customizable templates, macros, and other tools that allow the practices to complete a patient record in less time.
Cardiology EHR Features
A dashboard that consists of built-in MACRA for MIPS reporting, to avoid penalties
Portal for patient engagement and access to the practice with the ability for patients to self-serve, and have secured online payment
Use of kiosk in office eliminates manual entry by staff
Extensive cardiology-specific templates with built-in cardiology specific codes
Checklist of past/present (CAD, IDOM, CVA, and other heart conditions)
Diagnostic equipment interfacing
Medication tracking mechanisms
Palpation with PMI, heart sounds, and pulse functions
Identify patients for clinical trials
Manage reports
How to choose the best cardiology EHR?
The cardiology EHR software ought to have the option to get and break down a lot of information for every persistent. For example, there may be a few patients experiencing hazardous or time-delicate conditions. While assessing the interaction remember the accompanying models:
Practice size assumes a significant part. The product is intended for a specific number and sort of client, remembering adaptability. The product ought to be chosen remembering the number of cardiologists in the healthcare practice.
As referenced the most widely recognized objection among clinical experts is the absence of predictable and readable patient records. Executing cardiology EHR software in practices offers the capacity to make reports, sweeps, and envelopes for patients. The staff can record patients' graphs easily and precisely during arrangements.
Some of the time, meds are needed from different experts in any event, when the patients probably won't have heart-related conditions. This product makes it speedier and simpler to arrange new solutions, make references, and request tests. This way the training can oblige more patients in a day, without compromising the degree of care they get.
There are monetary advantages as well. Here, this cardiology EHR software helps programmed handling of installments at a quicker rate. Permits practice to diminish the administrative work and increment the degree of staff usefulness while bringing down office costs.
How CapMinds can help you?
CapMinds cardiology EHR is the best solution for cardiologists. The advanced features like integrated practice management, patient portal, interoperability, and laboratory interfaces will streamline the practice operations and fulfill regulatory compliance.
While CapMinds implementation consultants help you to create your custom content, you can benefit from the hundreds of readily available cardiology-specific exam and procedure reports such as CAD, CHF, Chest Pain, Angina created by your fellow cardiologists on the EHR Platform.