Advanced Guide To EHR Implementation Cost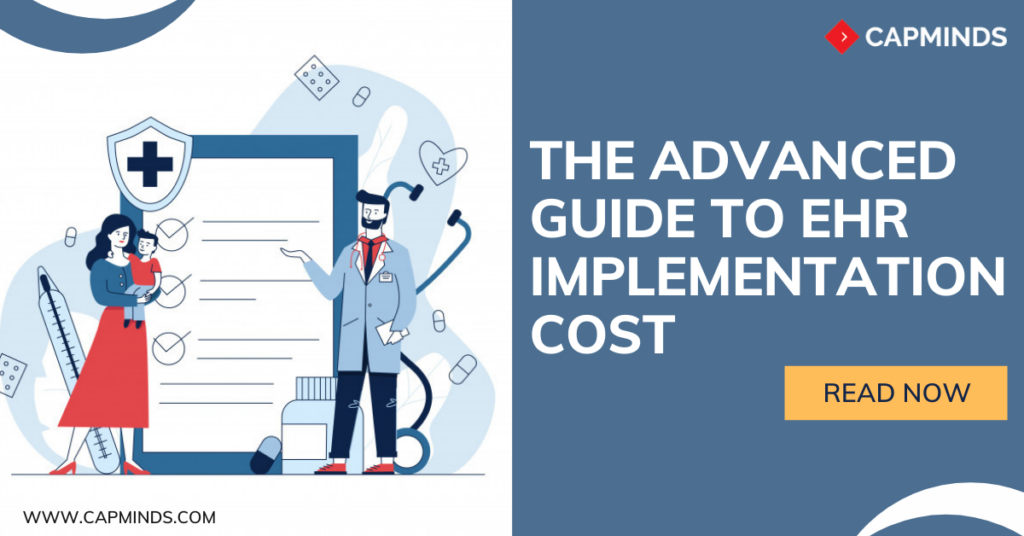 It is not surprising that EHR adoption has become very crucial in U.S healthcare systems. Today, everything including EHR selection; implementation, and optimization has become a major part of healthcare organization's budgeting plan.
As everyone knows about the benefits and importance of implementing EHR for their practice, some providers don't know about the EHR implementation cost completely. Being one of the best EHR service providers and with years of experience in implementing EHR systems for healthcare practices across the U.S., CapMinds care about every penny you spend on your software selection. In this blog, we provide you the EHR implementation cost breakdown and also guide you on how to build an accurate budget for your EHR system selection.
EHR Selection: Things To Consider
Whether it may be a small practice or a large one, one of the major challenges everyone is facing today is with EHR selection. A lot of software vendors are available with the best and advanced EHR features, out of many choosing the best one is not that much easy today. We know very well that not all EHR software is the same. Some of the advanced features present in software won't be provided in others. Some vendors like CapMinds provide smart e-prescribing & telehealth visits, while some may not.
The first thing you need to add to your list is, your EHR investment should correctly fit into your practice's existing short-term budget. Some may think that selecting EHR should take too much cost. But EHRs can provide numerous fruitful benefits in terms of cost reductions when properly utilized to increase practice revenue.
The second thing is, making a cost-benefit analysis focusing mainly on specific elements of your practice such as quality of care and customer support. An EHR Cost-Benefit Analysis (CBA) is more comprehensive than ROI and attempts to quantify both tangible and intangible costs as well as benefits. Whichever method your practice chooses, it is important to include all the direct and indirect costs that can impact your EHR investment.
Considering these things before investing in EHR will help you to make the right choice.
EHR Implementation Cost
How much an EHR cost? This is one of the most general questions we can hear from every provider. The real answer is 'it depends. The total EHR cost depends on whom you choose as an EHR provider, what features your practice actually needs, and how long you tend to use it. The top features to look for in the best EHR software include cloud or on-premises deployment, practice management or patient portal, and more.
Furthermore, the cost of an EHR over the long term can also vary according to the method of software deployment. Implementation costs vary according to context and the implementation plan, as such it is difficult to provide an average cost of EHR implementation.
However, case-specific examples can offer some insight into implementation costs. For example, the Health Affairs study cited above found that a typical multi-physician practice would spend about $162,000 to implement an EHR, with $85,500 for first-year maintenance costs.
EHR Implementation Cost in Terms of Software Development
Software development takes up a large share of the EHR implementation budget. It's a time-consuming process that requires deep expertise and a lot of effort. If you want to estimate how much does EMR software cost, there are two main factors to consider: the hired tech provider and the type of EHR system to be designed.
Those who engage local specialists in the US usually face very high electronic medical records costs. As a result, many healthcare tech companies choose to outsource IT processes to a remote team of developers. This approach allows them to cut operational expenses and find a skilled workforce in another location. They either fully delegate the engineering process to a third party or hire several necessary specialists to power their internal teams.
Software complexity is the second factor that affects the cost of electronic medical records. To get the first working version for iOS, Android, or web platforms, you will need at least a $60,000-$100,000 operating budget in healthcare. For a fully-featured solution that can run on multiple platforms, expect the cost of EHR systems for hospitals to start at $300,000.
Hidden Costs Of An EHR Implementation
When engaging in an EHR implementation cost breakdown it is important to consider that implementation budgets should include direct costs such as:
software licensing
projected maintenance
consulting and training fees
labor including overtime
hardware (if required – usually only required for on-premise installations)
Further, it is important to also consider indirect costs such as decreased revenue, lost productivity, decreased patient visits. When quantified, these can have a significant impact on how an implementation impacts the overall EHR budget.
EHR System Features: How It Affects The Cost?
To make an accurate EHR implementation cost breakdown, you should know what capabilities you need. Healthcare software usually provides multiple features that help clinicians, caregivers, patients, insurers, and other specialists who keep healthcare organizations running cooperate. The main functionality includes:
Electronic document management. An EHR system stores the health information of patients to allow clinicians access and share the necessary documents in real-time.
E-prescribing. This feature enables medical practitioners to send prescriptions to the selected pharmacy electronically.
Medical dashboards. Patient dashboards are used by clinicians to monitor the healthcare KPIs of patients and view their previous interactions with the healthcare organization.
Time management and scheduling. This functionality helps clinicians track the treatment plan of patients and make sure all the necessary procedures and checkups are completed in time.
Electronic communication. The medical personnel, patients, and caregivers can exchange information through messages, chats, or other channels online.
Integrations. An EHR system integrates with hospital information systems, billing services, wearables, mobile applications, and other healthcare solutions for additional capabilities and improved connectivity.
Apart from the listed features, you may also want to add some additional functionality for Mhealth, telemedicine, or reporting. Its benefits outweigh the increased cost of EHR systems for hospitals providing more detailed patient data and closer interaction between patients and healthcare providers.
Final Thoughts
Running a successful healthcare organization requires perfect budget planning. Remember the cost of EHR is not only about software development but also about EHR implementation.
If you are in search of the best partner to implement EHR software for your healthcare practice, CapMinds is here to help. Want to get a quote? Contact us to get an estimated cost of EHR software for your practice.