Chronic Care Management: How It Benefits Your Practice?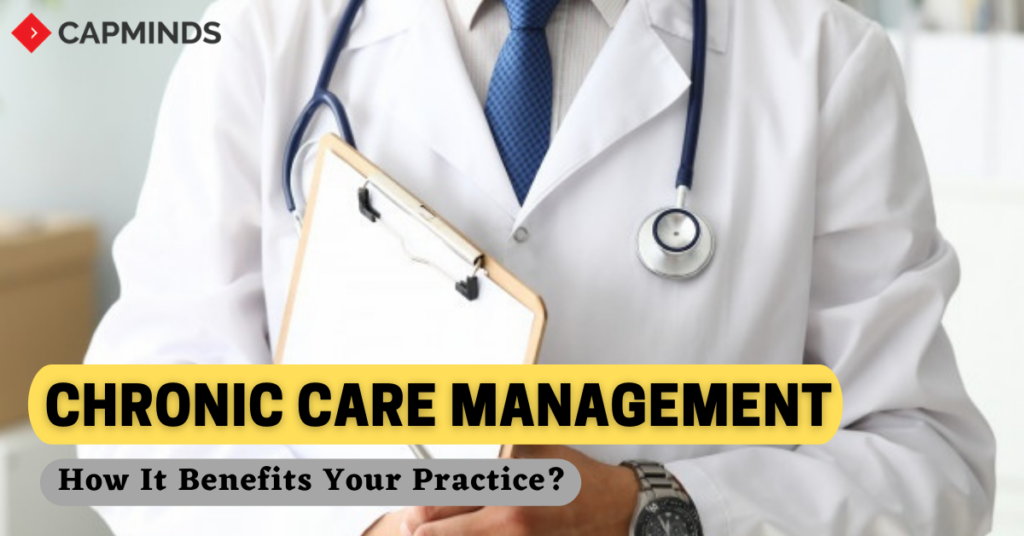 Chronic care management remains a hot topic in the healthcare industry and more providers are showing interest in implementing CCM into their practice. Why does it continue to be important in the 2021 healthcare marketplace as well? CCM determines the quality of care offered to patients who are trying to manage their chronic illness at their best. Here is all about chronic management services and how it benefits for your practice.
What Is Chronic Care Management?
Chronic Care Management (CCM) was introduced by The Centers for Medicare & Medicaid Services (CMS) in 2015 with the main goal to ultimately improve the quality and coordination of care for chronically ill Medicare patients.
Chronic care management is defined as non-face-to-face visits provided to patients who have multiple (two or more) significant chronic conditions expected to last at least 12 months. CMS estimated that more than half of the U.S population manages at least one chronic condition and one in four people have two or more. So it is a must for healthcare providers to understand the importance and benefits of chronic management systems for their practice.
The Need For Chronic Care Management Services
Improving healthcare delivery for people with chronic illnesses is a high priority for the Centers for Medicare and Medicaid Services. CMS's CCM program allows for physicians, physician assistants, clinical nurse specialists, nurse practitioners, and certified nurse midwives to bill for at least 20 minutes or more of care coordination services per month. Only one practitioner can bill for CCM services per patient during any given month. CCM services include communication with patients or other healthcare providers for care coordination, prescription management, resources management for patients, and more. Constant conditions are a CMS focus on account of their high commonness and related demise rates, significant healthcare delivery costs, and more
Benefits Of Chronic Care Management Services
Care Coordination
An issue that chronically patients frequently run into is the lack of organization with their care. These patients frequently need to see numerous healthcare suppliers with respect to a few unique issues encompassing their care. Chronic care management offers an answer for patients by ensuring they have a considerable group set up that is coordinated and arranged to offer them the most ideal care. The entirety of the individuals on their consideration group are speaking with each other to ensure the patient's meds are all together, they are finding the best resources for this patient, and that there are no disparities in their care that could hurt the patient generally.
Care coordination not just advantages the patient by offering them coordinated care, however it likewise benefits the healthcare provider. The supplier presently has a total image of the patient's healthcare, offering them a superior nature of care and expanding great outcomes at their practice.
Increased Revenue
Perhaps the most charming advantage of offering chronic care management is the new stream of income it brings to practice. In a larger number of ways than one, CCM extends the pockets of medical services suppliers. The payments/ reimbursements that suppliers get for offering CCM services are the clearest way.
The second being that there is no doubt effectively a populace of people at your healthcare practice who fit the bill for these administrations and are either unconscious or don't wish to leave your practice to use these administrations from an alternate supplier. The third way the CCM expands income as a practice is by acquiring more patients. A supplier can ensure this expansion in income by re-appropriating their ongoing consideration supervisory group that attempts to consummate these services.
Better Patient Outcomes
Chronic care management is perhaps the most ideal approaches to guarantee that patients who are fighting constant conditions have a superior personal satisfaction. Studies show that CCM services decline discouragement, increment social action, and advance patient commitment for these people. Patients feel that they have individual promoters for their care and expectation for their condition.
They become aware of resources locally and environment to help them stay connected to their local area and get additional assistance. In conclusion, they feel urged to remain associated with their consideration and go to their suppliers with questions and concerns. CCM ensures that patients' inquiries are being replied, prescription logical inconsistencies are being amended, and those patients have a local area of individuals who need them to succeed.
Final Thoughts
Even though CCM services offer numerous benefits for healthcare providers and patients, the medical practices have been challenged by how to implement the chronic care management program by effectively managing the time and expertise of practitioners. The upfront investments required, including staff, IT infrastructure, and enrolment marketing make things difficult for health practices to realize the true benefits of CCM.
Using the right CCM partner, such as CapMinds, can help healthcare practices to provide high-quality chronic care management services and optimize revenue without any additional burdens.
Interested in Chronic care management services for your practice? Contact CapMinds today