5 Great Tips To Optimize RCM Process For Your Cardiology Practice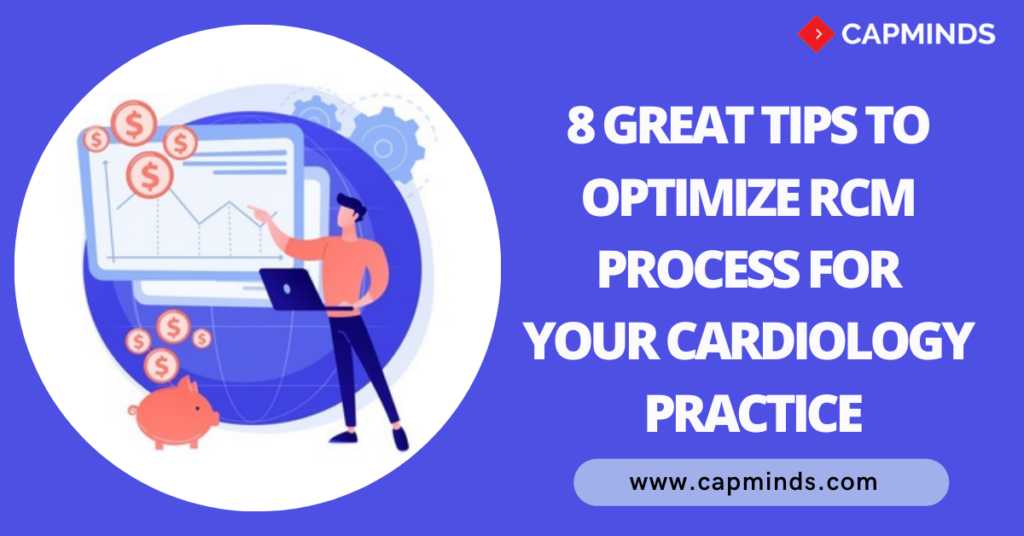 Maintaining smooth practice operations is a complicated task especially during these times of the COVID-19 pandemic. To keep your practice healthy, optimization of the revenue cycle management process is very important. Are you running a cardiology practice? You will be suffering from improper documentation, medical billing errors, AR management, claim denials, and more.
Like how quality healthcare delivery determines the productivity of your practice, in the same way, analyzing your revenue cycle will help you to understand the financial health of your cardiology practice. Without understanding the importance of RCM, you will end up with revenue loss. Thinking about how to optimize the RCM process for your practice? This article is the right fit for you. Here we explain 5 great tips to optimize your revenue cycle management effectively.
How To Optimize RCM Process For Your Cardiology Practice?
1. Maintain Up-To-Date Patient Information
Data is a key resource for running a successful practice. So patient data should be maintained accurately and safely. Regardless of whether you acquire data from the referring specialist or the patient, consistently confirm and re-check insurance eligibility and patient segment data. The insurance eligibility verification needs to be done before each visit and follow-up arrangement to guarantee no changes would alter the payment procedure.
CapMinds' best cardiology RCM solution helps you to collect, analyze and store up-to-date patient information and helps in increasing your reach by improving patient trust.
2. Adoption Of New Technologies To Strengthen RCM
After the outbreak of COVID-19, it has been identified that technological adoption is increasing at a fast pace in the healthcare industry than ever. Digital tools like cloud, digital payment gateways, electronic claim submission, advanced reporting, and others are playing a great role in the RCM process. So making the right use of digital tools is a must for patient communication and to optimize the RCM process for your cardiology practice.
CapMinds cloud-based cardiology RCM services help you to perform various tasks including online appointment scheduling, claims submission, online bill pay, AR follow up and others all in one place.
3. Create Effective Billing Systems
The billing issues are the most common reasons for delayed payments. Patients get confused when they find some complicated or unwanted terms and conditions in their medical bills. This results in billing conflicts and delayed payments that affect your cardiology practice RCM process.
With CapMinds Cardiology-specific RCM services, you can easily restructure your billing statements in a perfectly understandable way without any errors. This will help you to increase patient engagement and to achieve a better payments cycle and better outcomes for your RCM.
4. Ensure Prior Authorizations Are In Place
The revenue cycle management serves to be a growth point for any healthcare organization and prior authorization has an effective role while optimizing the RCM process. In the PA process, the payers need to approve whether a particular treatment or medication can be provided to patients. It not, the healthcare providers need to wait for someday to get full approval to proceed with the next process. So, the omission of Prior authorization will seriously affect the RCM process of your cardiology practice.
CapMinds prior authorization service helps you to minimize the hassles of dealing with payers and free up your administration time to focus more on patient care. Your Pas can be followed up in real-time with accurate status availability.
5. Redefine Uncollected Debt
Apply an effective solution to the uncollected sums due before sending that cash to accumulations where your return is sliced down to half when collected. By utilizing AI and machine learning with experienced professional experts, CapMinds RCM solutions can help you to redefine uncollected debt effectively.
Final Thoughts
As we are heading towards the digital innovations in the healthcare industry, we continue to face various challenges in all forms such as maintaining patient medical records, smooth RCM process, online payment collection, and more.
So this is the right time to move with emerging technologies like artificial intelligence, robotic process automation to remain successful in RCM. With CapMinds automation-driven RCM services, cardiology practices can easily optimize the RCM process and focus more time on delivering quality healthcare to their patients.
Are you ready to optimize the RCM process for your cardiology practice?