The Ultimate Round-Up Of Telehealth Visits In 4 Steps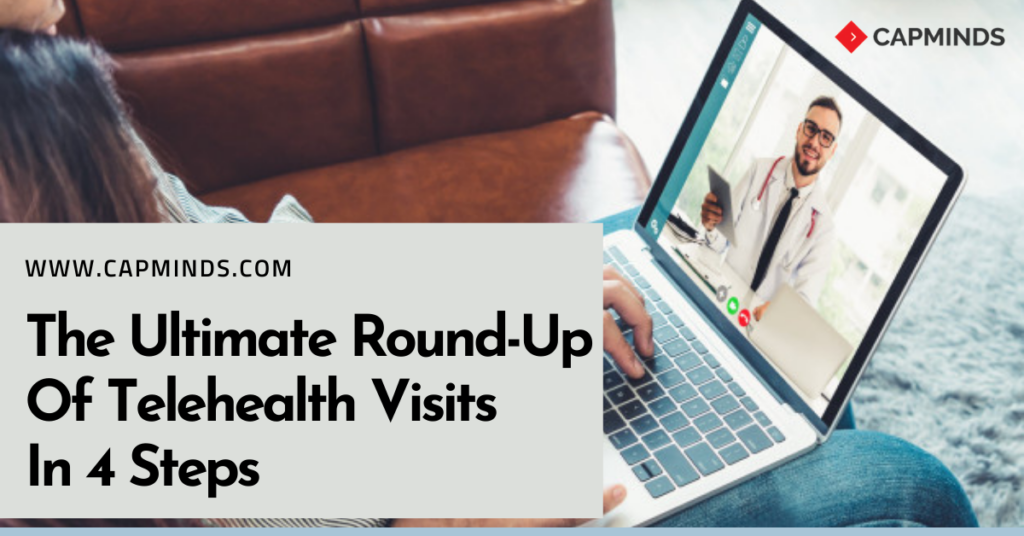 In response to the COVID-19 outbreak, today many healthcare practices get started with telehealth visits and started enjoying the true benefits of the telehealth platform. Are you new to these telehealth services? In this article, we guide you to telehealth virtual visits just in four steps.
The Patients & Physicians View About Telehealth Services
It will be really surprising how telehealth adoption has been raised in the healthcare industry since 2020. It is also clear that patients are enjoying telehealth services and were ready and able to embrace its features by sitting comfortably in their homes. We can't say that the telehealth platform is just targeting a specific age group of people.
Across all age groups, including older patients, people are making the right use of telehealth visits and they feel very convenient in accessing care on time. As most of the patients worry about the increased exposure to COVID-19, telehealth ultimately eliminates the burden associated with in-person appointments.
Now, when looking from a physician's point of view, telehealth allows the healthcare providers to build a more flexible schedule and reduce in-person appointments during these tough times. So, they can feel more comfortable in providing timely care to their patients instead of spending time with in-person visits.
The 4 Basic Telehealth Visit Steps
1. Schedule Online Appointment By Engaging With Your Patients
With telehealth's adoption is on the rise, your healthcare practice ought to guarantee patients know these services are accessible. Utilizing your patient messaging system like a patient portal, you can send a transmission notice to all patients to declare your telehealth options and guide patients toward the patient appointment scheduling.
From the portal, patients can likewise get access to e-forms like e-prescription, medication information, insurance information, and also COVID-19 intake forms to evaluate for symptoms before their telehealth appointments. Moreover, the portal permits patients to communicate securely with the physicians via the secure messaging system.
After patients request a telehealth visit, your practice's secure messaging system should send an appointment through text, email, or voice call. The need for sharing this message is to confirm their appointment date, time, and instructions for their online visit.
2. Remind Your Patients About Their Telehealth Visits
A day before the appointment, send an appointment reminder text message with additional instructions. The message can ask patients to visit the portal to update information and remind them to establish their connection 10 minutes before the appointment for registration and check-in.
Your virtual check-in workflow should include verifying patient information, confirming the preferred pharmacy, ensuring the proper link to the encounter for billing, and documenting consent for the telehealth visit according to state regulations.
As a best practice, determine what information should be checked to verify a patient's identity for telehealth visits. For instance, staff could ask for the patient's name, date of birth, or phone number. Additionally, if you would have collected a copay before the appointment in an in-person setting, be sure to collect it before the telehealth visit.
For providers, preparing for a telehealth visit means following best practices for a welcoming "website" manner. These include dressing professionally, setting up a secure environment for the visit, and ensuring the background is free of distractions.
3. Conduct A Secure Telehealth Visit
The next step in the telehealth workflow is the visit itself. Providers should review the patient chart and patient's medical history just as they would for an in-person appointment. Additionally, any information or messages in the patient portal should be imported beforehand for the provider's review.
Then, providers should start the visit note, pull the appropriate telehealth template, and begin the telehealth visit. Providers should work through the note as usual, while ensuring a good "we" manner through intentional listening and clear communication.
During the patient evaluation, the provider will document the patient's chief complaint and any other symptoms the patient is experiencing. For the physical exam, the provider will ask the patient for current height and weight and other vitals, depending on the patient's at-home devices. Through audio or audio/video, providers can listen to the patient's breathing, assess stress levels, and capture vital signs to ensure a complete exam.
For the assessment and patient plan, the proper diagnosis codes, orders, medications, and instructions should be added to the note. This information should then be reviewed with the patient to ensure an understanding of the care plan. Unlike in-person visits, telehealth visits don't allow providers to physically hand patients education materials or printed instructions. Instead, providers should direct patients to the patient portal to view the visit summary and other resources. After ending the telehealth visit, the provider should finish documentation and sign the note.
4. Telehealth Billing Should Be Your Last Step
The day after the appointment, your practice should send the patient a follow-up text message offering contact information for any questions or concerns and a link to a patient survey. The patient can log in to the patient portal to view the visit summary, access patient education resources, pay any balance owed, and communicate with your practice through secure messaging.
Remember that the billing cycle doesn't change with telehealth visits. Use system functionality to prompt billing staff with reminders. Billing staff should also check for charge edits.
Final Thoughts
The key reason behind the successful adoption of telehealth services by patients and healthcare providers is how telehealth best enables high-quality healthcare delivery on time. This telehealth platform will ultimately provide new opportunities for individualized care and improve overall care.
Interested In Telehealth Solution For Your Practice?
CapMinds is here to provide the best and secure telehealth services with HIPAA compliant interface which enables healthcare practices to deliver quality care to their patients remotely.