The Top Challenges Of RPA Implementation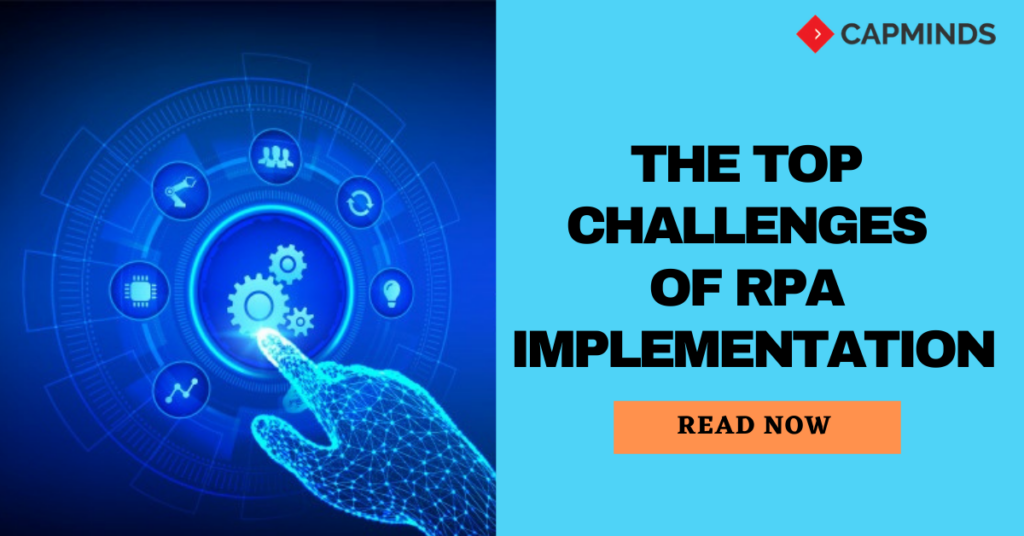 Today's digital world utilizes the most simple and powerful automation software by combing artificial intelligence, machine learning, and Robotic Process Automation (RPA) to create & automate any business process. Robotic Process Automation is ruling the world by providing the best automation solutions to almost all industries like healthcare, BPO, insurance, banking and telecommunications. Especially for healthcare industry it offers huge benefits to optimize and achieve practice productivity.
While implementing RPA Solutions with the new emerging technologies, there are few challenges to overcome that needs to check while deploying these solutions. In this article, we discussed the top challenges of RPA implementation in healthcare sector.
Top Challenges in RPA implementation
As we already discussed about the applications and benefits of RPA solutions from our previous blog, here we discussed about the important challenges in implementing robotic process automation into your practice and how to overcome those challenges in a smart way.
RPA Achieves Short Term Results
RPA solutions offer seamless implementation benefits and better user experience. This can be achieved for short term issues and we can benefits from it. But when we think about achieving long term results, it requires complex omini-channel platforms and frequent workflow review and optimisation.
Lack Of Capability
Ofcourse, the RPA tools available today are very advanced and holds latest features, but we still don't have limited machine learning capabilities with some tools. The real scope of automation will increase with the AI and machine capability integration with RPA tools.
Ownership
This means who owns RPA solutions. Is it lead by IT or Business teams? Business needs to provide the requirement, approve the solution design for feasibility, help in UAT and then measure the success rate. IT teams has a limited role primarily restricted to providing support in infrastructure requirements and test data creation.
Business doesn't necessarily have skills to provide the detailed level technical requirement at the time of BRD or define the test scenarios as needed by QA teams. The need for good business analysts is a paramount, however they are limited talent available in the market, who has exposure to RPA design and solution and understands potential value.
Change Management
Business and IT teams need to collaborate and proactively provide system and business updates to RPA support team to update scripts, once they are in the production. It may create additional challenges if multiple applications are used in the process. Any change in the front end UI will impact the RPA script hence, the outcome.
Employee Resistance And On-Boarding
This is one of the biggest challenges and pertains to all companies due to a simple fact – people fear change by nature. Any changes that accompany implementation of a new technology can be stressful for employees as they might experience shifts in their responsibilities.
Frequent communication from company leaders and executive sponsors to ensure employees are fully informed about what is expected of them throughout the implementation process is essential to successful adoption. Fostering a culture of innovation within the company will only further accelerate this adoption and remove behavioural resistance.
Overcoming RPA Challenges
The automation capabilities provided by RPA are ideal for tasks that are repetitive, rules-based, high volume, and do not require human judgement. This can include activities such as data migration and copy-paste tasks. RPA implementation is especially difficult though with business processes that are non-standardised and require frequent human intervention in order to execute.
Typically, more complex tasks include interacting with customers and developing human relationships. While it is an upfront time investment, it's important for companies to determine which of their processes are suitable for RPA so that automation runs smoothly.
Decisions regarding the technology need to be made on an individualized and company-specific basis, as RPA's functionality, implementation timeline, and operational results will vary between different companies. Maintaining company-wide discussions about expected results will allow organisations to make the most of RPA and its benefits.
Final Thoughts
The robotic process automation along with AI and machine learning is rapidly revolutionizing the healthcare industry day by day. The RPA solutions in healthcare streamline the practice workflow while also offering superior care to the patients.
So the healthcare practices should look for the future scope of RPA implementation as it will create a lot of growth opportunities in the future for sure. Having delivered successful RPA services to more number of healthcare practices, CapMinds helps you with the digitization of patient records which results with improved patient experience.