The Healthcare Marketing Trends Of 2022 (The Ultimate Guide)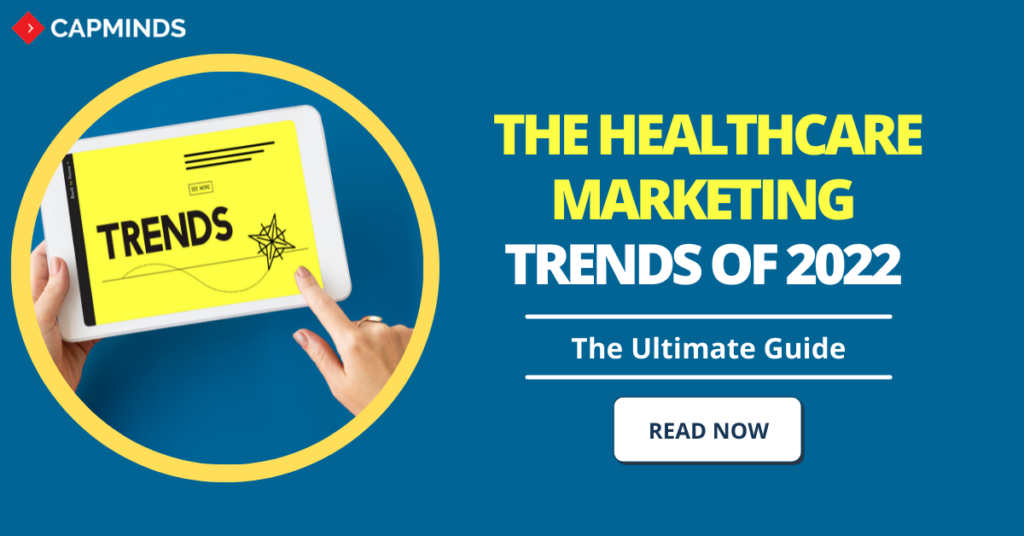 The healthcare marketing world moves faster and smarter today. And, in 2021, we saw a great evolution of how quickly the healthcare industries raised their growth.
In the last year, the healthcare experts embraced digital transformation more than ever as they adapted to online tools to connect with patients during the COVID-19 pandemic.
So, to succeed in this digital world, it's vital to stay ahead of your competitors.
To help healthcare organizations build competitive healthcare marketing strategies in 2022, we at CapMinds provide you with the best healthcare marketing trends to be followed in 2022.
Start planning your healthcare marketing strategies for 2022 by including these trends to attain better revenue growth.
Interesting Healthcare Marketing Stats
Healthcare is a $2.5 trillion per year industry, making it one of the largest industries in the U.S.
66% of internet users look online for information about a specific disease or medical problem.
Approximately 7% of all Google searches are health-related.
There are 70,000 health-related searches per minute, every day.
Nearly three-quarters of Americans (73%) obtain health-related information from the internet.
Top 5 Healthcare Marketing Trends For 2022
1. Healthcare practices will priorities Patient Engagement
Here's the thing, most healthcare practices that we're able to stay above water during the COVID19 shutdown amplified their online communication to patients to encourage patient loyalty through online engagement strategies like live Q&A's, video interviews, etc.
These smart healthcare practices used online marketing platforms like social media and email marketing to keep their practice 'top of mind' so that patients remembered them despite not being able to physically go out and book their services.
Patient engagement has always been important but in 2022, you'll find that the practices that excel competitively on digital platforms are the ones that invest in online patient communication strategies that encourage patient engagement.
2. Experts will step into IoT Based Healthcare Software
Many healthcare providers are adopting IoT-based software for tracking and inventory management in hospitals and clinics. The use of internet of thing-based software will help improve operational efficiency, make better decisions, boost staff satisfaction, and overall patient safety.
It will be a way to gain insights and integrate data for operations, human resources management, asset management, and optimizing assets to reduce operational costs.
This will also open doors for patients to share their experiences, procedures, and care at the hospital or clinic, how the staff was, and their impressions of the location. This will provide major value for both the operations staff as well as potential patients and ensure continuity of care.
3. Eye-catching healthcare videos improves online patient growth
In 2022 video content will no longer be a luxury, but a necessity for effective healthcare marketing. At our agency alone, we've seen tremendous success from our clients that have invested in our video production and social media marketing services. Here are 10 reasons why you need to invest in video marketing for your practice.
Patients love to research healthcare practices before committing to a new procedure or treatment, and medical video content is the perfect and most authentic way to demonstrate your skills, your culture, and the results that your healthcare practice has achieved for similar patients.
But there's more. Did you know that optimized video content can boost your website to the first page of Google?
Just look at one of our clients who are currently ranking on the first page for a product review search for skincare that they offer. In some cases, optimized video content can make a website 53 times more likely to show up on the first page of search engines.
Let's be honest. Would you rather click on a text result on google search or a video result that provides a visual response to your search query?
Let's face it. Videos are proven to attract new patients, and we have the results to prove it. The more your new patients can see, the more they'll believe and they will feel more willing to invest in your services.
4. Artificial Intelligence And Cloud-based solutions will improve practice growth
Artificial intelligence (AI) is gaining popularity in the healthcare sector, with more than 86% of healthcare companies employing some type of artificial intelligence. Its use in healthcare is on the rise, and comprehending how it works in healthcare marketing can help you stay ahead. Artificial intelligence (AI) will assist doctors, patients, hospitals, and the overall healthcare industry
Gone are the days when patients were unable to find information on finding the right doctor, an upcoming treatment, or a procedure. With the help of artificial intelligence, they are now able to speak directly to a physician and immediately get their expertise on the best available treatment.
Patients will be able to access their data at any time rather than having to wait until they are physically in the doctor's office with the electronic medical recording system that is accessed by Artificial Intelligence.
5 . Telehealth will remain as best practice to connect with patients online
We added the question mark for a reason because the jury still seems to be out on telehealth. At the height of the pandemic (in the United States, at least), telehealth was widely used for obvious reasons. Some of us have debated the future of telehealth at length. And though national telehealth usage is trending downward, many consumers have accepted telehealth and are choosing providers that offer that convenience.
While demand has died down, it hasn't gone away. Sykes 2021 telehealth survey found that a majority of Americans have now experienced telehealth, and they want more. A staggering 88% want to continue to use telehealth services for non-urgent consultations. A report from Research and Markets indicates that the global telehealth market is growing at a CAGR of 21.4% and is expected to reach USD 167B by 2025.
Healthcare consumers value convenience, and telehealth allows them to receive quality care in their homes.
Ideas for Maturing and Expanding Your Telehealth Offerings
The nuance here isn't that telehealth will be a mainstay; it's how to deliver the telehealth experiences today's consumers expect. The telehealth trendline follows a broader move toward moving more healthcare communications online. Again, consumerization is at the root of this digital transformation. Patients want to communicate how they want to communicate. Beyond expanding and improving access to telehealth, organizations are adding new offerings, such as:
HIPAA-compliant live chat
Two-way texting
Digital appointment reminders (email, text, etc.)
AI-powered virtual assistant
Use Healthcare Marketing Trends To Grow Better
These healthcare marketing trends for 2022 will help you to stay ahead in today's competitive healthcare marketplace. So are you ready to speed up your healthcare services? We, CapMinds are here to help you with the best healthcare solutions to automate your practice workflow, reduce your administrative tasks and improve your practice productivity.