The different steps of the healthcare revenue cycle explained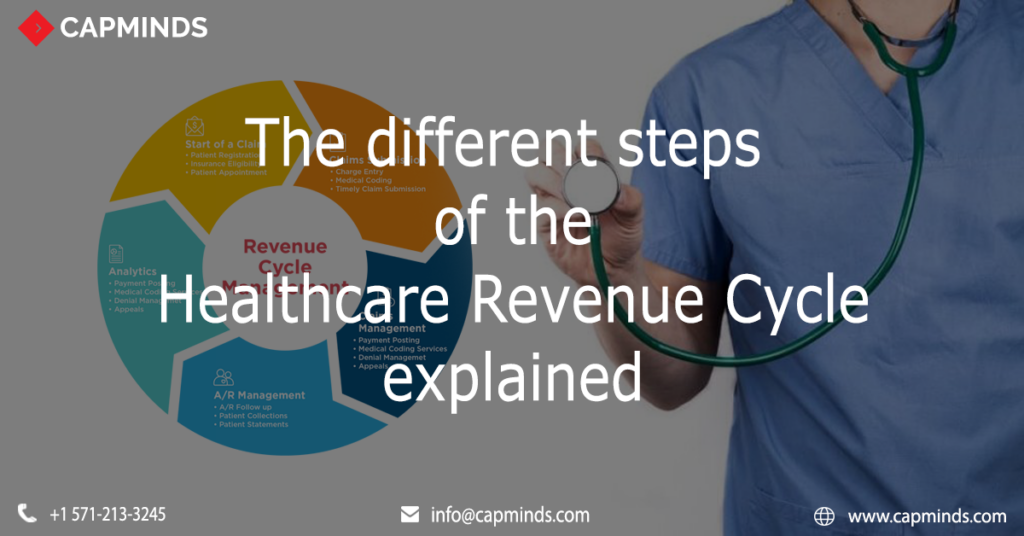 Even if you are known for the greatest healthcare in the world, if your financials aren't right, then you will not survive for a long time. Organizations need to be notorious when it comes to managing their finances, otherwise, they will never know why they are in a position to shut shop. It is exactly why healthcare organizations need to understand the healthcare revenue cycle.
Here is a complete walkthrough of the healthcare revenue cycle:
1. RCM software:
The first step in revenue cycle management is whether to install RCM software in-house or outsource it to a revenue cycle management company. If there is one thing that everyone advises, it is the fact that outsourcing medical billing services can ease up a lot of time, effort, and uncertainty. If you have a full-fledged IT team, then you can do it yourself, if not, then outsourcing is the best method that you can employ.
2. Pre-authorization of the patient:
In this step, the physician pre-approves the treatments and prescription drugs. There would be an exception to this only in case of a medical emergency. Pre-authorization does not necessarily mean that the insurer will cover the entire costs, but it is just to see if insurance coverage is possible. For the hospitals, it will help take care of bad debts as it allows the patients to see the costs that they might have to bear apart from the insurance coverage.
In the pre-authorization step, all the details of the patient including name, demographic info, medical history, payment information, and insurance are checked. Doing all of these things will only increase the patient's satisfaction as they don't have to worry about how much money they have to dole out from their pockets.
3. Eligibility verification:
This is another step that takes up a lot of time if done manually. But this process cannot be missed as checking the eligibility and benefits of the patient is important so that the hospital can be sure about the financial capability of the patient. If you have outsourced these tasks to a healthcare revenue service provider, then you can be assured that checking the eligibility of the patients over secure and verified channels will happen seamlessly. This saves hundreds of man-hours as well as reduces the time taken to complete this process.
4. Charge Capture:
In this process, the procedures that the doctors are going to take will be listed in a medical claim for billing. When there is no proper documentation, it can be bad for the hospital as it is normal to lose out on revenue if notes are missed, and it is more likely to happen due to human error.
The hospital's charge capture system should connect with the electronic medical record (EMR) which optimizes identification for correct billing.
5. Utilization review:
It allows hospitals and caregivers to find out the most appropriate treatment for the patient which will not only reduce cost but also provide better health outcomes for the patient. Patient advocates will review the care that is given to patients and determine what level of treatment can be effective. It also helps patients transition from being in a hospital to going home, and any other complications that may arise.
6. Payment Posting:
Once the claim is submitted and reviewed by the authorities concerned, the patient is allowed to make the payment. The healthcare revenue cycle software offers convenience in the way it generates billing statements. The software can also be used to send messages to patients whereby you can request them to make payment.
7. Claims Management:
Not all the claims that are submitted are accepted. So if there are claims that are rejected, then it means that it will directly affect the earnings of the hospital. If there are too many claims that are being denied, then you need to go through the process that you usually use to manage claims. The problem arises when the insurance is not filed properly. Using a healthcare revenue cycle management software can offset this issue.
8. Customized reports:
The healthcare revenue software will create reports that are customized which will include data about the finances, KPIs, management information, insurance claims, insurance disbursals, and so on. The report generation process is seamless and doesn't take up the time of anyone else either as it happens automatically once it has the requisite data and a request for the report is made. It will help you uncover hidden problems that may have been overlooked.
While these are some of the steps that are involved in the healthcare revenue cycle, it would be an easy decision for you to get the services of a healthcare revenue cycle software that will do all the work as if it were on automation. Thanks to the proliferation of technology, healthcare organizations can allow their systems to integrate with their various processes, services, and products. The entire software platform is designed around the patient to optimize the operations of the organization.
Conclusion:
Healthcare organizations need to realize that revenue cycle management is a complex process and you need to be familiar with a lot of technicalities if you want to be financially sound. Now that you have a basic understanding of how revenue cycle management in healthcare organizations work, you need to work on finding out how you can improve the workflow in your organization.
If you would like to get the help of an experienced healthcare revenue services company, then CapMinds Technologies will be able to help you. Get in touch with the customer success team at CapMinds to see how we can help you.