Remote Patient Monitoring 101: Everything for 2023 & Beyond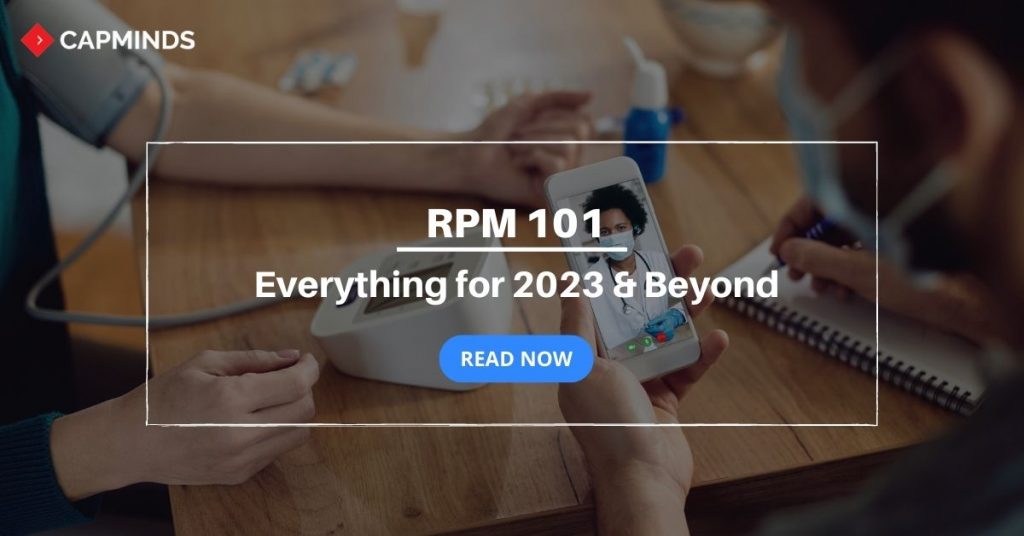 With the COVID-19 pandemic, we all now know the significance of remote patient monitoring.
Medical devices and wearables like smartwatches and blood pressure monitors are fortunately & unfortunately now a part of our daily lives. Patients with chronic illnesses benefit the most from remote monitoring technology.
RPM allows physicians to monitor patients outside traditional clinical settings
This increases patients' access to care and decreases healthcare delivery costs
It also increases the quality of care and life for patients
It enables constant remote care by tracking vitals, physical symptoms, post-hospitalization rehab, etc.
What is Remote Patient Monitoring / Remote Physiological Monitoring?
Remote patient monitoring (RPM) is a subcategory of homecare telehealth that allows patients to use mobile medical devices and technology to gather patient-generated health data (PGHD) and send it to healthcare professionals.
Common physiological data collected with RPM programs include vital signs, weight, blood pressure, and heart rate. Once collected, patient data is sent to a physician's office by using a special telehealth computer system or software application that can be installed on a computer, smartphone, or tablet.
RPM Trend 2023: The Future of RPM: Dramatic Increase in RPM usage in the US
Remote Patient Monitoring (RPM) Market is to surpass USD 125.1 Million by 2030 from USD 23.5 Million in terms of value growing at a CAGR of 38.6% throughout the forecast period, i.e., 2020-30.
As global healthcare is turning towards remote patient monitoring technology, the US health systems and hospitals are already experiencing tremendous increases in the adoption of RPM.
This is mainly due to its capability to improve health outcomes and reduce healthcare costs
As it electronically transmits data between physicians and providers, it increases the possibilities of quality care delivery
With COVID-19's impact, the US healthcare industry is rapidly being digitalized with telehealth and RPM solutions
In 2023, RPM reaches patients breaking almost all physical and physician barriers and enabling the continual relationships between patients & caregivers with real-time health data
They are now more brilliant, and more affordable for everyone allowing the management of acute and chronic conditions
Ultra-portable ECG devices, ECG smartwatches, etc., in future, will improve the accuracy of clinical diagnosis & could boost sensitivity and help identify atrial arrhythmias
2023 Medicare CPT Codes for Remote Patient Monitoring
CPT 99453- Initial set-up and patient education on equipment (free for one time)
CPT 99454- Supply of devices, collection, transmission, and summary of services to the clinician
CPT 99457- Remote Physiological Monitoring services by clinical staff/MD/QHCP first 20 cumulative minutes of RPM services over a 30-day period
CPT 99458- Remote Physiological Monitoring services by clinical staff/MD/QHCP for an additional 20 cumulative minutes of RPM services over a 30-day period
CPT 99091- Collection and interpretation of data by physician or QHCP, 30 minutes
What is Remote Therapeutic Monitoring?
Remote Therapeutic Monitoring authorizes healthcare providers to bill for managing their patients with respiratory and musculoskeletal conditions remotely. It is done by collecting non-physiological data using medical devices.
It can be useful to get in-depth insights about the following patient conditions;
Diabetes care management
Pain care management
Medication adherence
Distance/virtual physical therapy
Respiratory system care
Patients' mental state about treatments
The patients can either report by themselves the condition or use a medical device to collect non-physiological data. They can record and report their medication adherence by monitoring how the medication is working for them.
Remote Therapeutic Monitoring 2023 CPT Codes
98975- Initial set-up and patient education
98976- Device supply for monitoring the respiratory system
98977- Device supply for monitoring musculoskeletal system
989X6 (new for 2023)- Device supply for cognitive behavioral therapy monitoring
98980- Treatment or monitoring management services, first 20 minutes
98981- Treatment or monitoring management services, each extra 20 minutes
RPM for Home Health Providers [Telehealth]
Wondering how you can as a healthcare provider use remote patient monitoring with telehealth? This section will help you out. Combining RPM and telehealth works well for some health conditions. This helps patients with health symptoms and conditions and those who cannot easily travel.
Weight loss or gain
Heart conditions
High blood pressure
Chronic obstructive pulmonary disease
Asthma
Diabetes
Sleep apnea
Some of the common devices used by patients are;
Pulse Oximeter
Blood Pressure Cuff
ECG + Stethoscope
Glucometer
Wearables
Some specific devices that require patient training are;
Heart monitors
Apnea monitors
Breathing apparatuses
Fetal monitors
Specialized monitors for Parkinson's disease and dementia
The Top 10 Features of RPM that can Reshape Hospitals
This may vary depending on the specific needs of the hospital and the patients they serve, but some of the most vital features include the following.
1. Compatibility with existing healthcare technology: A remote patient monitoring company should have technology that can seamlessly integrate with the hospital's existing electronic health records (EHR) system.
2. Customizable patient monitoring plans: The company should be able to create customized patient monitoring plans based on the specific needs of the hospital and its patients.
3. Real-time monitoring and alerts: The company should offer real-time monitoring of patients' vital signs and other health data, with the ability to send alerts to healthcare providers if any concerning changes are detected.
4. Secure and HIPAA-compliant data transmission: The company should have secure data transmission protocols and comply with HIPAA regulations to protect patient data privacy.
5. User-friendly technology: The remote patient monitoring technology should be user-friendly for both healthcare providers and patients, with intuitive interfaces and easy-to-understand data visualizations.
6. 24/7 support and training: The company should offer 24/7 support and training for healthcare providers and patients to ensure proper use of the technology.
7. Customizable reports and analytics: The company should provide customizable reports and analytics to help healthcare providers make informed decisions about patient care.
8. Integration with telemedicine services: The company should offer integration with telemedicine services to enable virtual consultations and remote care.
9. Continuity of care: The company should provide continuity of care, with a smooth transition between hospital care and remote patient monitoring.
10. Evidence-based clinical protocols: The company should have evidence-based clinical protocols to ensure that patients receive high-quality care that is consistent with best practices and guidelines.
Be it treatment for anything, RPM's role is vital. Its use of devices and delivering high-quality care remotely enables patients to relax and forget in-patient visit pressures.
Why choose CapMinds RPM?
Simple new patient enrolment
Manual & automated patient data access
Customizable notification system
Fully compliant billing
Secure & HIPAA compliant
Practice specific support
Real-time tracking
Better at-home chronic care management
Reduced hospitalizations
Efficient Remote Physiologic & Therapeutic Monitoring
CapMinds RPM solution allows patients to use digitally connected devices – like heart monitors and blood pressure cuffs to perform routine tests and share their health data with a healthcare professional. For more details visit our website and get started now with us on your journey to more success.
"Let's make your practice more accessible to people around the world, together"