Proactive Medical Billing Tips To Increase Revenue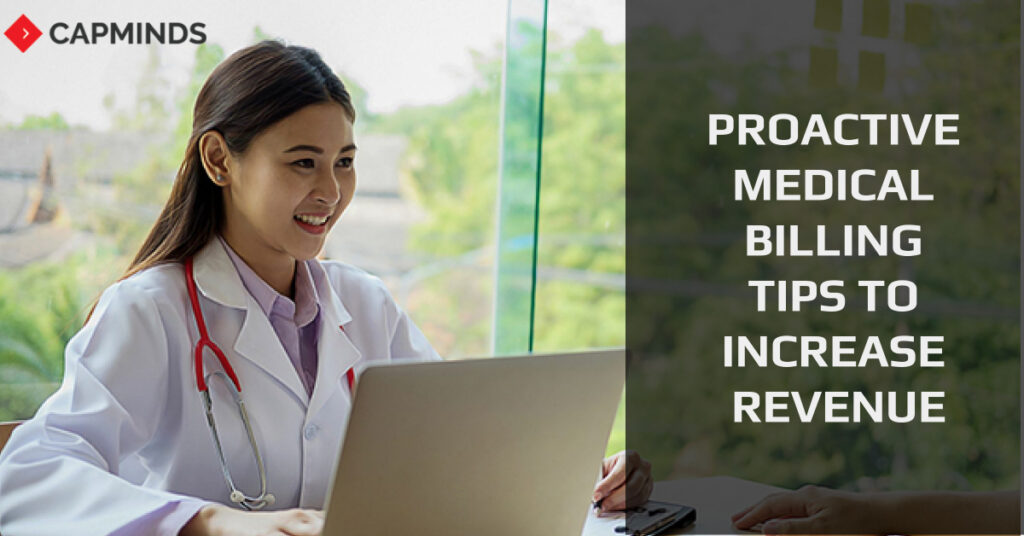 The U.S healthcare system has undergone new technological changes and both the providers and the patients are facing new challenges daily to adapt to today's healthcare reform. The frequent alterations of medical billing rules and regulations and the value-based compensation models can cause revenue losses for providers across the United States.
The emergence of advanced practice management and EMR software clearly states that the standard of billing will be like never before. With the help of this advanced software, every claim being billed out accurately and collected upon promptly
A recent survey shows, by failing to stay up-to-date on medical billing rules and regulations, in addition to billing errors, the U.S. medical providers losing approximately $125 billion in uncollected revenue each year. When you have too many denials your revenue can quickly get locked in Accounts Receivable creating a serious impact on your cash flow.
So, what are the best medical billing tips your practice can follow to minimize losses and maximize revenue? CapMinds sought out some expert advice on how you can minimize errors and streamline your billing procedures.
Medical Coding: Do It Right To Reduce Your Denials
Accurate medical coding is an important aspect of optimized Healthcare Revenue Cycle Management. The proper coding is not only essential in terms of compliance, but it is also necessary for reducing claim rejections and denials while ensuring the best possible reimbursements for the service.
The following tips help to reduce your claim rejections and denials:
1. Go with the well experienced and certified medical coding specialist to code your cases. Because they are the one you can do it in the right way without any coding errors.
2. Don't use the non-specific diagnosis codes. ICD 10 requirements are better and more detailed than ICD 9 requirements for the documentation process.
3. Stay away from upcoding –never use a higher level of code or expensive procedures as compared to the level of service. This will not only result in delays & denials, it is illegal.
4. Stay away from under-coding – happens when patients are not charged for all the treatment or administrations rendered. Exchanging codes for a less expensive code is leaving money on the table.
CHECK OUT : 7 COMMON MEDICAL BILLING AND CODING ERRORS
Organize A Clear Collections Process to Improve Your Revenue Cycle
A collection process is a mandatory one for all the providers to ensure the financial growth of their practice. Performing a clear and easy to understand approach can greatly improve revenue cycles by ensuring patients are properly and thoroughly informed of their responsibilities and eliminate lack of communication.
The following tips help to organize your collection process securely.
1. Retrieve all the possible information about the patients – includes present address, mobile number, email address, workplace details, etc. Don't forget to get the photo ID proof of a patient during his/her first visit because this is crucial if a bill needs to be sent to a collections agency down the line.
2. It is very important to know about effective ways to reach the patients correctly. So check with the address or the contact information of a patient regularly, you can save your time and money by reaching them correctly.
3. Remain your patients about their co-pay and why it's important while speaking with your patients.
4. Use the advanced verification system to retrieve the insurance card and verify patient eligibility with every visit to avoid claim denials.
5. Make it clear to your patients about the payment options you cover – such as credit cards, checks, or cash are acceptable, as well as if payment plans are available.
Denial Management For Improved Cash Flow
As the healthcare industry is changing day by day, effective denial management is one of the important keys to maintaining healthy cash flow. Every healthcare provider strives to keep the clean claim ratio at 97% or above, but there will always be some denials. These denials increase the average number of days in AR puts a lot of pressure on the cash flow. Based on the healthcare report, 50% of the denials never get reworked & this results in a 5-7% net loss of potential revenue. Even if you follow correct coding initiatives & submitting clean claims to reduce your denial rate, at the end of the day there will be some denials.
These right strategies will always help you to effectively manage these denials.
1. Denial should be always prioritized while doing insurance follow-up & should be typically worked within 48 hours of being received.
2. Create a well-defined list of CARC (claim adjustment reason code) & group them by the similarity of further follow-up actions. This makes it easier for users to identify and work one type of denials at a time & gives you the ability to assign a certain kind of denial to users who would be best suited to work them.
3. Not every denial needs to be appealed. Some denials would need dispute/appeal with the payer. Define your dispute strategy clearly; what is worthy of dispute Vs what is acceptable.
4. The success rate of the appeal depends mostly on the content, so it is must to have standard appeal templates with approved standard verbiage.
Final Thoughts
To optimize your medical billing to maximize collections, the above-mentioned tips can help you to improve your healthcare revenue cycle management. CapMinds is a leading medical billing service provider with advanced technological experience and domain expertise. We optimized the billing and collection processes for numerous practices, enabling them to maximize their revenue and get rid of their cash flow issues.