7 Common Medical Billing And Coding Errors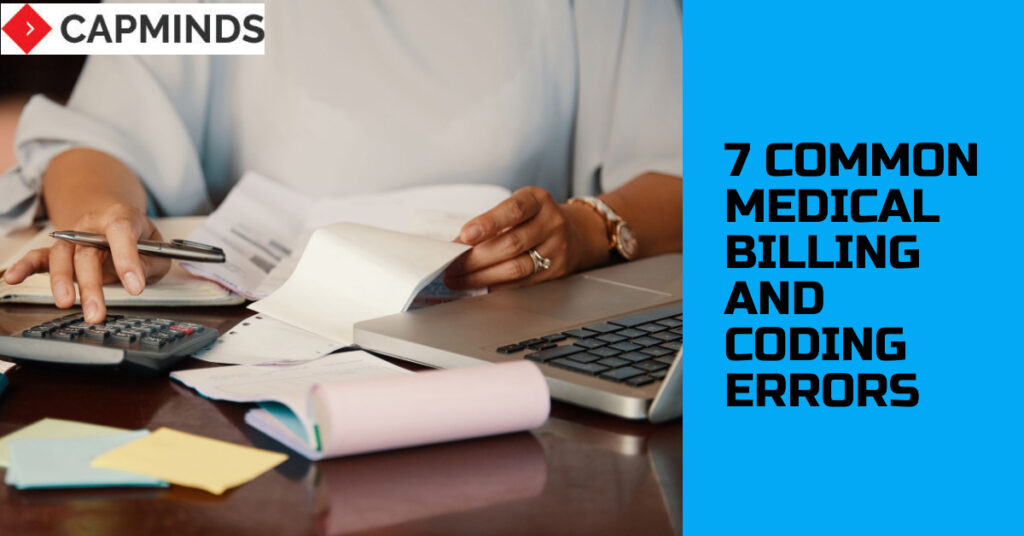 Medical billing and coding are considered to be complex processes, as even small errors can lead to claim denials and delay in payments. Can you say, how accurate your medical billing department submits all the medical claims? Absolutely NO, even a very well trained and experienced team can also make errors and it's very common too.
The medical billing and coding errors lead to higher claim denials, loss of payments, and federal penalties. This kind of frequent errors may affect your relationship with patients and create a negative impact. The complexities of the medical coding system in today's healthcare industry are countless and it's not a surprising thing if mistakes are made.
Basic medical billing and coding errors can fee your emergency remedy practice hundreds of thousands or extra in misplaced revenue. When the authorities and insurance companies deny claims with coding errors, you will lose your repayment revenue until you can accurately and resubmit an easy claim. So it's time to begin eliminating your coding errors, lower denials and rejected claims, and maximize your reimbursements.
Do you have any idea how to avoid this kind of medical billing and coding errors? Outsourcing medical billing to the best and top medical billing companies is the right choice for hospitals to stay up-to-date on medical coding changes, modifiers, and reimbursement rules.
Every aspect of your claim has to be perfect for a smooth repaying process. Here are the common medical billing and coding errors that could be costing your organization money and the comprehensive ways to avoid them.
1. Insufficient Data
The major reason for this kind of coding error occurs when the medical organization fails to provide accurate information to the payers to support claims which result in claim denial. The top mistake that everyone does is entering inaccurate information for the providers, patients, and insurance providers.
For instance, coding errors can occur if the billing department forgets to link a diagnosis code to the CPT or HCPCS code. Secondly, the employee's errors can also occur when physicians fail to provide accurate diagnostic information.
2. Upcoding
Upcoding occurs when the medical billing department uses a billing code for more complicated procedures or expensive services than what was done.
Say, for example, you meet for 10-15 minutes with a patient about a routine health check questions, but what the coder do is, the bill for a full exam lasting 45 minutes. This also includes when the billing team does incorrect enter of treatment codes. Since this kind of upcoding errors demands for higher payments, this illegally inflates your revenue too.
3. Under And Overcoding
Undercoding is the deliberate reportage of more affordable medical services than were performed, while overcoding is the reportage of more costly methodology than were performed. Undercoding happens when patients are not charged for all the treatment or administrations rendered. Both of these are fraudulent and can result in audits and investigations. These aren't errors, but we're obligated to say them right here as something you genuinely ought to avoid.
4. Neglecting To Use Current/Updated Code Sets
The Medicare & Medicaid centers developed the NCCI to help ensure accurate coding methods were followed and avoid illegal and extra payments for Medicare Part B claims.
The medical organizations that keep up the three head clinical coding code sets (the WHO for ICD, the AMA for CPT, and the CMS for HCPCS) update these manuals yearly. It's as much as coders to research any new or reorganized codes as they arrive out, and use them correctly. This is partially why professional authorities just like the AAPC and AHIMA require every member to complete a certain amount of educational skillset each year.
5. Sloppy documentation.
When physicians or other healthcare vendors turn in sloppy paperwork, it's too hard for medical billing professionals to assign the proper codes and bill patients effectively. Sometimes handwriting errors may also make contributions to undercoding. In certain cases, the healthcare providers fail to provide sufficient data to the billing experts about the procedure they've performed. So the chances are high to provide the illegal medical reports or they may leave important data out of the report.
6. Telemedicine Coding Errors
Before discussing the telemedicine coding errors, we just have a brief look at the effectiveness of telemedicine in the US industry. In today's modern technology in the healthcare industry, consumer demand contributes to the increasing popularity of telemedicine. It's shaping the healthcare landscape, making it possible for patients to receive treatment from home. Now, the medical providers can communicate with patients at any time, keeping on top of their health status and offering essential interventions when needed.
When talking about the coding errors, telemedicine complicates the billing process, and the incorrect use of modifiers for telehealth services results in payment delays.
7. Unbundling
The process of using separate codes for linked procedures when there's a single code for the whole group of procedures is termed to be unbundling. This illegal act is either due to misunderstanding or to increase payment.
OUTSOURCE MEDICAL BILLING AND CODING SERVICES TO CAPMINDS
Even if you have an experienced team to handle your billing process, medical coding is a huge amount of work and small errors can cause significant harm. If you wish to improve your revenue cycle while avoiding all the medical billing and coding errors?
If you are concerned about how to avoid medical billing errors, CapMinds medical billing and coding services are the right choice to code your bills cost-effectively and accurately. Contact us today to outsource your medical billing and coding.