How Integrations Made Easy With OpenEMR [Undiscovered Features + Benefits]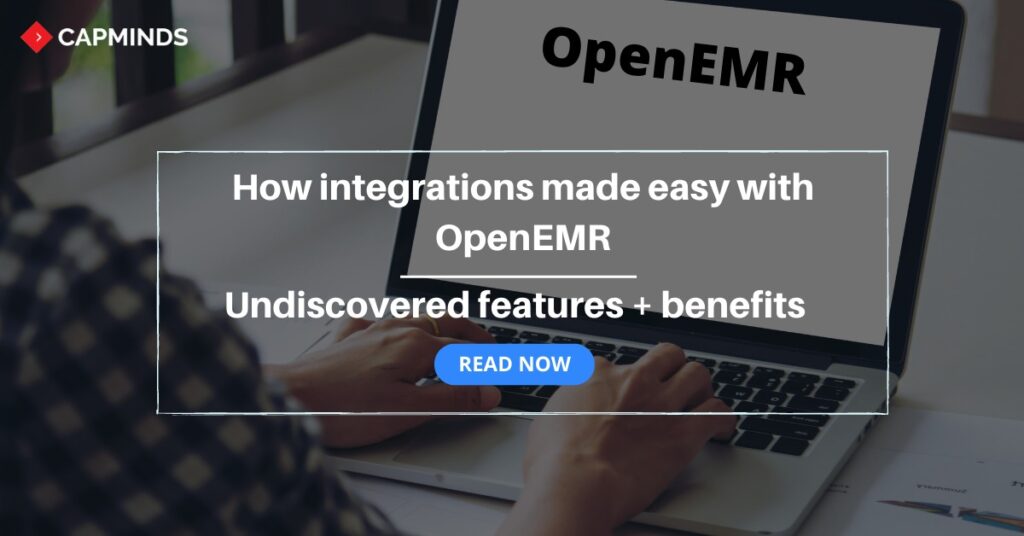 OpenEMR integrations lead ways for better care delivery and increase the chances of patient outcomes and organizational outcomes. With the benefits of HIPAA compliance, along with the integrations, patients' health data are completely secured.
OpenEMR enables clinics to consolidate their calendars, records, and financials. It allows the clinicians to communicate with their patients and share forms and documents in-platform. It supports many features like lab integration, prescription refillings, report generations, etc.
The clinical decision support tools in OpenEMR help physicians make decisions better based on patients' medical historical data. The implementation of new features and the development of new codes are done with the help of a community of developers. This is done frequently to keep it up-to-date and reliable.
It can be easily stationed on internal servers through the cloud as a Software as a Service (SaaS). It is also certified with Meaningful Use 2.
The Power Of OpenEMR In Easing The Integrations
OpenEMR is generally a medical practice management software that supports Electronic Medical Records (EMR) too. It is certified with ONC Complete Ambulatory EHR and it proudly holds thoroughly integrated EMR, medical practice management, scheduling, electronic billing, and more.
OpenEMR has easy adaptability. It can run on Windows, Linux, Mac OS X, and many other platforms. The types of features are supported by the core OpenEMR which ultimately enables the smooth workflow of practices.
The Key Types Of OpenEMR Features
Patient demographics:
Exclusively customizable patient files provide clinics with needed information for effectively communicating with their patients and treating them. OpenEMR patient demographics allow clinics to track patients' primary information, HIPAA information, insurance coverage, deceased tracking, and more on the same page.
Enables a user to electronically record, modify, and retrieve patient demographic data including preferred language, insurance type, gender, race, ethnicity, and date of birth.
Patient scheduling:
A consolidated schedule can help clinics to keep appointments and commitments well-organized. They can track and create repeating events, check-ins, etc. It enables triggers that automatically remind patients and more.
Steps to schedule an appointment in OpenEMR:
Verify patient identity
Proceed to the patient scheduling module
Determine the practitioner the patient wants to see
Determine the day and time the patient wants to visit
Verify that the time slot's available.
If it is, schedule an appointment and write an appointment reminder card.
If a time slot is not available, work with the patient to determine another satisfactory time slot.
Electronic Medical Records:
Physicians cannot make informed decisions until they have the access to in-depth patient data. OpenEMR allows providers to log all the encounters, medications, medical issues, labs, procedures, and more.
Some of the significant additions include,
Interoperability
Immunizations
Forms and clinical notes
Graphical charting
Patient reports
Patient notes
Referrals
Voice recognition ready
Clinic messaging
Dated reminders
Medical Image Viewer (DICOM)
E- Prescription:
Prescriptions should be valid, re-fillable, and open to review at any time for both the patients and clinicians. OpenEMR facilitates online drug search, tracking patients' prescriptions & medications, e-prescribing, and more.
Additional scores:
Create and send prescriptions
Print
Fax
E-mail
Customizable layout including options for DEA, NPI, and state license numbers
In-house pharmacy dispensary support.
Medical billing:
Billing should be made easier for physicians so that they can concentrate on other valuable duties like caring for patients. OpenEMR allows clinicians to effectively complete their billing activities with a flexible system of coding including CPT, HCPCS, ICD9, ICD10, and SNOMED codes, and the ability to add others, support for paper claims, medical claim management interface, and more.
Clinical decision rules:
Timely decision-making is very essential in healthcare. OpenEMR's customizable engine allows patients algorithm navigation. It can remind both patients and physicians about crucial matters, provide clinical quality measures, and automate use measurements.
Patient Portals:
Patient portals allow patients to be their own king. It provides information like allergies, and medications, and allows patients to make appointments at their convenience and complete the payments. By integrating patient portals with the secured communication facility in OpenEMR, connecting with physicians will be easier than ever.
Some of the significant additions include,
Modern User Interface
Scheduling and Appointments
Secure Messaging and Chat
Online Payments
Send Records via direct messaging
Customized Forms
New Patient Registration
CCDA Support
Reports
Labs
Medical Problems
Medications
Allergies
Appointments
Secure API that Supports Third Party Patient Portals
Lab integration:
OpenEMR permits lab orders to be automatically sent. The results will be automatically added to the patient's chart.
Security:
Security is an essential one when it comes to anything. Fully HIPAA-compliant security allows the authorized staff and patients to look into the required information. OpenEMR enables support for role-based menus and custom menus that ensure the privacy of information, active directory support, and more.
Benefits: Why Using OpenEMR Is Advantageous? [Top 5 Reasons]
1. Improves the quality of care
Patients can get maximum personalized care with OpenEMR's detailed patient demographics and clinical decision rule engine. With the availability of useful information, physicians can make appropriate quick decisions and actions all the time.
2. Lowers costs
OpenEMR saves money for clinics. It is an open source so it is free to install, leaving clinics with no additional operational expenses. Its features like automatic lab requests improve efficiency, and all financials will be properly taken care of with insurance and billing.
3. Open source
OpenEMR is an open source, that can be downloaded and altered free of cost. Modules that are extended are available in the market for purchase or free. The users can customize the system to fit their clinical needs.
4. Systematized billing
OpenEMR has in-depth billing capabilities and integration facilities. This makes payments and coordinating insurance very easy. The feature uses an insurance tracking interface and can support insurance eligibility queries.
5. Better secured communication
Better and advanced communication facility upgrades the entire processes of clinics and patients. The communication between physicians and patients should be robust or else there won't be understanding and betterment in treatments. Sharing relevant information among each other increases treatment outcomes. The direct messaging platform equalizes communication within appointment scheduling and file sharing.
Final Thoughts
OpenEMR consigns clinicians with the best features and ways to integrate easily and make their workflows more efficient and filtered. The fully integrated features will allow them to combine the ability of patient record management with conceptual and concurrent reminders to enhance the process of decision-making and improve patient care and quality.
---
Get hold of the best technologies and HIPAA-compliant and more efficient OpenEMR that can be tailored exclusively to fit your practice needs from CapMinds Technologies.
---
We provide you with the world's leading electronic medical record and practice management. Our OpenEMR services facilitate a Modern User Interface (UI), customization, production support, training, compliance, billing and report enhancements, specialty enhancement, clearing house integrations, and lab & e-prescription (eRx) integrations, payment and communication, and cloud & security. We cover specialties too.
Visit our website to know more about OpenEMR and other services provided by us.
"Get the best OpenEMR services with full integration and improvise your clinical workflow, with us"