How CapMinds EHR Helped A Dermatology Practice To Succeed?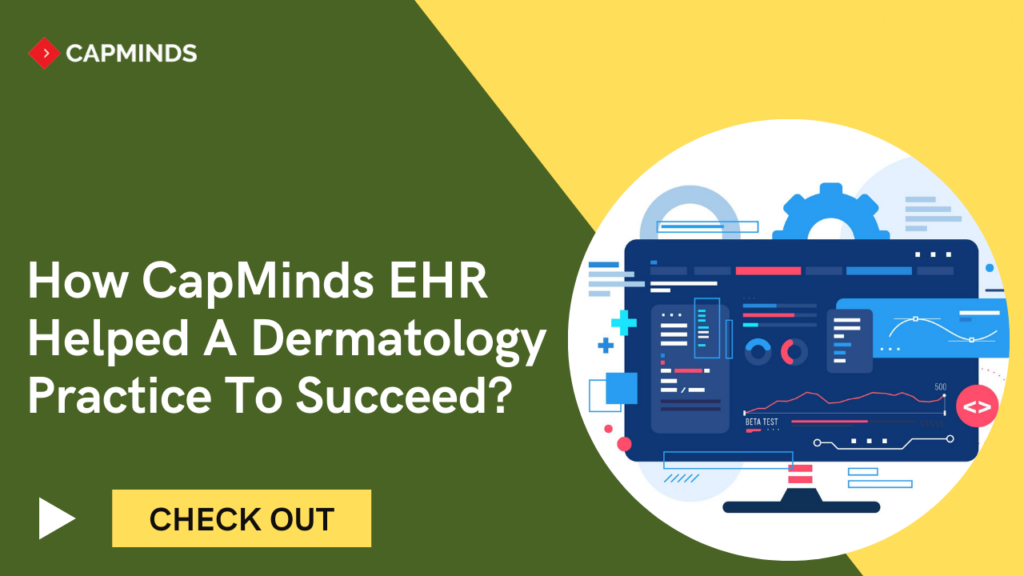 A U.S based dermatology practice has previously worked with various electronic health records to improve clinical workflow and patient outcomes.
The problem
None of the EHRs has offered crucial features like online check-in for patients before arrival, healthcare monitoring, and electronic prescription on the practice's budget and needs. If they did, that was not done based on the practice needs and also incredibly expensive.
The best solution- switching to CapMinds EHR
When the provider was opening his new practice, he thought to go with the best EHR that reduces their administrative burden.
That's why he landed at CapMinds.
The provider was very happy with the features and prices of CapMinds EHR.
His words '' CapMinds offers the best EHR implementation with advanced and most trending features. They offer online scheduling, a user-friendly patient portal, telehealth for a virtual care experience. ''I could easily able to create a seamless experience for my patients by integrating medical billing and telehealth solutions with EHR'' he explained.
The best online appointment scheduling features and electronic prescription ultimately cuts down on administrative burden and reduce no-show rates. With the use of EHR, the practice is also able to increase the number of patients and appointment rates with less cost and time.
CapMinds allows him to have patients schedule their appointments based on their schedule and also cancel on their own.
Overcoming the challenges
Now the dermatology practice uses the CapMinds dermatology EHR available tools such as the patient portal to allow patients to schedule or reschedule and cancel appointments. The patient charting feature helps the practice to reduce the process of documenting visits today.
As the healthcare world is moving towards the digital landscape, both patients and providers wish to access and provide healthcare online with ease of convenience.
For the dermatology practice, more than 90% of patients are scheduling their healthcare appointments online. With the help of the best EHR software, patients can easily able to book appointments and manage their visits quickly.
He reported ''all my patients are getting photos of pretreatments. Before the start of every procedure, they are now able to complete patient intake forms from their comfort place. This helps me to get all the important informations about the patients before their visit – that's possible because of CapMinds EHR.
Also, it is very easy to generate meaningful use reports, clinical and financial reports just with a few clicks.
The provider said that he has built one of the best dermatology practices in the healthcare market today. He is now able to take care of the 3 branches with only a few employees. He was proud to say that the success of his practice relied on the software technology he used for his practice.
He mentioned patient satisfaction as the main reason for the success of our EHR technology. Today he is also planning to expand his office from 3 to 5 branches.
''When people visit my practice, with the help of CapMinds EHR – I can completely take care of my patients by easily booking appointments, setting up a patient profile, and everything is done virtually and of course quickly. This saved my resources and time that would be needed to schedule and reschedule appointments manually, answer phone calls, manual patient intake process, and so on'' he added.
The advanced EHR features and automation helps my practice staff to spend less time with manual works and more time on improving practice efficiency.
Getting started
Using the best EHR implementation services can make a practice enjoy a seamless patient experience, better patient outcomes, and improved practice revenue. As physician burn-out is increasing day by day, automation is one of the best choices to succeed in the healthcare marketplace. That's why the dermatology practice made the right choice by getting started with CapMinds EHR services.
Thinking about switching to a new EHR? That's a good decision to go for the best.
Today most the physicians are planning to switch to new EHR system for the following reasons:
Existing product not user-friendly (33%)
interoperability with practice management system (31%)
Need more customization options (27%)
Want better customer support (20%)
The existing product isn't certified for Meaningful Use (19%)
Cost-driven (16%)
And most of the top healthcare practices are happy to get started with CapMinds EHR because of:
User-friendly meaningful use EHR dashboard
Customized EHR features based on the practice needs
Specially designed software for clinics and hospitals to deliver fast and effective care.
e-Prescription and renewal
Lab results – Different online laboratories can receive data for analysis and send the results back.
Appointment scheduling and management
Document tracking and management
Custom superbills & encounter forms
With the advanced features, CapMinds EHR helps your practice more efficiently. If you are looking for the best healthcare delivery for your medical practices, CapMinds will be on the top to consider first.
CapMinds best dermatology EHR software is specialized to store patient's health data electronically and can easily be managed by dermatologists and other clinicians involved in patient's medical treatment. Our dermatology EHR includes specialty-specific templates including intake forms, lab orders, test results, and more.
Schedule a quick demo with our expert team to discuss EHR implementation for your practice today.