Here is how Covid-19 is changing the revenue cycle: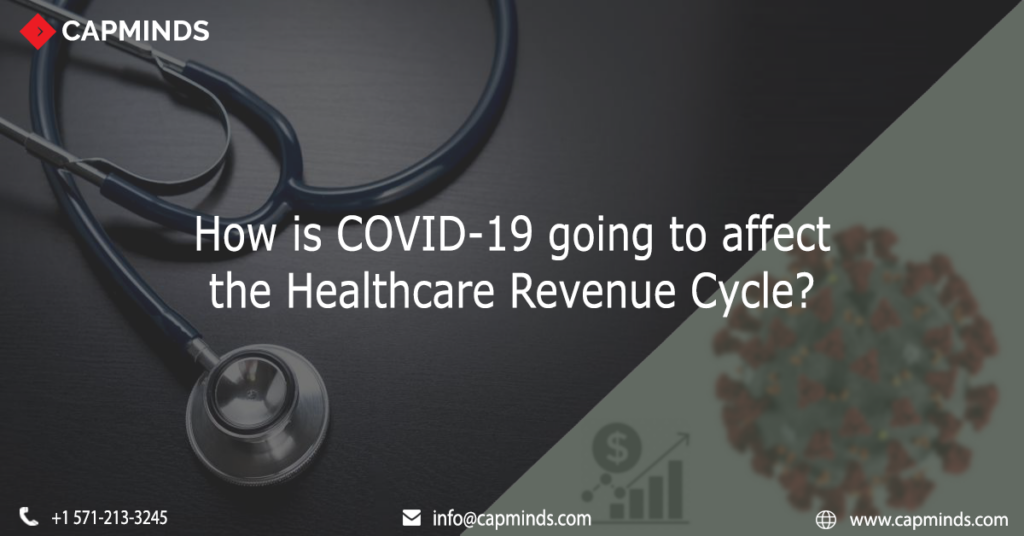 COVID-19 is the sort of black swan event that no one could have predicted in a million years. Sure, Bill Gates did say that the next biggest crisis that the world would face will not come from nuclear warheads, but from a virus. But even he could not have predicted when it would happen, which is exactly why the entire world is jaywalking like headless chickens as the entire circus that unfolded caught us unawares.
The financial ramifications that COVID-19 will cause on world economies is sending the world into a frenzy. In fact, there will be a ripple down effect and you will soon find it affecting the revenue cycle of healthcare organizations. There has already been a small effect that has been visible with a lot of healthcare employees being asked to work from home and the outcomes of normal surgeries being canceled because of this pandemic.
Many CFOs of healthcare organizations have opined that they will lose at least 80% of expected revenues. There has been a lot of pessimism surrounding the impact that COVID-19 will have on the healthcare sector, according to PwaC. In fact, many of these healthcare companies do not believe that they will be able to bounce back quickly once the obvious dangers of the pandemic die down.
Here is how Covid-19 is changing the revenue cycle:
1. Billing and Coding:
The billing operations have to be active during a pandemic like this. The key is to keep hospitals open for patients who require intensive care. For smaller healthcare organizations, this can be a challenge as they might not be equipped to handle the demands due to COVID-19 and the fact that they would not be able to get revenues from other sources. CMS released two Healthcare Common Procedure Coding System (HCPCS) codes that labs can use to bill for certain COVID-19 cases. Thankfully, they have been at the forefront of helping providers handle the medical billing and coding aspects.
2. Allocating resources:
It is no doubt that COVID-19 is putting a lot of pressure on an already weak healthcare system. It has stretched the infrastructure of hospitals, overburdened the healthcare workers, maxed out emergency departments and outpatient centers. This will result in a shortage of supplies, healthcare workers, necessary supplies, and will have a negative impact on the outcomes of the patients. Allocating resources properly will be impossible since we cannot predict the spike in cases. The only way we can progress is by taking it as we go.
Experts are advising hospitals to use their flu preparedness protocols to allocate resources for COVID-19 management. The management should invest time in stocking personal protective equipment, engaging in buddy teaming, identifying services that can be deferred for the time being. It is important that hospitals take suo moto cognizance of developing strategies so that they are not short-staffed nor are in a position where they don't have any resources.
3. Surgeries are getting postponed:
CMS officially recommends "for all elective surgeries, non-essential medical, surgical, and dental procedures to be delayed during the COVID-19 outbreak." In fact, even before the official announcement, a lot of hospitals had announced their plans to postpone elective surgeries. All non-essential visits have been requested to be postponed and telehealth access to all practitioners is being encouraged. While these cancellations, a no-brainer as it might sound, is a major blow to a lot of healthcare organizations. Surgeons who perform elective procedures still need to be paid their salaries even if they don't have a lot of work to perform.
4. Business continuity planning:
This is something that no one would have anticipated. Who would have even remotely assumed that the world as we know will come to a standstill? Most businesses might not have put up a business continuity plan in place as it was totally unexpected. Healthcare organizations are one of the most hit as they are supposed to be functioning but also cannot function normally like they used to, and a lot of ways to generate money has been put on hold because of the pandemic.
5. Financial responsibility of patients:
There have been innumerable reports which have time and again said that several patients have been left with medical bills worth thousands of dollars after getting medical care for coronavirus or for its symptoms. Healthcare organizations have already had a torrid time collecting payments for healthcare and enforcing any strategy during such times can only add to the pressure. America's Health Insurance Plans announced recently that it would take steps to reduce the costs borne by the patients if they are seeking treatment for symptoms or for the disease itself.
6. Increase in telehealth services:
Telehealth is the facilitation of health-related services including medical care, provider, and patient education, etc, through digital communication services. Because of COVID-19, most outpatient visits have shifted to telehealth visits. Now, healthcare organizations need to be up to speed with various factors that are a part of the remote billing work. If they are not familiar with it, cash flow could be severely affected. It is one more reason why experts always advise healthcare organizations to outsource their billing work to service providers.
Conclusion:
Healthcare organizations around the world are going through torrid times. They are increasingly investing in technology for dissipating information as well as for increasing the chances of credible results with minimum physical impact as possible using AI and Machine Learning. Thanks to COVID-19, there is also a growing interest in telemedicine capabilities and collaboration platforms. Despite the financial uncertainty that hospitals face during this time, the best thing that they can do is to have a long-term vision, work according to it, and get into damage-control mode.