FHIR APIs: The Unknown Secret To Secure Health Data [How To Do It Right?]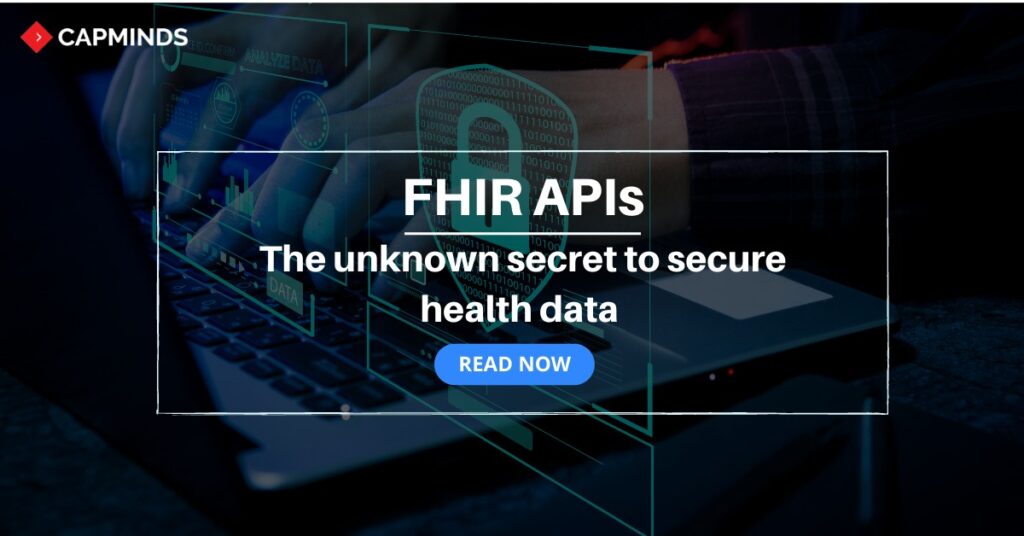 The demand for healthcare services never tires its pace. The never-ending pandemic snags delayed many medical procedures and also turned out to be the most challenging one for the entire industry.
Securing this much abundant health data became a very concern and the FHIR APIs can turn the table around by embarking on the process of shielding vital health information from potential threats. Here we explain to you the secrets of securing health data using FHIR APIs.
What Is FHIR API? [Explained In Simple Terms]
The Fast Healthcare Interoperability Resources (FHIR) generates a set of Application Programming Interfaces (APIs) based on official web standards and modern information exchange to facilitate healthcare platforms to communicate and exchange data across different systems securely. This is a perfect interoperability solution source.
FHIR API Example:
A smartphone insurance application requests a user's data from a financial institution via the institution's API.
The Gravity Of Securing Sensitive Health Data
Digitalization is an ultra good thing. But when it comes to the transformation and sharing of health data across various health systems, its security concern becomes the highly sensitive one.
Personal Identifiable Information (PII) must be secured properly. This is the greatest challenge.
In real-time a mountain of medical systems of NHS Trusts are sharing and connecting to external providers and within hospitals.
Joining these are the demands for personal health devices and the ability of users to add/alter their health profile.
This shows you the rocketing health data growth.
The protection of health data and its acquirement can be done in many ways:
For private purposes, or
For contribution to clinical databases, or
For research purposes.
These again add to the complexities of data aggregation, and how data is accessed, stored, and secured.
So the main question arises here: how can these be solved or managed?
Solution: Interoperability
Interoperability has become more like a motto of the healthcare industry as it brings in and coordinates patient care across the large ocean of healthcare players. The Application Programming Interfaces (API) becomes the crucial component here.
---
Fast Healthcare Interoperability Resources (FHIR) uses Application Programming Interfaces (API) standards to create applications that cut across this document-based healthcare environment.
---
These applications can be connected to an EHR system and feed information into the provider workflow. This avoids paper-based exchange providing interconnections of data to the providers. This integration made by APIs allows systems to effectively communicate with each other.
It Brings Out:
Greater compliance
Inter-connection between systems
Easy access to data from different systems
Provide wider insight
Secures sensitive health data
Custom-Built APIs & Repository Techs: Potential Challenges
Alas, the application of the solution is not that easy and it is due to the abundance of technological gaps. The FHIR standards manage data security, but the lack of data standards across multiple siloed technologies is huge.
This can be met by customized APIs by adjusting to the needs of the service it provides for each system.
But this is very time-consuming because API management is burdensome as systems should be upgraded and replaced.
Because of this, the complications and quantity of APIs never cease to grow. That is why It is predicted that APIs will become the most common attack vector in 2022.
---
These potential challenges can be faced by global open healthcare standards like Health Level Seven (HL7), Fast Healthcare Interoperability Resources (FHIR), and Digital Imaging and Communications in Medicine (DICOM).
---
DICOM standards are for the management and communication of medical information and related data. All these standards ensure data privacy and security with full compliance.
FHIR Updates: Enhances Healthcare Interoperability
Updates always increase the efficiency of any software and services. As we said earlier FHIR standards make sure of the security, privacy, and compliance of health data. Various updates have been made to FHIR. The most recent version of it repose on the last data format standards from HL7.
But the original reason behind its easy implementation is that it uses a modern web-based suite of API technology.
Its goals:
To facilitate interoperability between legacy health systems
To make exchanging of health information easier across a variety of systems
To make sure the third-party application developers can easily integrate into existing systems.
This includes facing the challenge of transforming into a cloud-based model, where the healthcare industry can enable APIs. Public cloud providers like Google Cloud and Microsft Azure are victoriously enabling healthcare providers to build their solutions in the cloud.
This changes the old way of working
Enables easy data exchange
Enables standardized data exchange, between healthcare solutions and apps.
This modernized transformation to the cloud-based models allows legacy system data to be used by healthcare professionals.
The Precedence: FHIR API Security
The prioritized matter now is to secure APIs. API security with the abundant growth of industry data has become vital. But many companies lack this particular expertise.
API security testing is very challenging in healthcare because of the confined working and heavily regulated atmosphere. This calls for strict controls.
The questions that need to be asked are:
Around what data is being revealed? and
What is the plan of the healthcare provider with the data?
The healthcare data's threat is very much high when compared to other data because someone's health depends on this.
Brand New Evolution Makes Way For More Data Points
The US government has committed itself to drive transformation and innovations in healthcare technology.
Interoperability is the central hub for achieving these goals by all these health data accessible from a single place.
APIs are very significant in providing the interoperability that will potentially gear up, particularly in data-driven decision-making. But above these all, concentrating on API security will be the key to keeping the patient data safe.
---
Welcome to CapMinds Technologies, the place that will make you achieve your goals by combining "Expertise+Hardwork+Commitment".
---
You have found the perfect and best all-in-one Interoperability solutions for your need. We facilitate innovatory exchange, client-centered services, clinical & financial integrations, and enhanced activation processes for your individual and collective needs.
With our best HL7 FHIR standards and interoperability solutions, enhancing your organizational processes becomes easier. With our EHR integrated laboratory, imaging, e-prescriptions, EPCS, pharmacy, and more, practices can process without disruptions and attract patient satisfaction.
CapMinds FHIR APIs cover your patients' health data with maximum security, privacy, and confidentiality. We update ourselves with the latest versions like HL7 Version 2, Version 3, FHIR, SMART on FHIR, CDA, X12, Mirthconnect, and security standards. Visit our website and learn more about the services we provide.
"Let's join hands and do wonders with CapMinds FHIR standard APIs"