Facing Timeliness and Quality issues with the Billing team? No responsible support from the EHR team?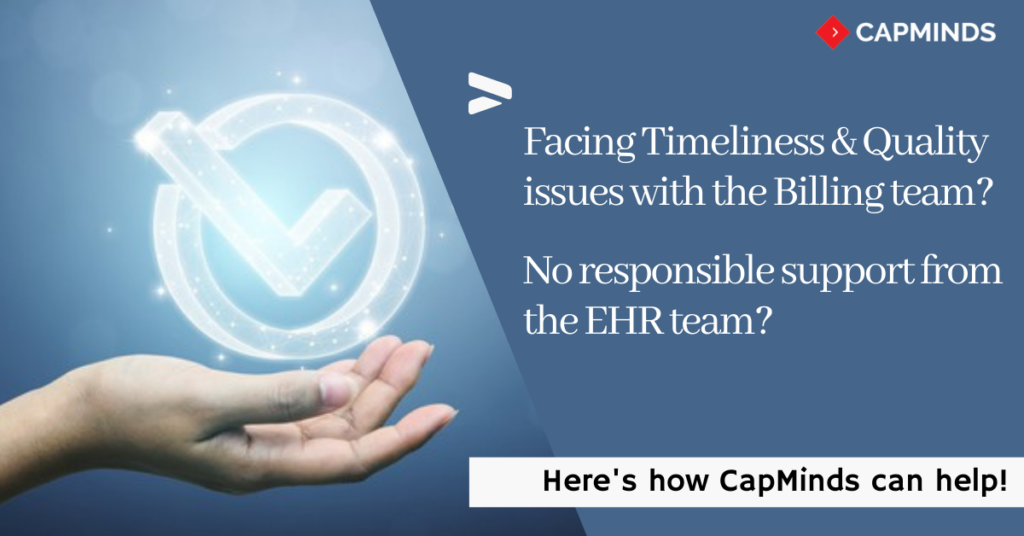 Here's how CapMinds can help:
Reducing Inefficiency
CapMinds reduces inefficiency in the billing team via periodic goal setting, which can be enhanced with healthy competition. Split departments into teams and have them compete for financial benchmarks, like time-of-service collections. Reward the winning team(s) and enjoy more efficient performance monitoring.
Dedicated Technical Support
CapMinds offers dedicated technical support on their EHR services to make sure your work goes smoother and better. Maintenance of your systems is done periodically to make sure you are always on top.
Regular Training and Updates
Incorrectly or mistakenly coding a medical service will likely lead to an uptick in claims denials, so CapMinds regularly trains its staff on ICD-10 coding updates and encourages front-end staff to communicate with clinicians if there are documentation issues.
Automated Medical Billing
CapMinds Automates the medical billing and claims management process that helps providers retrieve reimbursements from rejections and denials in a timelier manner. The HIMSS Analytics report stated that organizations with a vendor solution were able to better identify root causes of denials, manage resolutions, and reduce write-offs.
Better Denial Management
Nothing is more frustrating to providers and their bottom line as a denied claim. With medical billing codes that are constantly changing all over the field, it can be difficult to stay on track and achieve your goals. With CapMinds, providers can increase their clean claims upwards to 99% and protect their bottom line through industry adjustments.
We differentiate Your Practice In Crowded Market
Our tech support speaks volumes about your practice success. Here is how we can help you:
Enhancing better communication with your patients
Fixing, optimizing technical issues with your EHR software
Updating your software with the latest technology
Handling quality issues with the billing team and providing round the clock technical support
Helping practices to reduce IT costs
Assisting with industry compliance issues
Enhancing communication between your practice staff and providers
Training staff on how to use EHR software in the best ways
No matter whether you are running a small clinic or large healthcare practice, your EHR implementation process must be delivered with the best plan to champion the change. A precise training plan will lead to successful EHR implementation. At CapMinds, we make sure that your practice staff will be able to work effectively and faster than before.
Also to analyze the amount of training needed for your practice and check out whether your practice is ready to complete it, our expert medical billing team is here to help you.
Ready to improve your clinical workflow?