Ensure Patient Safety With Medical Device Cybersecurity [4 killer practices]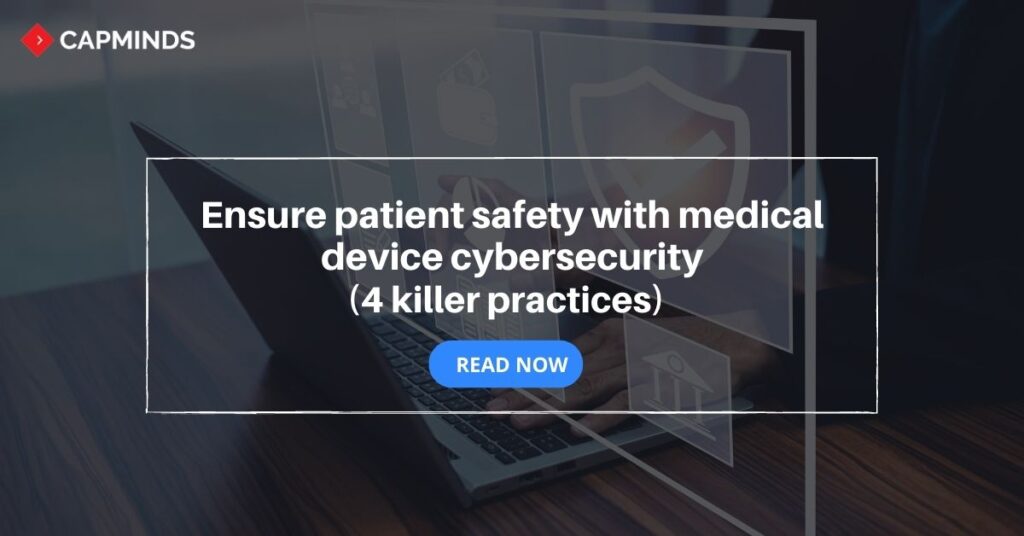 The healthcare environment is being shoved with technological advancements, and the transformation is happening through automation intending to achieve better cybersecurity.
Medical devices and equipment depend upon web connection and cloud repositories for quicker access to data. While these methods contribute a successful hike to the system, it still begets a pyramid of security issues and cyberattacks that may damage both the provider's goodwill and the patient's financial, mental, and physical security.
Cybersecurity standards for medical devices are in place for avoiding this exact situation. Timely updates can prevent and ward off dangerous encounters.
Hacking Medical Devices: The Top 3 Risks For Healthcare Organizations
As the FDA states, "Cybersecurity threats to the healthcare sector have become more frequent, more severe, and more clinically impactful. Cybersecurity incidents have rendered medical devices and hospital networks inoperable, disrupting the delivery of patient care across healthcare facilities in the US and globally. Such cyberattacks and exploits can delay diagnoses and/or treatment and may lead to patient harm".
A potential medical storage breach may cause distress to things from patient service to lethal losses and eventually lead to the provider's business sinking. If hacking happens, medical organizations are in jeopardy in terms of;
1. Medical outcomes of different levels
These damages or consequences may defer from small patient care problems to bigger dangers to health collisions and even lethal outcomes due to flexure, delayed treatment, adn documentation issues.
2. Workflow inconsistency
Hacking medical devices will push providers to suffer notable performance downtime due to obligatory maintenance processes, confusion, and disputes between employees obstructing productivity and resulting in unnecessary extra costs.
3. Goodwill damage
The reputation of a provider is irreplaceable. That too in fields like healthcare and medicine, leaked or manipulated data allegations may drive them to unmanageable legal procedures and publicly reveals the organization in a bad light.
Impacts Of Prohibited Access On Patients
Setting aside the corporate risks, patients are the ultimate victims of medical device cyber attacks like attacks on medical devices, medical device security, and more. When compared with the above-mentioned risks, patient risks are more direct and personal.
1. Disclosure of personal information
Doctor-patient confidentiality is the most foundational principle.
If the private data of any human being is accessed and disclosed in a prohibited manner, they do not require an NDA (non-disclosure agreement) to have a right to allegations.
2. Loss of vital health history
Medical history is the foundation for a patient's treatment.
It summarises all the major to minor medical specifications within a personal record that has been collected over years under proper medical supervision.
Here, data loss means disruption in providing quality care and that is not acceptable.
3. Harmful therapy
This is a very worse situation than any others.
Tampering with very sensitive records via medical device security breaching results in providing the wrong treatments.
Even small data misplacements or alterations may trigger extensive consequences.
4 Best Real-Time Practices For Medical Cybersecurity
1. HIPAA standard compliance
Issued by the US Department of Health and Human Services.
The Health Insurance Portability and Accountability Act (HIPAA) protects patient data and sets standards for network, software/hardware, and data processing security.
Covers – entities providing or connected to healthcare services like financial & workflow specialists, treatment providers, and any business that have access to patient data.
The 2 main regulations described in the HIPAA compliance guidelines are;

HIPAA Privacy Rule: The Standards for Privacy of Individually Identifiable Health Information provides national standards to control specific sets of medical data that protect PHI.
HIPAA Security Rule: This set adds to the above-mentioned national standards controlling health data that is being transferred or stored digitally.

It issues technical/non-technical guidelines to cover parties managing electronic patient records.
It points out actual techs that HIPAA-compliant healthcare providers must adopt.

It concentrates on healthcare providers and other parties dealing with digital healthcare workflow solutions like,

EHR/EMR software
CPOE systems
Other digital environments, may put patient privacy at risk.
2. IEC 62304 standard compliance
IEC 62304 controls the designing and maintenance of medical devices.
It provides the guidelines that cover the entire medical equipment software cycle.
It applies to both devices with embedded software and Software as a Medical Device (SaMD) solutions.
Its major goal is to implement safety practices at the starting stage of software/device development.
The area of safety is broken down into 3 classes:

Class A: No possible damage to health whatsoever
Class B: The probability of only minor injury
Class C: Notable or lethal danger
To classify and regulate security standards accurately for medical devices, IEC 62304 standard has some common requirements and breaks down into several safety-controlling processes one will need to follow.
General requirements

Software safety classification
Individual risk management workflow
Efficient management system

Software development

Range and planning
Need gathering and analysis
Architectural design
Implementation & verification of software pieces
Integrations and testings
Whole system testing
Launch & Release

Software maintenance

Maintenance planning
Analysis of problems and alterations
Implementation od solutions

Risk management

Risk analysis & control
Confirmation of risk control measures
Concentrated risk management

Configuration management

Accurate configuration analysis
Control change
Status of configuration

Problem resolution

Problem reporting & analyzing
Advising and changing control
Classified problem analysis
Verification of resolutions
Documentation testing
3. ISO 1497 standard compliance
ISO 1497 standard is committed to managing global risks involving medical devices and software solutions.
It focuses mainly on general and common needs to ensure patient safety.
It provides safety for all transmissions between the user/patient and the medical device.
The ultimate compliance comes through proper documentation.
It is all about managing risks and reducing disasters when it comes to medical device cybersecurity practices.
4. MDCG 2019-16 standard compliance
This standard is a European MDR-accompanying document that shapes modern cybersecurity compliance guidelines regarding operations in the Union territories.
This one ranks cybersecurity for networked medical devices with measures breaking down into 8 significant principles for the safety of medical devices.

Security management: Initial planning and documentation of all actions regarding cybersecurity are obligatory.
Requirements specification: All those activities must be described within actual specifications.
Design security: A device's design structure must comply with important guidelines for cybersecurity in medical devices.
Security implementation: Supervision and verification of all cybersecurity aspects must be implemented all along.
Testing verification and validation: Testing processes must be clearly described.
Management security: How newly-appearing security issues are managed must be defined.
Updates control: The main reasons and methods of implementing updates.
Cybersecurity guidelines: All the outlines must be gathered into comprehensive documentation for users that helps them to know how to use the software securely.
FDA Regulations On Medical Device Cybersecurity
FDA regulations are entwined with IEC and ISO standards.
The Food and Drug Administration of the US has a particular focus on medical device regulations.
It binds all the major medical device security standards with in-depth guidelines.
It also subdivides cybersecurity measures into;

Premarket (planning and preliminary maintenance, testing, etc.)
Postmarket (lifecycle management, updates, upgrades, monitoring, end of life, etc.)

Overall it is a well-documented, structured guideline of cybersecurity for medical devices.
Final Thoughts
Medical device cybersecurity is the most pivotal thing that needs paramount attention now. Information is crucial and data is everything for the healthcare spectrum.
---
CapMinds Technology ensures this is done in the right way. We provide medical device integration, healthcare cloud, and cybersecurity services for health tech startups, the federal government, multi-specialty practices, large healthcare practices, and small clinics.
---
CapMinds Technologies- the place that will make you achieve your goals by combining "Expertise+Hardwork+Commitment".
---
Our cybersecurity features,
HL7 FHIR services,
HIPAA compliance,
MACRA, MIPS,
Meaningful Use,
AI solutions, and
Cloud-based EHR solutions can guarantee advanced security to your medical organization as a whole.
CapMinds' medical device integration (MDI) solution automatically gathers and integrates vital signs data of patients from different medical devices to the EMR system wirelessly.
Saves time from manual records and inputs made by your staff into the EMR
Improves your productivity and workflows
Increases accuracy rates
Provides prompt patient information when needed.
"Unite with us to enjoy the maximum benefits with our cybersecurity services and rise to be the first"