Salesforce Health Cloud: Breaking New Boundaries with Commerce Cloud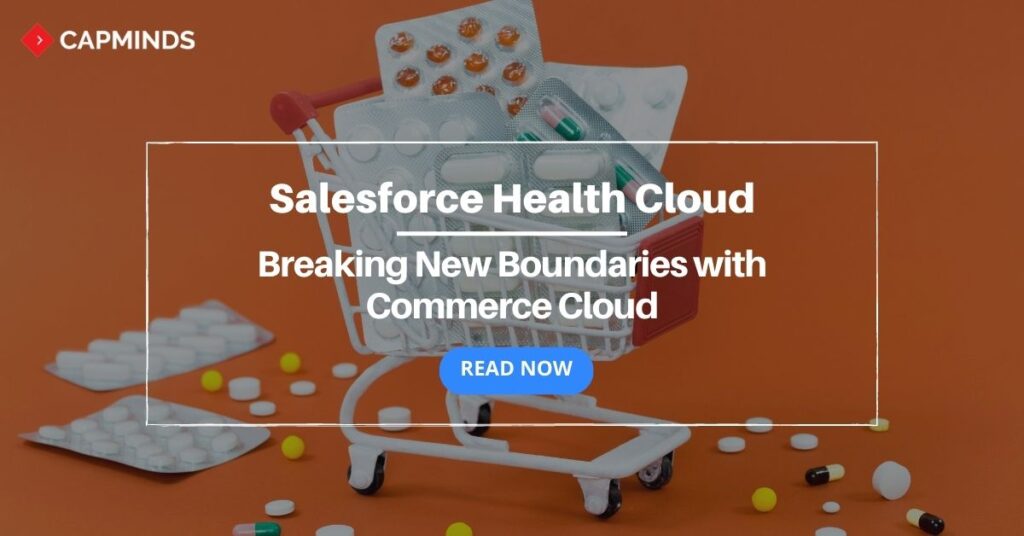 In an era where convenience reigns supreme, the healthcare industry is embarking on a digital transformation journey like no other – Salesforce Health Cloud!
What is Healthcare Commerce?
Healthcare Commerce refers to the integration of healthcare services and products into a seamless and consumer-friendly experience. This concept combines the clinical aspects of healthcare with retail-like experiences, allowing patients to access medical services, purchase healthcare-related products, and manage their health-related needs through digital platforms.
Enter Salesforce's Groundbreaking Innovation
A specialized version of its Commerce Cloud tailored for the healthcare field. This HIPAA-compliant platform is more than just technology; it's a game-changer poised to redefine how healthcare commerce is experienced and executed.
The healthcare landscape is evolving, and organizations that fail to embrace online commerce channels risk losing both customers and revenue to their more digitally savvy competitors. Salesforce's latest offering aims to bridge this gap by seamlessly integrating commerce into the healthcare ecosystem, all while reducing costs and enhancing customer experiences.
Picture This
Healthcare and life sciences organizations now have the power to sell directly to their customers, automate B2B sales, and elevate service quality through streamlined order support. This isn't just about convenience; it's about empowering these organizations to forge stronger connections with their audience, no matter their role in the healthcare journey.
One of the most intriguing features of this platform is the ability for companies to establish new storefronts
Imagine a medical device firm that traditionally relied on distributors to reach its audience
Now, this same firm can effortlessly set up a single storefront catering to both direct-to-patient and B2B ordering
This not only accelerates time to value but also slashes maintenance costs – a win-win for everyone involved
Delving deeper into Commerce Cloud's capabilities, the reordering feature holds immense potential.
Think about a pharmaceutical company that wants to simplify the reordering process for pharmacies
With a user-friendly reordering portal for prescription and over-the-counter medicines, sales can be automated, and order times drastically reduced
It's a seamless way to enhance efficiency and ultimately improve the customer experience
The Synergy Between Commerce Cloud and Other Technologies
The true magic lies in the synergy between Commerce Cloud and other cutting-edge technologies.
Salesforce's platform leverages the formidable capabilities of Data Cloud and artificial intelligence (AI), empowering healthcare organizations to seamlessly integrate personalized commerce opportunities into every interaction.
At the forefront of this innovation is automation, a key driver in reducing operational expenses and affording organizations the ability to direct their resources to the most critical aspect: patient well-being.
Artificial Intelligence: Taking the Center Stage
AI, a catalyst for transformation, discovers its ultimate purpose within the realm of healthcare.
Amidst the wealth of health records, images, population insights, and beyond, healthcare organizations house an invaluable treasure trove of untapped data
Present-day AI algorithms have reached a pivotal juncture, offering not only the potential to drive informed business choices but also to mold enhanced clinical results
The convergence of data and AI foretells a revolutionary shift in patient care and delivery, promising an evolved healthcare experience
How the Importance Emerged
Patients and customers of healthcare and life sciences have clarified the high demand for increased digitalization in healthcare interactions.
Patients who are facing difficulties in paying healthcare expenses displayed curiosity in a unified digital platform catering to their healthcare needs. This yearning for streamlined experiences underscores the urgency and relevance of solutions like Salesforce's Healthcare Commerce Cloud.
Salesforce Health Cloud's E-Commerce Integration
Healthcare Commerce involves integrating e-commerce functionalities into healthcare platforms
Salesforce Health Cloud could potentially facilitate this integration, enabling patients to purchase medical supplies, prescription refills, wellness products, and other healthcare-related items directly through the platform
By gathering and analyzing patient data, providers can identify trends and preferences that can inform their Healthcare Commerce strategies. This data-driven approach can lead to more effective product offerings and service recommendations.
Final Thoughts
In a world where each interaction matters, Salesforce's Commerce Cloud for the healthcare sector isn't just a product – it's a movement. It symbolizes the convergence of convenience, technology, and care. As healthcare organizations embrace this paradigm shift, patients and providers alike are set to experience a new era of interconnectedness, efficiency, and quality.
The future of healthcare commerce has arrived, and it's powered by innovation that's transforming lives one digital interaction at a time.
Salesforce Health Cloud Solution from CapMinds
CapMinds offers you the smartest and safest health cloud security and interoperability services across healthcare platforms. Our advanced scalable features, secure cloud, system patching, and version upgrades will transform your organization into a future tech-friendly one. We offer all kinds of integrated services across various health systems and platforms along with unique customization and 24/7 support.
Our medical device integration, connected health, healthcare cloud, and cybersecurity solutions like salesforce health cloud cover health tech startups, the federal government, multi-specialty practices, large healthcare practices, and small clinics.
Our most popular features:
HL7 FHIR
HIPAA compliance
MACRA, MIPS
Meaningful Use
Cloud Security
AI solutions
Cloud-based EHR solution with advanced techs guaranteeing your medical facility 100% cybersecurity
CapMinds' Interoperability and compliance services cover your patients' health data with maximum security, privacy, and confidentiality. We update ourselves with the latest versions like HL7 Version 2, Version 3, FHIR, SMART on FHIR, CDA, X12, Mirthconnect, and security standards. CapMinds offers the best HL7 integration and HL7/FHIR interface development services for the federal government, health tech startups, laboratories, clinics, and practices.
"Unite with us to get the best out of future-proof health cloud security services"