Case Study: Improving Clinical Operations with CapMinds Health-tech Solutions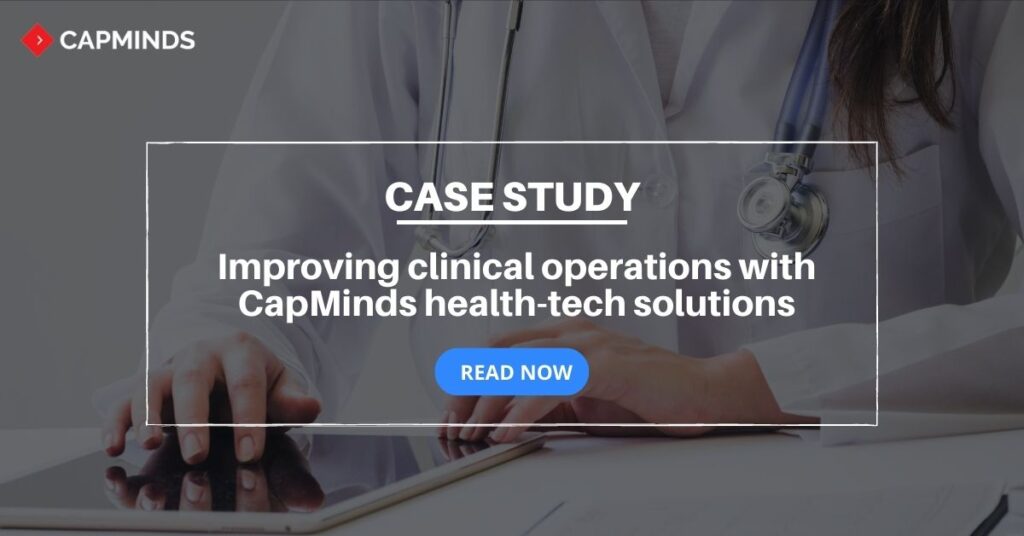 Client Overview
A top US-based behavioral health clinic provides substance abuse and mental health counseling for more than 2200 adults, adolescents, and children.
The staff attended many meetings, went through many vendor demos, etc, and after thorough research for over a year they chose CapMinds Technology EHR services among various other potential competitors.
CapMinds Technology was compatible with them and offered a variety of customized features that could take the agency to higher ground opening opportunities. Once the EHR was implemented, the clinic went through astonishing improvements in its communications and operations.
Business Challenges
Implementing an EHR, practice management, and billing system was their primary challenge.
They had substantial growth but the lack of these particular services pulled them back from greater success and expansion.
They desperately required a system that can improve their workflow and scalability efficiency.
They needed an electronic health record that is both certified and would enable them to make changes to fit their clinical requirements.
They were keenly looking for a company that can make flexible choices regarding the customization of features.
Our Approach
CapMinds' EHR services included comprehensive practice management and an automated billing solution along with many tools that improve communication. CapMinds Technology's automated billing solution saves time for the staff by organizing the claims and streamlining the billing process. It also directly deals with billing with all major insurance companies and facilitates clients to get paid in a minimum period.
The Outcomes
Since the implementation of CapMinds EHR services, the behavioral health clinic has seen significant growth within its system and the usage of services by the staff increased well.
The client enjoyed the luxury of "one place for all solutions", meaning when they enter a patient record, all the vital information such as progress notes, assessments, diagnoses & medical information, etc, showed up on a single screen.
The timely submission of notes dramatically increased from 75% to 95%.
This implementation also increased their compliance rate.
CapMinds billing solutions allowed them to foresee any errors before sending claims.
Smart features like the dashboard and calendar allowed them to keep track of the movement of patients. This avoids confusion and chaos between staff of different shifts.
The behavioral health clinic increased its collections by 15.5% within the first quarter of using CapMinds Technology services, improving its overall workflow.
The clinic enjoyed an efficient and faster review of clinical documentation.
E-prescribing feature of CapMinds EHR solution reduced errors by digitally sending prescriptions.
Health-tech Solutions From CapMinds
CapMinds Technology – a leading healthcare software and solutions provider for practices in the most sensitive and vast healthcare continuum. Our sharp-cut innovations and automated technologies allow every healthcare aspect to be patient-centric for delivering improved quality care and deriving positive organizational and patient outcomes along with our cloud-based EHR and other healthcare applications.
Our smart cloud-based Electronic Health Records enables clinicians and healthcare organizations to touch the peaks by transforming processes to automation resulting in better documentation, advanced interoperability, and doubled security through HIPAA and regulations for deriving client satisfaction and delivering better care.
CapMinds' professional services team paired with our cutting-edge health tech & medical billing solutions allow practices to manage billing processes resulting in easy management of patients and managing the complexities that come with billing and insurance claims. Utilize our digitalized, paperless, and faster medical billing solutions that automate themselves with quick and easy updations.
CapMinds is one of the top medical practice management solution providers which reduces time-consuming tasks, facilitates data sharing, helps catch claim errors and denials early, and supports unique billing requirements that boost productivity and deliver seamless handoffs across departments.
"Reduce your overbearing challenges and step towards a higher functionality by choosing CapMinds health tech solutions"